Currently Reading:
Graduate Voices: Angie Jimenez '14
May 23, 2014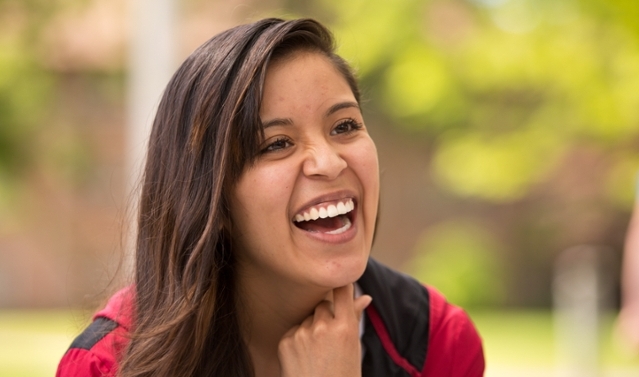 Graduate overcomes tight budgets, ice storms and bureaucracy to pursue her dreams
Angie Jimenez '14 was white-knuckling it in her car as she navigated the icy streets into Portland one Saturday to get to her Minds Matter tutoring session.
It was mandatory that she attend every … single … session if she were to stay in the program, which tutors and supports disadvantaged high-school youth and prepares them to enter top-notch colleges.
But the glasslike surface was too much, and her car ended up in a ditch. Still determined, she convinced the program mentor, who came to pick her up, to bring her back to classes, only to find out they'd been canceled due to the weather.
"It's that kind of commitment which marks these graduates," said Dale Benson '63, a member of PLU's Board of Regents who, along with his wife, Jolita '63, sponsored Jimenez in the Minds Matter program and assisted in the financing of her college education. The Bensons became involved in Minds Matter through a friend at their church. The Bensons were impressed by the program and decided to help out.
In a rare downtime slot the week before graduation, Jimenez said that as she walks across the stage on May 24, becoming the first in her family to earn a college degree— in her case, Hispanic Studies—she will be grateful for all the support that made her journey possible: from the Bensons, her Minds Matter tutors, the Karl Stumo family, her PLU professors and her parents, who arrived in the U.S. as undocumented workers 15 years ago.
"They worked very hard and supported me," Jimenez said of her parents. The Jimenezes also worked and saved to raise enough money—$6,000 each—to get the visas necessary to stay legally in the U.S. Her father works as a caretaker of a property, and her mother at a restaurant.
This summer, Jimenez will be working at Centro Cultural of Washington County in Cornelius, Ore., as a summer program supervisor and possibly an ESL teacher. She eventually plans to go to law school, with the aim of specializing in immigration law.  Jimenez arrived in the U.S. at age 7, her entire family coming north at the urging of an uncle, she remembers.
She grew up as a typical American girl, but when she started high school, it began to hit home just what being an undocumented student meant. A driver's license was out of the question. So was applying for student loans. The thought of paying for a college education seemed impossible.
"I couldn't apply for financial aid, so it just seemed out of reach," she said.
But when the Minds Matter tutors came to her school to offer any sophomore, free of charge, an intense three-year tutoring program—with the caveat that they must show for every Saturday session—Jimenez grabbed at the chance. Minds Matter is a 20-year organization that, through the total use of volunteers, tutors disadvantaged students on the path necessary—from schoolwork to mental preparedness—to get into college.
Graham Covington, the director of Minds Matter in Portland, said his chapter alone (there are 11 chapters in the U.S.) has graduated 100 seniors who have gone on to four-year colleges. The commitment of the tutors is substantial, working with the students every Saturday for three years. But the commitment of the students is even more impressive, Covington said.
"At 15 years of age, they opt to spend the Saturdays for the next three years in the classroom," he said. Graduates of Minds Matter have gone to colleges such as Yale, Brown and Harvard. And more and more are coming to PLU.
Jimenez said college was just a dream before this program and the support she received from the Bensons. Now that she's a graduate and has her visa, she plans to work toward full citizenship and law school. As for any advice for students who may be undocumented and still trying to pursue their dreams?
"Don't give up," she said. "Keep at it. And take risks."