Currently Reading:
Saugen Transfer Scholarship
February 26, 2012
Saugen Business Scholarships for Transfer Students: A new opportunity to pursue your passion for business at PLU
Attending Pacific Lutheran University has always been affordable. But for transfer students with an eye on a business degree, it's just become more so through a generous gift by businessman Doug Saugen '79 and his wife, Vickie.
Adding funds donated by the Saugens to the merit scholarship transfer students already earn, the Saugen Business Scholarships for Transfer Students will offer five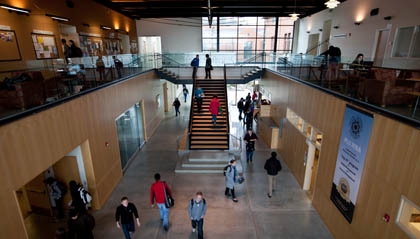 well-prepared students from local community colleges $17,000 per year to pursue a business degree.
This amount equals the highest scholarship available to transfer students at PLU. The deadline for application is March12, and the scholarship is open to all transfer students with a 3.3 GPA or above. Candidates will be reviewed on goals, the quality of previous college-level work, an essay and an on-site interview with business faculty on March 23.
Saugen himself was a serious student who had to work to support himself while at PLU, said School of Business Dean James Brock. He went on to be a successful corporate executive with Accenture. He currently sits on the School of Business executive advisory committee. Saugen has since retired and now lives in Tacoma.
"He wanted to do something for transfer students," Brock said,adding that "this puts PLU in a very competitive position with public universities."