Currently Reading:
Alumna kicks up heels in production of 'Oklahoma!'
February 27, 2012
Editor's note: Since this article was first published, Kirsten deLohr Helland has finished up her work in "Oklahoma!",and sang in  the production of  "Titanic" at the Fifth Avenue in April. She will be in "Rent" this summer.
Alumna kicks up her heels in Seattle production of 'Oklahoma!'
By Barbara Clements; Video by Katie Martell
Kirsten deLohr Helland '10 never considered being an actor during her early years at Pacific Lutheran University. Actually, she was thinking about being a psychology major as she mulled over her future in her sophomore year.
That is, until Assistant Professor of Theatre Brian Desmond insisted that she try out for a part in "Cabaret." She lobbed back excuses. Too much homework, she had to work, too busy.
"He finally told me that if I didn't try out I'd regret it, so I gave in and did, and got the part of Sally Bowles," she said. After that, Helland was hooked and quickly declared her theatre major. After she graduated, Helland recalled she was completely prepared to "do her time," working small parts, part time jobs, and maybe eventually going to New York.
But fate had other plans, as a director connected with the Fifth Avenue Theatre in Seattle invited her to audition for a part in "Oklahoma!" soon after she graduated.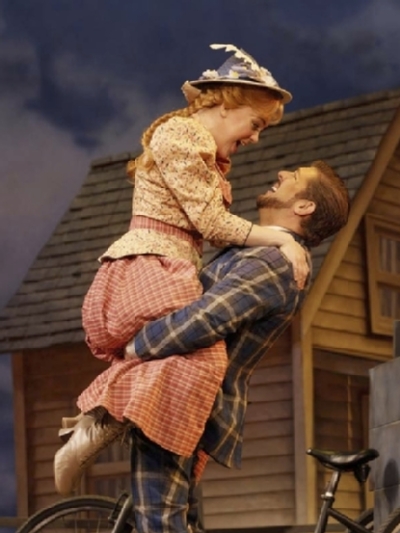 Helland landed the part of Ado Annie, performing that part during the months of February and March. After "Oklahoma!" wrapped, she started preparations for the concert version of "Titanic," along with PLU's Choral Union, and then on to the ensemble in "Rent." Helland can't keep from shaking her head in disbelief at landing the parts so quickly so fast.
"I guess my advice is that if you want to be an actor, then do it," she said. "Take that chance."