Currently Reading:
Emily Struck '23 reflects on her time at PLU, captivated by chemistry and research
Emily Struck '23 reflects on her time at PLU, captivated by chemistry and research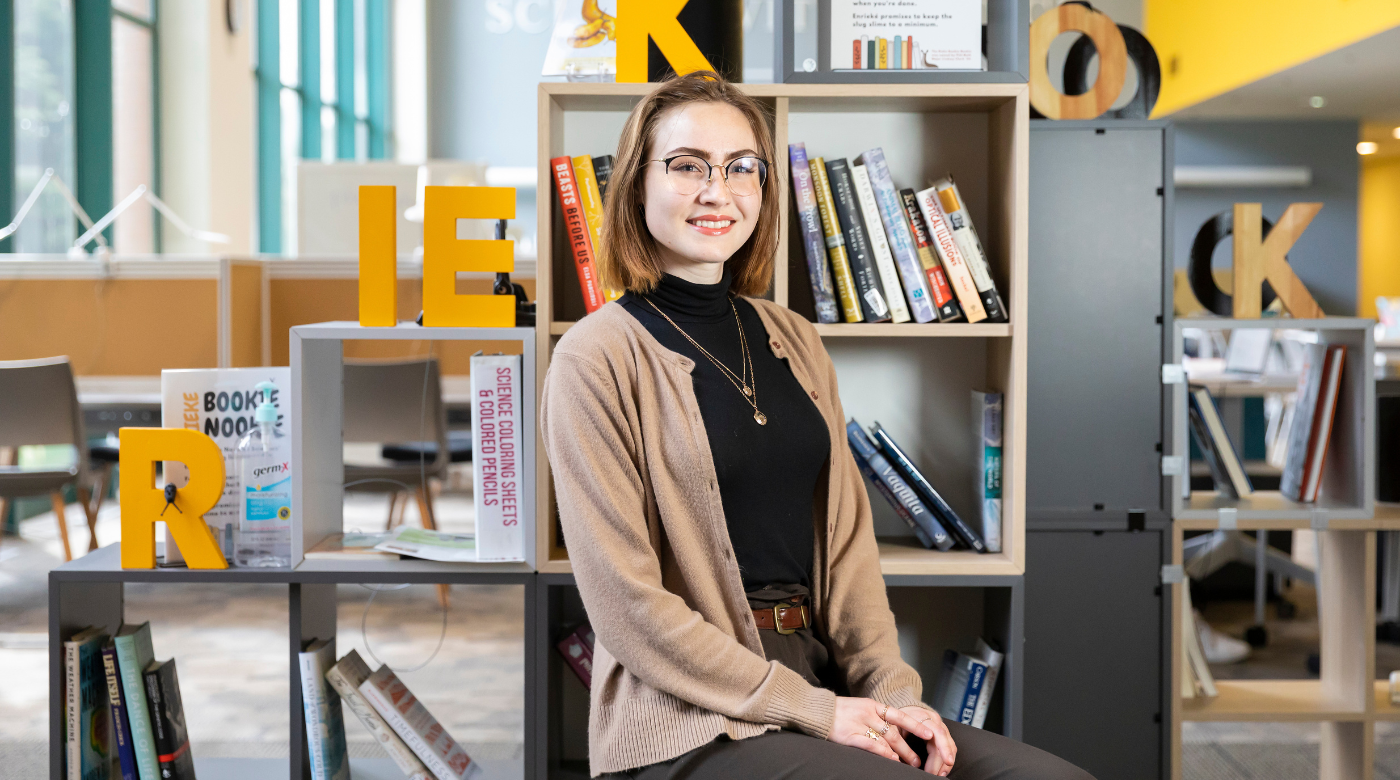 May 5, 2023
By Grant Haskins
PLU Marketing & Communications Student Writer
Emily Struck '23 made the most of her chemistry major at PLU, conducting individualized research with professors and tutoring other students on campus. As she takes her next step in the fall pursuing a Ph.D. in organic chemistry at Purdue University, Struck reflects on her personal and educational experiences at PLU in our Q&A with her.
How did you discover your passion for chemistry?
When PLU went online, I took organic chemistry after general chemistry and loved that class, because it's about figuring out different types of puzzles. I know organic chemistry is the class everyone is supposed to hate, but it's my favorite, and I will die on that hill. Honestly, I knew chemistry was right for me after taking organic chemistry and having a ton of fun with that.
What has your experience been like working for PLU's tutoring program?
I enjoy helping people figure things out. I think chemistry seems kind of intimidating and boring at first, and especially the homework can make people feel upset and demoralized. I really enjoy just chatting about chemistry and making stuff fun because I think it is really interesting. I love watching people figure things out and seeing chemistry click for them. Now, as the chemistry tutor for all levels, I get a range of questions that help me recall my own knowledge on the subject. I get to meet new people and be uber-nerdy all the time, which is great for me.
Who did you conduct chemistry research with, and on what topic?
I did one summer of ecology research in the summer of 2021, developing PCR tests similar to COVID tests for a specific fungal pathogen that affects snakes. In the summer of 2022, I was in Dr. Waldow's chemistry lab working on synthesizing new conductive polymers. I was working on organic materials that could transport charge and ions to be used on biosensors and be more easily integrated into biological systems, unlike other semiconductors or batteries.
Did you appreciate the research experience?
Working on my own project in the first lab forced me to learn to take accountability and engage with chemistry on my own. Last year, however, Dr. Waldow was very involved, but I was doing my own thing and diving past polymers into synthesis, which was super fun and challenging. To me, research is just troubleshooting over and over again. He gave me the opportunity to take control while also providing helpful solutions at times. I did most of the lab work myself hands-on, so now I feel very prepared with chemistry techniques. I had a great time in Dr. Waldow's lab, and it really pushed me to do all I was capable of in chemistry. Working in these labs also cemented for me that research is the right place for me and my career.
Do you plan to implement research into your future career, if possible?
Yes, of course, in a Ph.D. program, I'll have to do research. After that, who can say? In my future career, I hope to research and develop new syntheses and novel drugs based on natural products that can be used for treating neurodegenerative diseases like Alzheimer's and Parkinson's disease. A key part of my future career will be doing research and developing new syntheses.
What made you pursue the IHON-Oxford Program?
I really wanted to go to Oxford, and the Socratic seminar method and blended nature of the IHON classes made me interested.
What's your fondest memory as an IHON student?
Dr. Wilkin taught a class on friendship that was super fun, even when I didn't always agree with some of the course material. One of the final projects was completing an ethnography, which was super unfamiliar and new to me. I chose to explore how asexual and aromantic people experience friendships or romantic relationships, as people have this identity where sexual attraction is not necessarily a component. I identify as ace, so it was really fascinating to examine that perspective from an academic lens. Seeing how my peers tied their research back to their own world experiences was incredibly fascinating as well.
What are you most proud of from your time at PLU?
During spring break, the American Chemical Society held a conference where I presented my research. I worked hard on that research and delivered an oral presentation there, placing third in the category. I had something to show for my hard work, and it got recognized by people, so that was really rewarding.
What did you appreciate most from your time at PLU?
People at PLU showed me opportunities and pushed me to them. The American Chemical Society presentation happened only because Dr. Waldow pushed me to do it. The chemistry faculty were very encouraging and supportive of our accomplishments.