Currently Reading:
CrossFit champion Cheryl Brost '92 talks health and fitness with PLU Professor of Kinesiology Colleen Hacker
CrossFit champion Cheryl Brost '92 talks health and fitness with PLU Professor of Kinesiology Colleen Hacker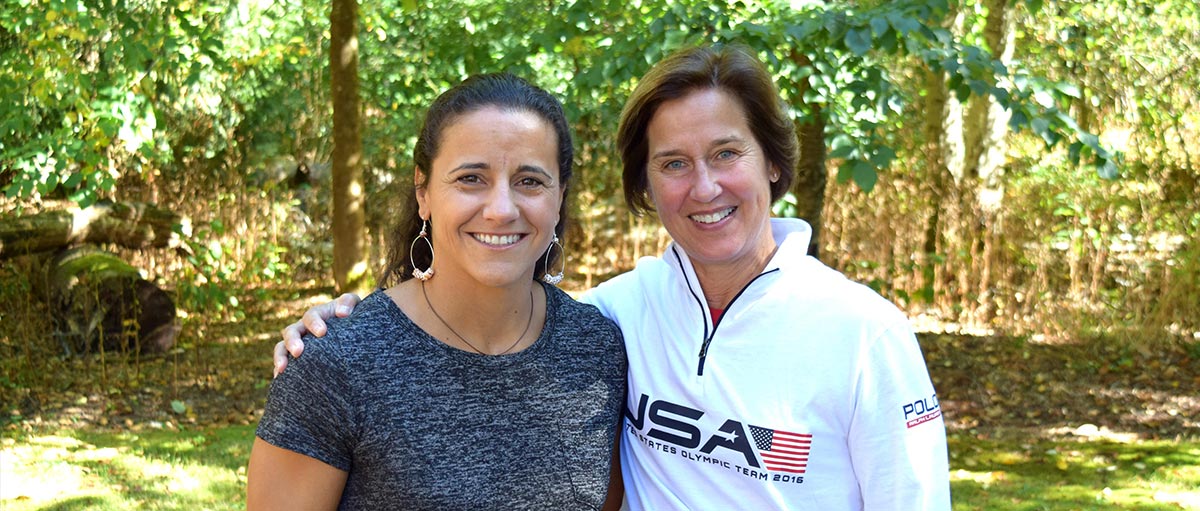 September 22, 2016
While visiting campus to cheer on her son, Alex, and the PLU football team, CrossFit champion Cheryl Brost '92 reunited with her former coach and mentor Colleen Hacker to discuss smoothie ingredients, PLU women's soccer memories, health and wellness philosophies, and much more.
CONVERSATION HIGHLIGHTS
-Health and fitness related warm-up questions: beach vs. mountains, park vs. gym and choice smoothie ingredients: 1:40
-Memories of each other and the PLU women's soccer program in the 90s: 4:10
-How emotional adversity and stress can affect the capacity of individuals' minds and bodies to perform at their peak levels: 10:05
-How Cheryl discovered and fell in love with CrossFit: 15:50
-Colleen explains that "variety and joy" are key to a sustainable lifestyle of health and fitness: 18:55
-How to determine the ideal mentality and energy level with which to approach a high-pressure challenge: 24:40
GUEST BIOGRAPHIES
Cheryl Brost is currently ranked number one in the world and is reigning champion of the Reebok CrossFit Games in the 45- to 49-year-old women's division of professional crossfit.
Cheryl's career as a student athlete at PLU from 1989 to 1992 is among the most decorated in school history. As a member of the PLU women's soccer team, Cheryl earned all-American honors, was named the Adidas NAIA player of the year, was a two-time all-American scholar athlete and a two-time national champion. She also played point guard on the PLU women's basketball team and has been inducted into the PLU athletics hall of fame.
Colleen Hacker, Ph.D., is a professor of kinesiology at PLU and an international authority in sports psychology. She served as the head coach of the PLU women's soccer team from 1980 to 1995, leading the team to three national championships and earning more than a dozen regional and national awards for coach of the year.
Colleen served as an assistant coach and sports psychology consultant on the women's U.S. national soccer team from 1995 to 2007. She's currently the mental skills coach of the U.S. women's national hockey team and works with a variety of other professional, international and Olympic athletes.
Department of Kinesiology
The primary mission of the Department of Kinesiology is to provide quality academic professional preparation for undergraduate students in areas related to the study of human movement, especially as it supports the pursuit of lifelong physical activity and well being (i.e. health & fitness education, health & fitness education with certification, exercise science, pre-physical therapy and health & fitness promotion). We strive to prepare future leaders who will positively impact the health behaviors of individuals and of society through the education and promotion of life-sustaining and life-enhancing pursuits.