Elliott Press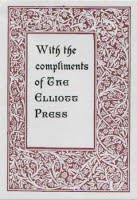 The Elliott Press is a small private press located in the PLU arts building, Ingram Hall. The Press provides a hands-on workshop for students in the Publishing & Printing Arts program. Founded in 1982, the Elliott Press marked its 30th Anniversary in 2012. The Elliott Press features two platen letterpresses from the early 1900s and a Vandercook proof press from the early 1960s. New as of Fall 2012 is a small, portable parlor press, currently dubbed Baby Elliott. The Press also houses more than 300 different drawers of type, each offering unique design and printing possibilities. In addition to a rich variety of fonts, book arts students will find intricately carved ornaments, stamps depicting everything from dental charts to 1920s roadsters, and an entire set of ancient medical symbols. To see a brief video of typesetting and printing at the Elliott Press, click here. To read an interview with Elliott Press alumnus David Johnstone, proprietor of Sharp Teeth Press, click here.
In March 2014, the Elliott Press hosted  the National Guild of Book Workers for a one-day symposium. Accompanying this event was a month-long special exhibit at the University Gallery in Ingram Hall, The Art of Wayzgoose. For more information about these events, follow this link.
In 2013, students in the Elliott Press created a multi-piece artist's book, A Strange Case of Alchemical Munificence, using many of the mysterious medical symbols. This work is currently featured on the Vamp & Tramp, Booksellers website.
Each year the Book Club of Washington recognizes outstanding achievement at the Elliott Press through the Robert D. Monroe Award. Recipients are guests of honor at the Club's annual meeting and receive a generous cash gift, as well as having their work added to the Club's archives in the University of Washington Library.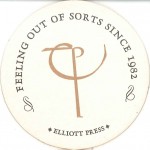 In celebration of the 30th Anniversary of the Press, a special exhibit, Pressing On: 30 Years at the Elliott Press, was held at PLU's Mortvedt Library from November 29, 2012 to February 27, 2013. The exhibit featured broadsides, artist's books, and printing ephemera, all created by students and instructors at the Press.
If you are interested in the a history of the early years of the Elliott Press, as well as other small regional presses, you may wish to read A Decade of Fine Printing in the Pacific Northwest(1992).
Letterpress Printmaking Class at PLU, April 5