Programming Policies
Visit the Student Club/Organization Handbook for detailed information about programming policies. Look under "Sponsoring Events," "Policies and Procedures for Travel," and Raising Money for Your Club/Organization."
Four Step Process
Successful programs are not born, but carefully crafted, thought out, and revised along the way. If your group is going to be successful at recruitment and outreach, good programming is a necessity. The key to successful programming involves four basic steps: development, planning and logistics, promotion and follow up.
By following these four steps, your programs will take on new meaning—they will cease to be just about the program and more about the group process. As your group learns to self-revise and self-evaluate, your process will become more streamlined. The more your group follows these steps, over the years, the more your groups programs will be sustainable and long-lasting.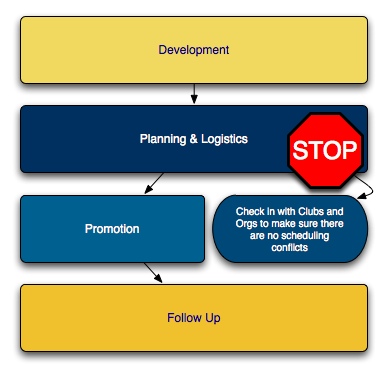 This is the time for your group to brainstorm, dream a little, and forget about logistics or realities. It is also an important time to ask questions:
What do we want to do?
Why are we doing this? What need is being addressed?
Who are you serving? Who are you inviting?
Who can you collaborate with?
How can you grow your organization-involve volunteers, etc?
Club Collaboration
We encourage all clubs to collaborate on their projects with other clubs or organizations that may contribute to their topic. This will provide everyone with the ability to split the labor and costs, and also to create more rounded programming that in the end will be a richer experience for your audience.
Career Connections
One opportunity for collaboration is with the Career Connections office. Many clubs are focused on how they can build skills in an academic setting that will transfer into a career setting. By contacting Career Connections, they can give relevant presentations for your group, or connect you to alumni that know about your field.
At the end of the development stage, consider your budget/how you are going to finance the program. Once you have these two things in hand, you're ready to begin planning.
Now's the time to hone in your ideas and accept realities:
Submit an Event Planning Form at least 3 weeks before the date of the event.
Secure the date and location on the University Calendar by filling out an event request on 25Live at least 3 days before an event. Make sure you register the event to the Student Involvement Calendar.
If you need to apply for appropriations, make sure that you're able to prepare a proposal and attend a meeting before your program happens.
Check in with Clubs and Orgs to make sure all of your t's are crossed and i's dotted.
Reserve Space, Multimedia, and Catering
You can make reservations for space, multimedia, or order catering for event through Event Services. Be sure to have a complete event plan and your club information (such as account numbers and contact) ready.
Event Services >
Reserve Vehicle
You can make reservations for vehicle through Campus Safety.  Club officers are entitled to use a PLU vehicle if the club is currently active. Any driver must obtain PLU Driver Certificate in order to operate PLU vehicle. Vehicle expenses will be charged against your PLU club account.
PLU Driver Certificate >
Promotion is the second most important part of your programming process, right after setting down the logistics. Without print and sometimes even web advertising, your program will be attended by the same people who are interested in your group—not by those you are trying to reach. The best way to promote your program is to think in terms of three weeks.
Three weeks before the event: start spreading the words on your event by word of mouth and through a club email. Have people put out feelers, to see who plans on coming. At this stage in the game, it isn't to late to revise things based on perceived attendance and what people's reactions are to your program. Submit Event Planning Form and reserve your space.
Two weeks before the event: hit the campus with flyers and posters. The Impact boards are a good place to advertise as there is one in every building and residence hall. One need not have the poster produced by Impact, but all posters not produced by Impact must be stamped approved by SIL. For more information on posting guidelines, visit the posting policies page. Another good idea is to create a daily flyer ad. These are simple to make and affordable.
Learn more about posting policies >
One week before the event: it's time to table. You need to formally set this up through Conferences and Events, and you should contact them before this week to make sure there is space available. In addition to tabling, set up a web presence either on your club's website or on Facebook. Sending out another club email is also a smart idea.
The day before the event you should make sure that you're planning is coming together and that logistics are panning out. By this day, if you've promoted your program right, word of mouth should be able to carry you over to the program.
Few groups realize that the program is not the end of the programming process. After your event is finished, if you want to be successful in the future, you will follow up your program with both formalized and informal evaluations, to provide your group with good information for the rest of the year and future year's groups.
In immediate follow up, you should clean up the space you have used to return to its original state and tear down any advertising. At the next club meeting, you should review with your group what worked and what did not, leave notes to pass on for future event planning purposes, identify any difficulties that occurred with the process and action steps for improvement in the future, send Thank You notes to key players in the planning, send Thank You notes to people who may have stepped up in a moment of need, and thank your group and planning team.