February 23, 2022
By Marin Diefel

Isamar Henriquez '13 left her legacy within the Diversity Center through her advocacy work and creation of the Amigos Unidos Club, a program that is as strong as ever today.
During her time at PLU, she worked for the Diversity Center as the International Diversity Advocate supporting "activities… for whole cultures inside PLU" and working alongside former program director Dr. Angie Hambrick (now the Associate Vice President for Diversity, Justice, and Sustainability) and several others. After finding out there hadn't been a Latinos club in many years, Isamar took it upon herself to create one, now known as the Amigos Unidos Club.
Although PLU hadn't been her first pick for college, Isamar was grateful for the support she was offered. As a finalist for the Act Six Scholarship, she was put on a roster of schools that sponsor the Act Six Scholarship. PLU was one of those schools and they were able to offer her important financial aid because "They were willing to work with [her] because [she] was a first-generation student."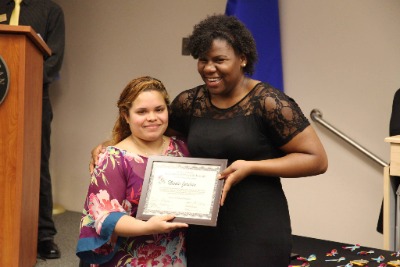 As a first-generation student of immigrant parents, Isamar was facing a college experience as a minority in more ways than one. As part of a campus with a white majority she sought out a community who she could share her experiences with.
"I think that going into campus we were really the minority and you could tell. First generation students really do have a hard time [since their] parents and families, other than not knowing the language, really have never experienced anything beyond middle school." Her own parents had only finished middle school in their countries of origin before having to start work.
Since Pacific Lutheran wasn't Isamar's first choice of school, it wasn't immediately obvious if she would be able to find a community on campus where she fit in. Thankfully, she was introduced to the Diversity Center by a professor and, although she went for the couches, she stayed for the conversation and culture.
"It offered me a place of comfort. Not necessarily just the couches, but we could just go in and talk. I think that most of what it offered for me was that it's a place where people shared [the] same struggles… and that was the biggest thing."
The Diversity Center gave her a place to go for resources, friendships, and opportunities to help expand the diversity of PLU and her personal understanding of diverse identities. She was able to find her community in the Diversity Center and then use the resources there to create the same sense of belonging for the generations of students that followed her.
"I understood a lot more of the perspectives that people bring in even if they're not the same as mine. [The Diversity Center] kind of opens your mind a bit more, your world opens up."
The experiences she had and relationships she built have offered her the same understanding of community even nine years after her graduation. Isamar worked at a law firm following her graduation until the birth of her daughter in 2016 and is now a stay-at-home mom. Since she is working from home, being able to maintain that social connection is more important than ever.
"We always get together [when] we want to see each other. I think for me, right now, it's been more [important] socially because I haven't been able to work. There were bonds that were made that haven't been broken yet… There is an outside network even once we're done at PLU."
In reflecting on her time with the Diversity Center and what it means to her, Isamar said "I just I love it. I hope that others are finding it the same way that I [did]."