February 23, 2022
By Esme Burling

Jazmyn Caroll '15 found comfort in the cozy spaces of the PLU Diversity Center, but she found a home in The CAVE, the commuter student lounge.
Jazmyn saw the CAVE grow in her time at PLU when it moved from a dorm building to a room in the Anderson University Center. The CAVE is a "home away from home" for commuter students and offers them a chance to be more involved with campus life. Both the Diversity Center lounge and The CAVE are home to the famous couches, which are the comfiest on campus. Jazmyn, like so many other students, formed numerous memories on those couches. "I've laughed on those couches. I've cried on those couches. That space meant the world to me."
Along with spending time in The CAVE, she contributed to some of the most influential campaigns of the Diversity Center. Jazmyn, an Act Six Scholar, participated in the My Language My Choice campaign, which showed minorities ripping up words used to hurt them. "My word was passive, and my background is being Filipino. So a lot of times, you know, I think the stereotype of Asians being passive gets thrown around a lot." This project, and the Diversity Center as a whole, helped her find herself and not be afraid to show herself as she is.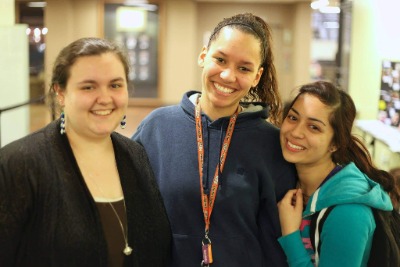 After PLU, she received her masters degree at Seattle University and became a nurse practitioner. She helps people from all walks of life get healthy again. In the time of COVID, nurse practitioners like Jazmyn are especially important and her time in the Diversity Center helps her connect with all her patients.
"It's helped me with being reliable, being responsible, and, you know, understanding that I'm in a place where I can make change, even if I am one [health care[ provider among many, especially in my clinic."
The Diversity Center still holds a place in Jazmyn's heart and she feels like she is always welcome back. It is a busy time for nurses and Jazymn hasn't been back recently, but she looks forward to returning very soon.
"The dCenter was my happy place. It was my family, it still is my family."