PLU senior Allison Sheflo discusses her triple major in geosciences, environmental studies and religion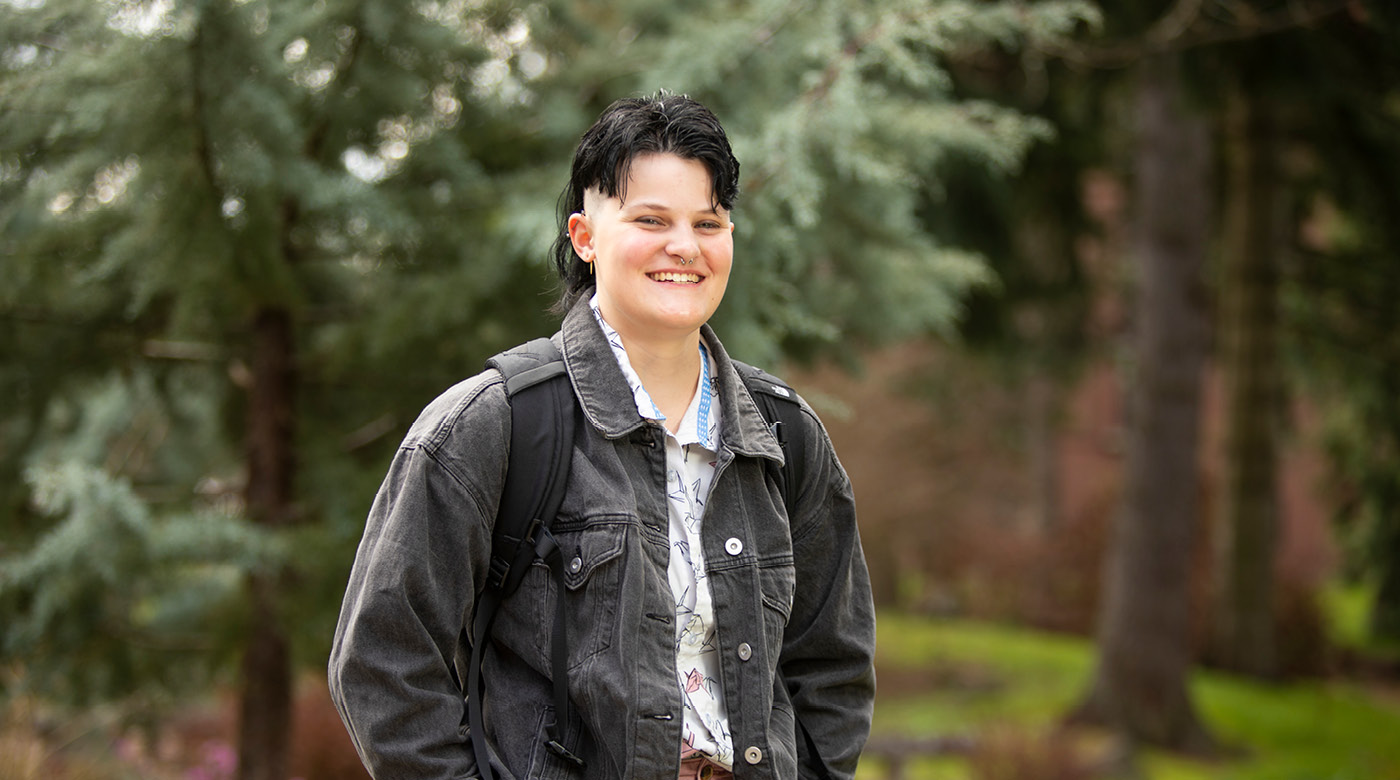 April 24, 2023
By By Lisa Patterson
PLU Marketing & Communications Guest Writer
Senior Allison Sheflo will graduate this spring with a triple major in geosciences, environmental studies and religion and a minor in mathematics. She forged her own trail at PLU, welcoming the adventures that piqued her curiosity and let that lead her way.
"It's definitely not the course I thought I would take — freshman me would have laughed if you'd told her she would triple major, especially with religion, and I think that's something special about being at PLU," Sheflo said. "I've been able to develop my interests and do a lot of things at once to continue to chase them down."
In addition to her studies, she rowed all five years (she took a tuition-free PLUS Year) and is captain of the rowing team and on the executive board for the Student Athlete Committee. She also works in the scene shop in the theater constructing sets and is a member of Alpha Psi Omega, the student theater club.
"I've grown a lot because of the opportunities and challenges PLU has given me — as an individual, as a leader, as a friend. I've learned a lot more about the world and myself, and I am so grateful for the chances I've had to explore those. The community I've found on campus is one I love so deeply."
We talked more with Sheflo about her well-rounded PLU experience, her interesting capstone and what's next after graduation.
Why did you choose PLU?
PLU felt like a good distance from home — not next door, but not too far from family. I really liked the atmosphere and culture on campus and the opportunities it gave me to be involved in more than just my academics.
What led you to your majors?
I knew coming into PLU that I wanted to major in environmental studies and probably double major with another program. Spring of my freshman year, I took a first-year experience course on the geology of national parks and fell in love with the way that geology can tell stories millions of years old from the rocks that are still here. I settled into those programs and thought I was done, but when the PLUS Year was announced … I realized that I had really enjoyed taking the religion classes I took … and that with the PLUS Year, I would be able to complete a major in it.
Religion is so influential in people's lives, studying it felt like a really good way to open up my understanding of individuals and society.
What is next, and why is conservation important to you?
I grew up going to national parks, going hiking and spending time outside (which is what led me to environmental studies in the first place). I've learned a lot more about what conservation can mean in my time at PLU and how complicated the issues can be, but I still think it's an incredibly important field, especially as the climate crisis worsens. I would be able to use a lot of my education — obviously environmental studies is relevant, geosciences contributes a lot of my knowledge on the subject, especially the use of natural resources, and religion informs so much of our political and social discourse that it really adds to my understanding and ability to talk about the subject to different people. I'm not entirely sure what's next for me. This summer I'll be attending a geological field school to get experience and round out my education.
Tell us more about your latest religion capstone.

My religion capstone is focused on four different works of art that depict Christ as queer, dissecting the messages that these works have for LGBTQ+ Christians and for the Christian church as an institution. I'm finding that the works model a way for LGBTQ+ people to identify with Christ, even in the face of rejection by the church.
What advice would you give to other Lutes on their educational journeys?

Find your community — it can be in sports, in clubs, educational programs, anywhere, but having a group of people that you see regularly and that you trust to support you has been so important in my journey at PLU. The community and opportunities to be involved at PLU are fantastic but taking the first step to be involved is really important.