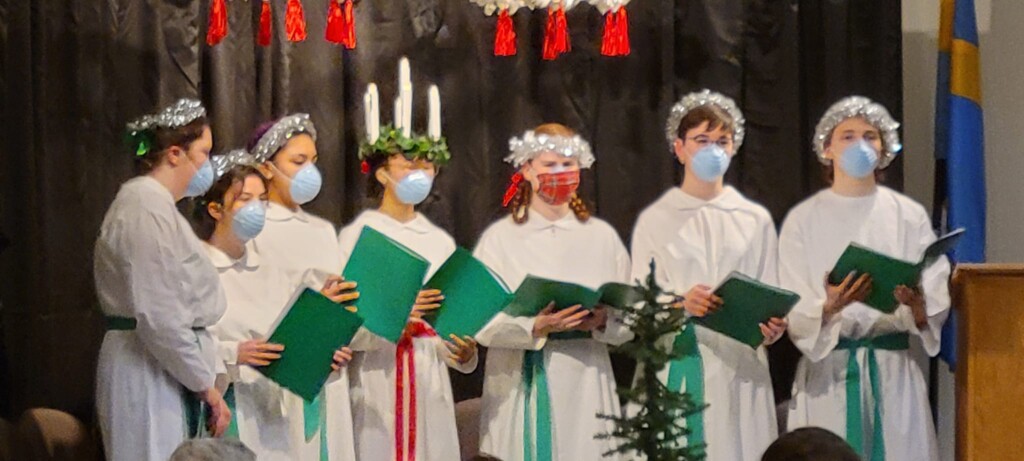 Sankta Lucia Candle Ceremony
Although the past few years have been dark, tainted by the far reaching effects of the global pandemic,  we in 2023 still celebrate this Festival of Light. Sankta Lucia brought light to the people, and her crown of candles is a symbol of that gift, bearing a similarity to an Advent wreath, which reminds us of the gift of Christ. Each candle in the crown represents a different virtue of Lucia's character, a reminder of that which lights our lives: hope, mercy, purity, dedication, and faith.
The first candle is the candle of hope. Lucia represents the hope of the coming Christmas season, bringing the birth of a small babe who would be the Light of the World. His birth, life, death, and resurrection bring hope for all time. May this candle of hope burn bright through the Christmas season and throughout the year.
We light the second candle, the candle of mercy. The legend of Lucia commemorates showing mercy to all of God's people, rich and poor alike. May the spirit of mercy shine in our lives and illuminate the years of those around us.
The third candle, the candle of purity, burns in remembrance of Lucia's youthful innocence. May we, by the radiance of this candle, be mindful to allow a child-like purity to permeate our lives.
The candle of dedication is the fourth candle we light. Lucia remained true to her faith through persecution and even unto death. May our dedication burn as boldly with dedication and conviction.
The fifth and final candle is the candle of faith. We see in Lucia that her faith was the guide and motivation for life. The light of faith shines in the night, illuminating our path, which would otherwise be dark. Let us pray that we live by our faith with the same hope, mercy, purity, and dedication as Sankta Lucia.
We invite you to join us at the Scandinavian Cultural Center on December 10, 2023, 4 to 6 p.m., for the Lucia event.