The Scandinavian Cultural Center has three exhibition galleries:
Hildahl Gallery: Our main exhibition space inside the Scandinavian Cultural Center. It consists of 6 bays equipped with special lighting, a flexible mounting system, security, and custom display cases.
Larson Gallery: Always on view to the public as it is located in the hallway entrance to the Scandinavian Cultural Center. It consists of 5 custom-made, locked display cabinets.
Stuen Room: An intimate gallery space where many of our larger household items are displayed, including a selection of furniture. It is also used as our Reading Room. Three sets of locked, glass doors separate this gallery from the shared used space in the Scandinavian Cultural Center.
The exhibitions change at the Scandinavian Cultural Center approximately every other month. Many exhibitions are curated by the Director of the SCC, student interns, and volunteer members of the Exhibition Committee, and with input from the Nordic Studies faculty.
The Scandinavian Cultural Center also is proud to host traveling exhibitions and special exhibitions developed elsewhere in the United States and Scandinavia. Typically, these have been modern art exhibitions.
Current Exhibitions
Learn more about Current exhibitions at the Scandinavian Culture Center.
Scars Left by the Body in Motion: Meditations on material culture, ethnic identity and time – Curated by Jason Schroeder, former director of the Scandinavian Cultural Center. This exhibit features a display of clothing, art, and materials used by various Scandinavian countries with a particular focus on artifacts that were hand made or are individualized.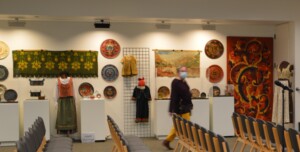 Visions  – Curated by Imani Keyes, class of 2021 and former Collections Intern. This exhibit displays artifacts that show timeless enjoyment and feeling of warmth throughout a whole year. Throughout this last year, becoming familiar with these items allowed me to notice the common ideas I and Nordic people share. Such as, food is the way to the heart , creativity shows idiosyncrasies with uniform styles, and the passion for togetherness is key. The following of the collection present what I think are day to day happenings throughout seasons in a given year. As winter turns to fall, the actions and experiences we encounter help shape our lives, what we do with our time, and shows our freedom. With this collection, I presented my favorite Nordic items because I have regained the importance of crop and climate sustainability. The Rosemaling presents an intricate art design that can expand a viewer's creativity, and lastly the commencement of love and family pieces show my appreciation for nostalgia.
What Makes You Scream? // Hva får deg til å skrike? – Curated by Imani Keyes, class of 2021 and former Collections Intern. This exhibit is a visual collection of the emotions that the curator faced during the college experience.
Sámi National Day // Sámi álbmotbeaivi – Curated by Troy Storfjell, Director of the Scandinavian Cultural Center and Professor of Nordic Studies. This exhibit is in the South-East corner of the Hildahl gallery and features three different sections. We have a look into the religions that were present in the Sámi region, pictures of the various styles of traditional dress, and a section on yoiking.
Past Exhibitions Archive
Archive of previous Scandinavian Cultural Center Exhibitions: