Lessons from Julie Ann Hebert: The Art of Rosemaling
On Tuesday, January 16, 2018, the director of the Scandinavian Cultural Center, Jason Schroeder, interviewed SCC member and rosemaler, Julie Ann Hebert about her rosemaling. In the three hours they spent together, they talked about rosemaling, art in general, family histories, and teaching. In the interview, Julie Ann pointed out that she created her sitting room as a gift for her Norwegian grandmother, who had not had a sitting room.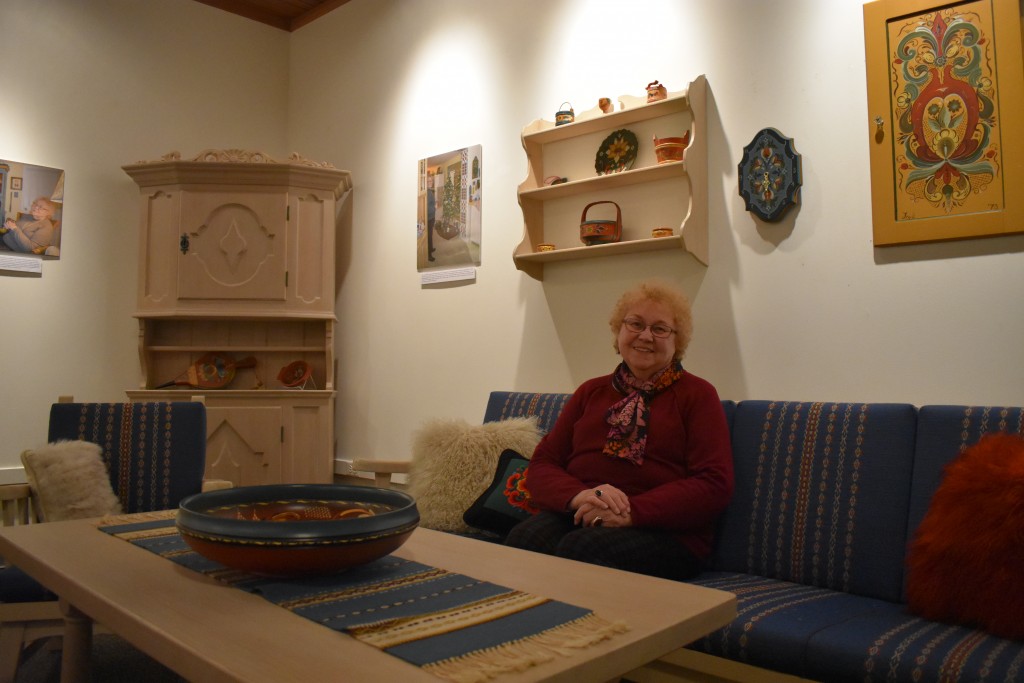 The room is a place for Julie Ann to connect to her grandmother and her roots, and to show off her artistic abilities. The SCC has not tried to reproduce or re-create Julie Ann's sitting room and living room in the Stuen room. Instead, we mean to invoke Julie Ann's sitting room – to honor her work. In the Stuen room, we have installed various rosemaled artifacts, many that we have loaned from Julie Ann Hebert, other that are in our collection. We have put up photographs of Julie Ann during the interview Dr. Schroeder did with her last month, along with captions, mostly with quotes from her about her "my-ology" as she calls it: how she conceptualized and teaches rosemaling. We invite you to come visit the SCC during open hours to see Ms. Hebert's art in the Stuen room, and to see the tools, techniques, regional styles, and examples of other local artists in the Hildahl gallery.
Exhibit closes in August 2018.