Brief History of Lucia Fest at PLU
In December 1950, Rev. E. Arthur Larson, professor of Swedish, introduced the Lucia custom to the PLU campus. At 5:30 on a cold, December morning, a group of female Swedish language students were honored with a visit from Sankta Lucia. The white-robed saint, wearing a crown of candles and a red satin sash, knocked at the doors of Harstad Hall. In her hands were a plate of cookies and a pot of fresh-brewed coffee. The saint's real name was Lola (Murk) Gracey '54 from Seattle, Washington. The crown worn by Lola over 50 years ago is a part of the SCC's permanent artifact collection.
It quickly caught on, and soon the Sanka Lucia Fest became a tradition at PLU. The sophomore student association, called the SPURS, organized a Lucia festival every year from 1954 on. Students went from dorm to dorm, singing the Lucia song and brining each other treats during Finals week. The crowning of a sophomore as PLU's Lucia took place as program in Chris Knutzen Hall for many years, often crowned by the head of the Associated Student Body.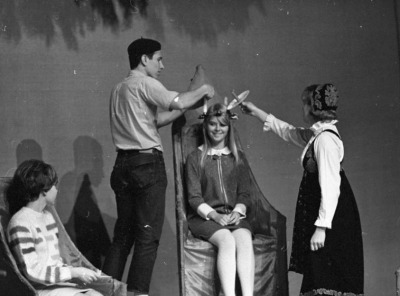 In the 1990s, the Scandinavian Cultural Center took over running the program, with the leadership and assistance of Kerstin Ringdahl, University Archivist and authentic Swede. She secured sponsorship of the Lucia Program by turning to the biggest Swedish company in North America, IKEA! IKEA generously supported the Lucia program by providing food, covering the costs of the program, and giving the PLU student participants in the ceremony a gift certificate and an opportunity to perform at IKEA in Tukwila! Many PLU students enjoyed those trips in the PLU van up to IKEA, singing Christmas carols the whole way.
From 2000 until 2013, the Lucia Fest took place in the university's Mary Baker Russell Music Center, Lagerquist Hall, a beautiful facility. Following the hour-long program of Swedish music and song, guests followed a candle-lit path to a reception in the Scandinavian Cultural Center. The program moved to the newly-renovated Eastvold Auditorium in the Karen Hille Phillips Performing Arts Center in 2014. In 2018 and 2019, the Lucia Celebration took place in the Scandinavian Cultural Center. In 2020, due to the pandemic, Lucia was done by video on YouTube. In 2022, Lucia will is back in the Scandinavian Cultural Center.