What is the Demand for STEM Teachers?

April 8, 2022
There's a critical shortage of STEM teachers. Read on to learn more about the demand for STEM teachers nationwide, but especially in Washington State.
Today, there is a critical shortage of STEM teachers who have the credentials to teach the thousands of children who are lacking proper education in subjects like math and science.
According to the National Math and Science Initiative, "over half of high school graduates are not ready for college level math, only 44 percent of them are willing to take what most likely will be basic college algebra. The number of students willing to take on a college science class is even more disturbing. A mere 36 percent of students will be ready to take basic science classes in college after high school."
With this in mind, let's discuss the significant demand for STEM teachers in the field of education today.
What is STEM education?
STEM stands for science, technology, engineering, and mathematics. STEM is responsible for many of the ground-breaking, innovative solutions we're seeing in these fields today.
"Technology is constantly evolving and is a necessary part of our history. Math and science education are mandatory elements in keeping the field of technology expanding. Schools are trying to focus on these vital subjects like science, technology, engineering and math (STEM), but there is a problem. The funding is there; however, there is still a gap in U.S. education when it comes to these STEM fields. The problem lies in the fact that there are not enough teachers for STEM programs."
—NR Computer Learning Center
Here are a few statistics related to the field:
The Department of Education recently invested $540 million in STEM education.
Only 20 percent of U.S. high school grads are prepared for college-level courses in STEM majors.
74 percent of middle school girls express an interest in engineering, science, and math.
Fewer than half of the schools in the U.S. offer computer science classes.
Statistics taken from NR Computer Learning Center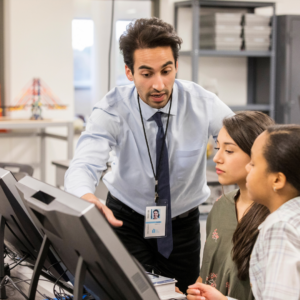 Job outlook for STEM teachers:
STEM occupations are projected to grow over two times faster than the total for all occupations in the next decade, and STEM jobs are projected to grow 8.8 percent, which is nearly twice as fast as the job growth for other occupations.
The UNESCO Institute for Statistics estimated that by 2030 the world would need 69 million new teachers to provide quality universal primary and secondary education. And while individual states report the need for different kinds of specialized teachers, nearly every single state asserts the need for STEM teachers who can prepare the next generation of mathematicians, engineers, scientists, and technological professionals.
In short, if you're considering becoming a teacher, then you should consider specializing as a teacher of STEM subjects — as you'll always be in high demand.
Ready to respond to the shortage of STEM teachers?
You want to teach? We have you covered.
At Pacific Lutheran University, we offer three pathways to becoming a teacher, MAE – Teacher Certification, MAE – Alternative Routes, and MAE – Non-Certification for International Students.
All three programs prepare you with a strong theoretical foundation and real classroom experience. Our intense coursework and schedule provides you with rigorous preparation to gain the skills to become an effective teacher and educator.
If you are interested in learning more about joining a community of education experts at PLU, we encourage you to schedule a one-on-one appointment with us! You can also request more information or start your application today.