Carrying on a Legacy of Service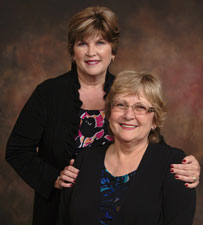 A tough cross-country move at a young and vulnerable age left Carol F. Brandenburg-Smith '80 looking for a fresh start, and she got one the moment she set foot on the steps of Harstad Hall.
"I felt so loved and welcomed," Carol says. "PLU gave me my life back, and gave me the new beginning that I needed."
Support from her new Pacific Lutheran University family helped her regain the sense of security she'd once had in her hometown of Bedford Township, Mich., which she missed dearly. The PLU community embraced her and offered invaluable social and educational experiences.
But Carol says she would not have gotten to PLU in the first place without the support of her parents, who provided her with a foundation for success through service.
Growing Up in a Giving Family
Carol's father, Rev. Robert R. Brandenburg, devoted his life to serving others as a pastor, with the belief that, "If you had more than you could carry, you had too much." He helped thousands of people throughout his lifetime, from a family struggling to put food on the table to someone simply needing to be heard.
Upon her father's passing in 1992, Carol and her mother, Arlene J. Brandenburg, decided to endow a scholarship in his name to honor a caring father and husband.
"He was a wonderful inspiration," Carol says.
In addition, Carol is personally endowing a scholarship in her mother's name to express gratitude for her hard work in raising four children and helping put them through college.
"My parents believed in giving to anyone less fortunate than ourselves," Carol says. "We were not wealthy, and we had some very struggling times.
[My siblings and I] had to take work study and loans, but we did it because my parents gave us a sound foundation of Christian values that encouraged us to be grateful and thankful, and to always give back."
Providing for Future Generations of Students
Carol says she thinks of PLU as her child and wants to help provide for future generations of students. She hopes the scholarships she and her mother have endowed will help students in great need who are desperate for an education.
"I want to give back and make a difference to someone who deserves the same opportunity I had in going to PLU," she says.
Carol lives in the San Francisco Bay area, working as a systems analyst for URS Corp., an engineering, construction and technical-services organization. She also is the president and CEO of LUCA Enterprises, a management-consulting company. Her success has motivated her to continue to support PLU, and she encourages others to do the same.
"PLU is indeed a 'quality education in a Christian context,' and it deserves our support," she says. "We need to give back in the same way it gave to us."
Give Your Gift
If you're interested in making a gift to support PLU's programs and students, please contact PLU Gift Planning at 253-535-7177 or giftplanning@plu.edu to discuss the many options available.
By Haley Huntington '14