An Interview with a Student Scholarship Recipient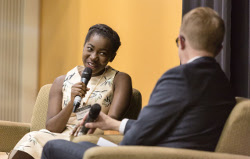 On April 27th, PLU hosted a dinner bringing together endowed scholarship donors with the students and faculty who have directly benefited from their generosity. A highlight of the evening was an interview between Vice President for Advancement Daniel Lee and First Year student Christine Njiri.
Excerpts from Dan and Christine's conversation are below.
Dan: Christine Njiri is a hopeful 2019 graduate. Christine started this fall semester, coming to us from Johannesburg, South Africa which is 10,181 miles away, approximately. We're happy to have you here.
Christine: Thank you.
Dan: So, Christine is here partially because of a scholarship, and we'll talk about that in a minute, but, I'm aware that education is South Africa is significantly cheaper than it is here, in the United States.
Christine: Yes it is.
Dan: So talk about the process, how did you decide to come to a place like PLU?
Christine: Well, as you said, I am from Johannesburg, South Africa, and both my parents are Kenyan, so they know a lot about Africa. One of the things that we're all exposed to is that "America is a great country and it's very developed," unlike Kenya and South Africa which are developing countries. So they said to me, "Well, would you like to study in the US?" and I said "Yeah, totally!" So, we went online and started searching for schools. My mom came across PLU. I started emailing the staff and what struck me was how friendly everyone was. They were making sure that I had all the information I needed. After emailing people and finding out more about the school, I was offered a scholarship, which, was significant. It definitely made studying in America a lot cheaper, and that was part of the deciding point.
Dan: So, part of what brought you here was the scholarship that was provided by Dorothy and Wilbur Mancke. Mary, their daughter, and her husband Jim are both here tonight. You had the chance to meet them at dinner. How was it?
Christine: They're wonderful people! I learned that my scholarship was specifically for a student from Africa, which I have to say, warmed my heart. I was definitely moved by that because, for me, it just means that someone is willing to take that extra step in empowering me to get a better education, to receive a wholesome college experience. I think it's fantastic to add to the school in terms of bringing my perspective as an African, and adding to the cultural diversity, and being able to share my perspective with my friends and people that I meet. I've learned so much! Also a chance to live that 'American dream' experience that we're all told about back home. So yeah, it's fantastic and I am very grateful to my donors for that reason.
Dan: So, you're a Business major and an Economics minor, and you're in your first year? Which is not typical, typically you declare in your second year, but you knew going in what you want to do here. Talk about that process.
Christine: Well, I've been exposed to business a lot, and it's definitely grown to be one of my passions. So, declaring a major was not too difficult for me, and I know that I want to concentrate in Finance. So I got that. Then in J-term I took an Introduction to Macroeconomics class with Professor Nagy, and she was just fantastic. She was really amazing! She's just so passionate about the subject and ensuring that the students know what's going on in the class, and she gives all these extra resources to ensure that everything that she teaches, you understand. She encourages learners to ask questions so that you know what's going on, and so that she knows that you know what's going on, which I thought was fantastic! So, after taking that class I declared my minor. On top of that, I am also currently doing Introduction to Business and Financial Accounting classes. My professors are fantastic, they're all so passionate and knowledgeable about everything.
Dan: So Johannesburg is a lot like Tacoma, there's mountains and vineyards.
Christine: Oh, debatable.
Dan: Yeah, okay fair enough. What's your plan after graduation?
Christine: After I graduate, I would like to get a job. That's the first plan. But I would like to stay in the US for a little bit to get accustomed to how the systems work here. Because, ideally, the main purpose for me coming to the US is to be able to understand the systems, and to be able to see how they work so that I can go back one day and bring out Africa – well, South Africa specifically – but also Africa, I would like to contribute to that. Bringing them out of poverty and helping them grow economically. I would also like to get involved in any form of NGOs, because I have a passion for people, so, I would like to actively help people there.
Dan: We're happy to have you here, and so, since you're a first year, I look forward to you coming to these dinners in the years ahead. I know you're homesick this year. So you're going back home over the summer, probably?
Christine: Yeah, I am a little homesick because it's different. Although, one thing I am grateful for is the Diversity Center, which I spend quite a bit of time in. They aim to have a safe space, where you can ask uncomfortable questions, which, for me, are a lot because I am very unfamiliar with the American culture. But, they're wonderful, and they aim to have that intersectionality between people from different ages, race, religion, sexual orientation, social classes, and all those things, which I think is fantastic and helped in my transition to get to PLU. So, that's a resource I'm grateful for. But, I am excited to go home for the summer, to see my family and friends again.
Dan: Thank you, Christine, good talking to you.
Christine: Thank you.