Lifelong Lutes: Q&A With Two of PLU's Most Enthusiastic Alumni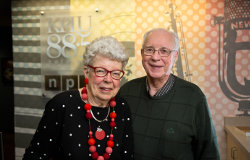 David and Anita Christian, both 1959 graduates, have modeled Pacific Lutheran University's motto, "Educating for Lives of Thoughtful Inquiry, Service, Leadership and Care," for their entire adult lives.
David, now retired, was KPLU's first engineer, serving PLU's National Public Radio affiliated station from 1960-1997. Anita is a retired teacher who spent her career teaching elementary school in the Franklin Pierce School District.
Though they have traveled and volunteered all over the world, David and Anita live just two blocks away from the PLU campus, in the home they moved into 52 years ago.
They are frequent-often weekly-visitors to campus. Proud alumni, David and Anita love cheering on current PLU students both on the basketball court and on stage.
Grateful for their past and hopeful for the future, David and Anita are generous donors to PLU. For decades, the couple has regularly contributed to a wide range of on-campus causes ranging from donations to the construction of the Martin J. Neeb Center and the Karen Hille Phillips Center for the Performing Arts, to tickets purchased for December's Music Scholarship Concert.
They have even made a lasting legacy by endowing a scholarship, the Ruth A. Christian Endowed Scholarship, which is awarded annually to a junior PLU student majoring in elementary education.
Recently, David and Anita paid a visit to campus to discuss their lifelong bond with PLU.
When did you two attend PLU?
David: Anita and I both graduated in 1959.
Did you meet here?
Anita: (Pauses to laugh) I married my college roommate's boyfriend!
Do you have any other family members who are Lutes?
David: Our son, Aaron Christian, graduated from PLU in 1989; both of my sisters, Ruth and Rhoda Christian, graduated from PLU in 1958 and 1969.
Anita: Ruth, Rhoda and I all majored in Elementary Education.
What do you appreciate most about PLU?
David: The growth of the university over time that has been able to open up the entire world-all seven continent-to both PLU students from the states to travel abroad and for students from all over the world to come here to study at PLU.
Anita: There is so much to learn, and the more you learn the more you can incorporate other people's thinking into yours. That's why the J-Term program is very special to us; not many schools have a program like that. We were actually able to go on one of the first J-Term trips to Africa.
Wow, that's incredible! Can you share more about that?
Anita: It wasn't actually called J-Term yet, but it was in January for a few weeks. We traveled to Tanzania and Kenya in 1973.
David: We went along with 31 students representing three different groups-education, medical and ministry. We were with the education group. It was an incredible experience.
You've donated to a number of different causes at PLU, ranging from many capital projects to the Ruth A. Christian Endowed Scholarship you established in 1999. How do you determine when, where and how to give?
David: Core needs. Needs that we feel stand out as important to be helped.
So your giving is not specific to a particular area of study or sort of development?
Anita: No, it's not. We're committed to the university's growth as a whole. We want to see this place continue to blossom.
You will be leaving a legacy that will last in perpetuity in the form of your endowment scholarship. Can you share a bit about what makes giving in this way something you chose to do and how you chose elementary education for the area of study to award student scholars?
David: After my sister, Ruth, passed away, Lutheran Brotherhood Insurance shared with us that she had been planning to set aside money for scholarships at PLU and Trinity College for students who wanted to become teachers. So, along with my other sister Rhoda, we established the scholarship with the money we inherited from her.
Are you able to meet or correspond with the students who are awarded the scholarship?
Anita: We try to meet them and correspond with them as much as we can. We always get a very nice letter from the recipients thanking us.
Your scholarship is awarded specifically to students who have roots to this area. Anita, as a local teacher, have you ever encountered one of your scholarship recipients out in the education community?
Anita: Yes, actually. One day I was sitting in our staff room at Brookdale Elementary School and a student intern was joining staff members for lunch. A friend of mine called me by name and the intern asked me, "Are you Anita Christian?" I said, "Yes, I am." She said, "I'd heard people call you by name and thought to myself, 'My gosh, I think that's the person who is paying part of my way to PLU!' Thank you so much!" Meeting her so unexpectedly was a wonderful surprise.
What advice or food for thought would you offer to alumni, parents and other community members considering giving to PLU?
Anita: First and foremost, that it is a blessing. That's my very first thought. Also, think about big-picture questions like, Who is going to take over leadership? Who is going to keep on serving? Who is going to have even bigger and better ideas than all of us put together? We have no idea, but it will be exciting to see what happens next, and this [giving to PLU] is a way we can still be a part of it.