Karen Hille Phillips Center for the Performing Arts officially opened in October 2013
The Karen Hille Phillips Center for the Performing Arts has been fully restored thanks to the generous gifts and prolonged efforts of numerous PLU supporters, including Karen Hille Phillips and her $10 million bequest toward the project. Renovations for the building began in Summer 2010 and were completed in Fall 2013.
The Restoration of the Karen Hille Phillips Center is Complete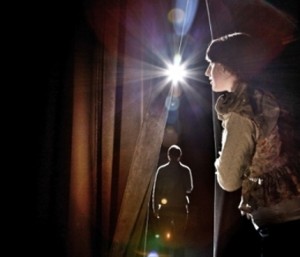 Located in the heart of campus, the Karen Hille Phillips Center has become an icon for both past and present students. The building, formerly known as Eastvold Hall, was dedicated in the name of Karen Hille Phillips at the Grand Opening Gala. Students performed Kiss Me, Kate in the Eastvold Auditorium at the gala demonstrating the intended vision of enhanced community interaction as well as a hands-on learning environment.
Help make the spotlight shine on the arts at PLU by funding a seat and making it your own in perpetuity.
If you are interested in supporting the renovation of the future premier arts venue in the South Sound area then this is your chance! Seats can be named in recognition of or in honor of an individual, family or group. The name of your choice will be engraved on a small plaque attached to the armrest of a seat. They are available to be named with a gift of $1,000 each and all funds raised will go toward the arts, productions, and programs for future generations to come.