Education: A Lutheran Tradition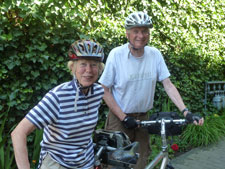 Georgia '59 and Denis Bailey believe the world needs more places like PLU.
"I appreciated what the school did for me," Georgia says. "The church started schools. I think this was an important thing that the Lutheran church did and is doing today."
The Baileys have supported the school through a gift annuity, and they have supported student access as longtime PLU Annual Fund donors.
"For us, getting a PLU charitable gift annuity has been a win-win situation." Georgia says. "We always feel good about helping PLU, and our annuity has helped us. We have received a steady quarterly income, regardless of the stock market, and the annuity has reduced our income tax."
They have also given to the renovation of Eastvold Auditorium, as it transforms into the new Karen Hille Phillips Center for Performing Arts. Georgia and Denis enjoy seeing the center of campus evolve into a premier venue for students and the community.
"I think college students need to have a place where they can all be together, as well as the community," Georgia says. "I think it's an important part of the college."
A Continuing Legacy
Georgia and Denis's son, Fred Bailey '91, graduated from PLU. They've seen firsthand how his time at PLU prepared him for a successful career as an engineer at Texas Instruments.
He was able to play for the tennis team and see the country, Georgia said. "Our son did well, and PLU gave him a really great background," she says.
Georgia says she is very grateful for her time at PLU.
"The friends that I made there-and I think this is true with my son as well-were very influential in my life in a very positive way," she says.
The Baileys look forward to seeing PLU continue to grow, and to provide the opportunity of a quality education.
Show Your Support
If you are interested in giving a charitable gift annuity to support PLU as the Baileys have, please contact PLU Gift Planning at 253-535-7177 or giftplanning@plu.edu to discuss your options today.
By Chris Albert