A Relationship With a University That Goes Back 50 Years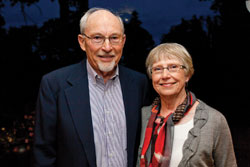 Jerry '62 and Carolyn (Breuer '63) Haralson met at PLU, and graduated one year apart. They both joke that, after attending this year's 50th reunion at Homecoming for Jerry, they'll be right back next year, doing it all over again for Carolyn – which is certainly fine with them.
Upon looking back at their time at PLU, the connections and the lifelong friends they have made, are some of the things they cherish most from their time on campus.
"The friendships are such a big part of our experience," said Carolyn. In fact, she still meets-up with four PLU women friends every five years, meeting in places like San Francisco, Breckenridge and Holden Village.
At PLU, Jerry was an economics/business major, and Carolyn received her education degree. Jerry entered the Navy and served as a communications officer. In 1964 the two were married; after finishing U.S. Navy service he spent a year at the Univ. of Oregon. Then the following year at age of 25, Jerry was back at PLU, hired to be the first business office manager. Among his contributions to the university: helping to make operational the first business computer systems on campus. The payroll system was automated, enabling direct deposit of employee paychecks as early as 1967-68.
After awhile, they settled down in Bellevue, Wash., to raise their two sons. Jerry became a CPA working in the profession for nearly 40 years, and, in 1983 established his own practice serving individuals and small businesses. Carolyn was an elementary teacher in the Bellevue School District. Now both retired, they enjoy travelling, grandparent time, many outdoor experiences, and meeting up with old friends.
This year, a PLU friend called and asked Jerry to be on the planning committee for their 50th reunion. He agreed, and has also had a hand in communicating with other 50-year graduate classmates about making a gift in honor of the university.
The reunion committee had two goals: a short-term goal to help refurbish the organ in what will be the Ness Family Chapel in the Karen Hille Phillips Center for the Performing Arts, and a long-term goal to develop a global study scholarship for students who wish to study-away at PLU.
In anticipation of their 50th reunion, Jerry and Carolyn funded a deferred payment charitable gift annuity with PLU as a way to make a gift, enjoy some tax benefits, and receive a generous income for the rest of their lives. As a CPA, Jerry can attest that tax benefits and income make this the perfect gift for them – and for many others as well.
Jerry says the 50th reunion has been a great way to stay connected and get reconnected, and to stay involved with the university in which he and Carolyn have so much pride.
By Steve Hansen