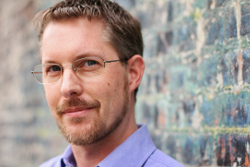 "People from PLU are different," says Joel Larson, Class of 2000. Each of Joel's fondest memories from his time at Pacific Lutheran University includes the people he met there.
"When you meet people from PLU, you have an instant connection with them," he says. "Other universities aren't like that."
After applying to several other universities, including Princeton, Joel's parents-PLU alumni-encouraged him to spend a weekend on campus. After spending a few great days with PLU students, Joel felt drawn to the school and its community.
In a serendipitous moment before making his final college decision, Joel met Loren Anderson, former president of Pacific Lutheran University, at an open house in Washington, D.C.
Joel recalls that throughout his years at PLU, Loren still remembered his name and would routinely ask him how life was going.
Life Long Involvement
As a student at PLU, Joel was involved in a variety of activities, including the crew team, The Mooring Mast and The Choir of the West.
"I had my fingers in everything," Joel says.
The best parts about his on-campus involvement were the friends he made.
"I still stay in touch with the friends that I made on both the crew team and Choir of the West," Joel says.
Joel graduated from PLU in 2000 with a Bachelor of Musical Arts and a minor in information science. He now serves as the assistant director of operations for the institute of technology at the University of Washington.
Immediately after graduating from Pacific Lutheran University, Joel began donating whenever he could.
"[It's] important to give back to things you believe in," Joel says, a belief his family taught him growing up.
This mindset contributes to Joel's desire to give back to PLU. As an alumnus, supporting PLU is very important to him. He wholeheartedly believes alumni gifts enhance what current students are able to get out of their education.
Giving Where it Matters Most
Joel specifies the areas he wants his money to benefit; he contributes to the PLU Annual Fund and the Lute Club Athletics Annual Fund.
Joel wants to make a difference where it matters most to him.
He remembers how difficult it was as a student on the crew team to pay out-of-pocket expenses. He hopes his contributions make it possible for PLU students to have the best experience imaginable.
Investing in a Legacy
Joel believes becoming a member of the Heritage Society was a very easy decision. At only 38, Joel has already included PLU in his will.
The Heritage Society at Pacific Lutheran University is a group of much-appreciated alumni and friends who have invested their legacy in PLU through a deferred gift.
His advice for anyone considering a planned gift would be: "Put them in there; it's two lines, and very simple, it's a one last 'thank you' after you're gone."
How to Make a Difference
Planned giving is just one way to show support for Pacific Lutheran University. If you are interested in creating a lasting legacy, like Joel, consider including PLU in your estate plans.
A charitable bequest is a flexible, simple way to give back to PLU. By including the university in your estate, you can make a real difference to the student experience at PLU.
Contact PLU Gift Planning at 253-535-7177 or giftplanning@plu.edu or visit us on the Web for more information on the ways to give back.
By Kristin Monroe '16