A Family Tradition of Investing in a PLU Education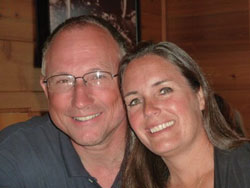 Mike Larson '83 knew he was going to go to PLU when he was 8 years old.
"I was groomed to be PLU proud, and I still am," he says.
The university community plays a big part in the life of Mike and his wife, Beco. According to Mike, the time he had at PLU can't be summed up just by a degree. It was so much more.
"I made some lifelong friends when I was in college," he says. "I grew up a lot when I was in college. I think the college experience, in general, is one where you grow up. I think PLU puts a young person in an environment where they can learn and grow in a positive way."
Mike worked at PLU as the sports information director from 1985 to 1991. His father, Ed, still works at the university as executive director of charitable estate planning. And he wasn't the only one to go to PLU. His parents and his older and younger sisters attended PLU.
"We are a PLU family for sure," he says.
Supporting PLU by giving to Q Club and Lute Club is really important to the entire family.
His wife went to the University of Puget Sound, but no one holds it against her, he says.
"She recognizes the PLU pride that goes into a lot of what happens," Mike says. "Frankly, she's impressed. There's a lot more association and pride and desire to stay in touch with PLU. And that's a real tribute to that (college) experience."
A former PLU baseball player, Mike is happy to see improvements to the athletic facilities.
"The whole commitment to upgrading those facilities is appropriate and exciting," he says. "What PLU has to offer is pretty special."
"PLU holds a special place in my heart," Mike says. "Anything we can do that allows others to have that experience is money well invested."
To learn how you can start your own family tradition of support for PLU, please contact PLU Gift Planning at 253-535-7177 or giftplanning@plu.edu.
By Chris Albert