A Shared Passion for Education Compels Non-Alum to Give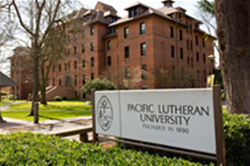 Pat Wilson, a faithful donor to Pacific Lutheran University, wishes to support the hopes and dreams of students through her contributions to Pacific Lutheran University.
Although Pat did not attend PLU, she established a connection to the university thanks to a former board of regents member and friend, Gary Baughn, and other friends she met at her former church. These friends first introduced Pat to PLU about 20 years ago, which was around the time she was thinking about her estate plan.
Their passion for PLU made her feel connected to the university. PLU instills in students a desire to give back to the world, and Pat believes this philosophy will greatly benefit society. When considering how she might leave a legacy, she found a perfect fit in PLU as a beneficiary. Along with making PLU the primary beneficiary of her will, Pat also decided to set up a charitable gift annuity, which provides her with payments for life.
A firm believer in education, Pat is happy that she can support the education of future generations by providing financial support through scholarships. She hopes that by doing this, she will be able to assist students in pursuing their goals and dreams, especially those who have the family support, but lack the financial means.
Help Students Achieve Their Dreams
You, too, can support future PLU students pursue their goals and dreams. Contact PLU Gift Planning at 253-535-7177 or giftplanning@plu.edu today to learn more about the many benefits of supporting PLU through your will or by establishing a life-income gift such as a charitable gift annuity.
By Kristin Monroe '16