How Robert Parker Left His Mark on PLU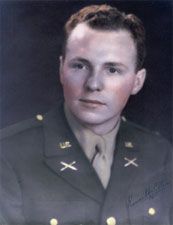 Robert Parker would have graduated from PLU in 1944, if World War II hadn't intervened. Like so many of his peers, Robert was drafted into the war effort and headed to Europe. There, he fought in the Battle of the Bulge, for which he earned the Distinguished Service Cross, the second highest military decoration that can be awarded to a member of the U.S. Army.
After the war, he returned to Tacoma- but not to PLU. Even so, his PLU experience was a powerful influence on him.
Robert moved to Browns Point, and established himself as an influential architect in the South Sound area. He was a lover of the arts. He was a painter and, during his time at PLU, a member of the Choir of the West. He married his lifelong love, Myrtle ("Myrt"), and, although the two were married for more than 60 years, they never had children.
A very private man, Robert was also very generous. That was evidenced when he gave PLU a gift annuity of appreciated stock, for which PLU was able to return regular monthly payments to Robert and Myrt.
Later in life, Robert and Myrt gave to PLU their "tree house"-a unique home Robert designed and built on Harstine Island, Wash. The home, which was built around a tree, became the property of PLU, with the understanding that Robert and Myrt had the right to live in it for the rest of their lives.
And they did: Myrt died in the summer of 2009, and Robert died almost one year later. Their generous gift-the "tree house"- was sold, and with that revenue Robert and Myrt's legacy lives on in the form of a scholarship benefitting students coming to PLU from Pierce and Mason Counties.
Not bad for a student whose time at PLU was cut short. His legacy, however, lives long.