A Policy of Giving Back to PLU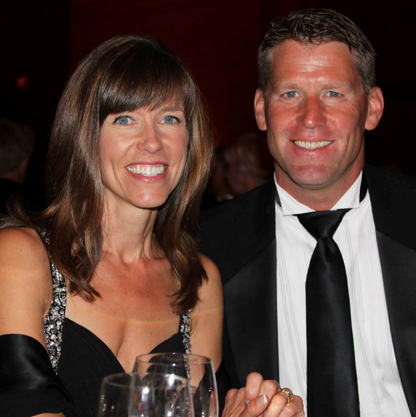 Scott and Sherith Squires' story started at—and just keeps coming back to—Pacific Lutheran University. They met at PLU and graduated in 1988. He was a Communication major and a football player; she was a Psychology major and a cheerleader. Their 16 closest friends—eight men and eight women, also student-athletes—all ended up marrying someone from the group, and they all still keep in touch.
Today the Squires are raising three school-aged children in Thousand Oaks, Calif., where Scott recently switched careers from coaching to real estate and development and Sherith is an agent for Thrivent Financial. And PLU still plays a major role in their lives together: The couple has taken out a life-insurance policy with PLU as the owner and beneficiary.
Scott Squires said he and his wife decided to give back through a life—insurance policy for a few reasons.
"From a PLU perspective, it's a large gift—it could be," Squires said. "For us, initially, it's an opportunity to give more by giving less-it's a very meaningful gift that has a sizable return, and the annual outlay fits within our giving structure.
"When we were a lot younger, we didn't have a lot of money to give, and it was a way to give a larger gift without a lot upfront, and we've enhanced that over the years. Not only are we giving a sizable gift; we also get a tax break in there, too, for the charitable donation."
Life insurance is a popular, low-cost method of providing significant funds to a beneficiary. When someone owns a life-insurance policy with accumulated cash value, he's essentially sitting on a pile of money. And when someone assigns PLU ownership of a life-insurance policy and names PLU as the beneficiary, there are even more benefits:
an income-tax charitable deduction, available under most circumstances;
tax savings from use of the deduction, which can be invested for future income; and
reduced future estate-tax liability.
And, because Sherith is a Thrivent agent and Scott is a contract holder, Thrivent also gives them matching funds and "choice dollars" for additional giving.
"Lots of people know about Thrivent, but I don't know that that message always gets out about matching funds or choice dollars if you have an account, whether a life-insurance policy or mutual fund," Squires said.
Scott Squires said that when he and Sherith married, they knew that when they had the means, they would give back to PLU.
"We do a lot of giving. It's important to us, and it's kind of fun," he said. "We feel like we both got so much from PLU—educationally, socially, just the experience—that it's very important for us to give back. We love the place, so that makes it easy, too."