For the Edlund Family, Roots to PLU Run Deep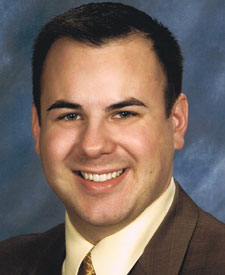 One might say the passion Phil Edlund '00, '06 has for PLU began with a lawn service. As a 16-year-old, he mowed the lawn of Thora Larson, one of the first members of Q Club. "She told me to go down and sign up at Q Club as a junior member, so I did," Phil recalls. From there, he has received two degrees from PLU and helped fund the building of the Morken Center for Learning and Technology.
Of course, Phil received a bit of a nudge from his family, who lived near the university when he had his lawn service. His mother, Kathleen (Kathy) Taylor Edlund '64, '72, and sister, Jenna Edlund '96, '99, are alumnae. Phil's father, Larry, did not attend PLU, but has strong connections to the university through his friends and interests.
Phil's grandmother attended then Pacific Lutheran College in the 1930s, but had to drop out because of financial reasons during the Great Depression. However, when it came time for her daughter, Kathleen, to go to college, "It was either PLU or nothing," Phil recalls.
"Pacific Lutheran University has long been an area of passion with my family," he says. "We strongly believe in what PLU provides, which is preparing the next generation of leaders and honing the critical thinking skills."
Phil, along with his family, agreed to provide $25,000 to help build the Morken Center for Learning and Technology. Phil's parents chipped in $15,000, while he and his sister donated $5,000 each. Phil has made a provision for PLU in his will and has generously given to Project Access and Q Club.
Phil, 31, earned his bachelor's degree in business administration in 2000, and then followed up with an MBA with an emphasis in technology and innovation in 2006. He now works in Tacoma for Thrivent Financial for Lutherans as the regional congregational relations manager. As such, he helps build relations with key congregations and constituencies in the Puget Sound area.
By Barbara Clements