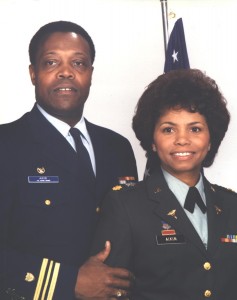 Shirley Aikin (Coleman '71, '78, '96), a 28-year veteran professor of nursing, called the development office the day after her husband died suddenly. "Travis would not want flowers, but would want something good done in his name," she said. "Let's talk about a scholarship."
Shirley and Travis believed in planning for the future and discussed how they would want to be remembered. Hundreds of friends, neighbors and family were immediately notified that in lieu of flowers and gifts that money was to be sent to support a scholarship for students of color studying nursing at PLU.
Travis was born in Texarkana, Texas.  He received his B.S. degree from Tennessee State University and his M.S. in Manpower Management from the University of Utah. He was a U.S. Navy Veteran serving in Viet Nam.  He was Commissioned in the U.S. Coast Guard Reserve and retired as a Commander.  He worked for the State of Washington Department of Highways and the Department of Social & Health Services.  He also received his diploma from BJ's Barber & Beauty College and was a licensed barber.   He was a faithful and active deacon and member in Sunday School and church.  He was active in the community and prison ministry.  He died of a sudden heart attack in May, 2002.
Travis married Shirley Coleman Aikin one week after she graduated with her BSN and BA from PLU in May, 1971.  During her time at PLU, she was active in Delta Iota Chi.  Shirley was commissioned into the U.S. Army Nurse Corps and served on active duty for almost four years. While in the Army, she was trained as a Nurse Clinician.   She joined the Army Reserves after completing her active duty commitment.  She began teaching nursing part-time in fall, 1974.  Shirley continued her education at PLU and received her Master of Arts in Education in 1978 and her Master of Science in Nursing in 1996.
After graduating in 1978, she began teaching full-time in the School of Nursing.  She primarily taught courses in Adult Health.  She developed the LPN to BSN Program which was an educational model that included competency validation.  She also co-developed the course Transcultural Nursing in Jamaica.  For more than a decade, she taught the popular Introduction to Perioperative Nursing which offered students and community nursing the opportunity to explore this unique nursing specialty.  She was a member of Sigma Theta Tau, International Nursing Honor Society.
In 1990, her Army Reserve unit, the 50th General Hospital, was called to active duty for Operation Desert Storm.  Shirley was taken out of her PLU classes to fulfill her commitment to our country and served in Riyadh, Saudi Arabia.  She served 27 years in the Army Nurse Corps and retired at the rank of Lt. Colonel.   She was the Clinical Coordinator for the PLU Continuing Nursing Education RN Refresher course.  She was appointed by Gov. Gary Locke to the Washington State Nursing Care Quality Commission, and served four years.  She was tenured and had 31 years of teaching at PLU, retiring at the rank of Associate Professor.  She was active in her Sunday School and church.  She also volunteered many hours of community service for organizations including: Susan G. Komen for the Cure, American Red Cross, Ebony Nurses Association of Tacoma, and the American Cancer Society.
Travis and Shirley had two children: Crystal Renee' Aikin, a 1997 PLU graduate.  She received her BA in Biology and BA in Psychology.  She is well known for her beautiful singing voice.  Their son, Phillip Carlton Aikin, is a Houston, Texas Firefighter-Paramedic and U.S. Army Veteran of Operation Iraqi Freedom.