November 3, 2018
President's Remarks: Allan Belton
Student Spotlight: Erin Baker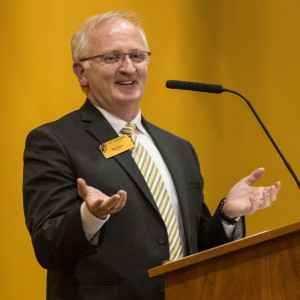 Allan Belton, Acting President
Allan Belton was appointed by the PLU Board of Regents to serve as the University's Acting President in June 2017. Prior to the appointment, he served as Senior Vice President and Chief Administrative Officer, responsible for the University's administrative functions including Business Operations & Finance, Human Resources, Facilities & Construction Management, Information Technology, and Risk Management.
Prior to joining PLU in 2015, Allan enjoyed a 25-year career with Bank of America Merrill Lynch, where he served most recently as Managing Director and Chief Operations Officer for global treasury management. Allan is married to Melinda (Krotz) Belton, PLU Class of 1991 and lives in Gig Harbor with their three children.
President's Remarks
"Hello Friends. Thank you for joining us this evening at PLU. I am delighted to celebrate the incredible people and unique stories made possible through your generosity and the impact of a PLU education.
The donors, alumni and friends with us this evening continue to help PLU make great strides in our shared goal of investing in a strong today and bright tomorrow of this great institution. This past year, we graduated 742 new Lutes out into the world to advance their unique vocational journeys. The future for PLU also includes newly expanded academic offerings, reimagined resources for students and alumni, and innovative new programs on the horizon.
Nate Schoening Center for Student Success
Housed in the Mortvedt Library, is a comprehensive resource for students of all class years and disciplines. The vision for the center is to become a one-stop shop for vital student services, aimed at improving retention and supporting students who need additional assistance. The center — the new home of Academic Assistance and soon, Academic Advising — offers flexible space for tutoring, studying and collaborative work. The center will be named in honor of Nate Schoening, 2001 graduate of PLU with a degree in Communication Studies. In addition to his academic work, Nate was also a dedicated member of the PLU Men's Rowing Team. After graduating from PLU he pursued a career in cabinetry work. Nate passed away at 38 years of age on February 13, 2017. His legacy will live on in this Center for Student Success, and with the generations of students it will serve. The Nate Schoening Center for Student Success is established in memory of Nathan Schoening, for the strength, love and care he provided his family and for his commitment to the PLU community. Please join me in thanking Nate's parents, Chris and David, both PLU graduates of 1968, who are here tonight and in honoring Nate's legacy.
Nursing Skills and Simulation Center
In the 2018-19 academic year, we look forward to renovating the former Garfield Book Company to become state-of-the-art nursing skills and simulation labs, classrooms, faculty offices and student gathering space. These labs and other amenities will double the square footage dedicated to our outstanding nursing students. We currently are seeking donor support for this new vision that will place our Nursing facilities among the premier learning spaces in the nation.
Academic Growth and Innovation
Fall semester marked the launch of new academic programs in Innovation Studies, Native American and Indigenous Studies, and Musical Theatre. A sustainable model for funding new academic programs going forward is under development so that PLU can continue to meet the needs of today's students, and ways only PLU can.
Enrollment Trends
PLU welcomed 3,142 students in September, representing the first increase in total enrollment since 2012. We recruited 649 first-year students and 179 transfer students, an increase of 5 and 14 percent, respectively. Total graduate-student enrollment is 372, the highest in 23 years. Strategic investments in student success and well-being sustained our 83 percent first-year retention rate — a number we're poised to improve upon next year with a goal of reaching 87% in the next three years.
Endowment Performance
And the good news continues! For the first time in PLU history, our endowment reached over 100 million dollars earlier this year – and continues to grow! Our students have the lowest four-year student debt of any private school in Washington and PLU was ranked number one for job placement among all Washington schools. We are making it a priority to not only get great students here, but we are ensuring that they are successful while they are here and setting them up for success after they leave.
Alumni and Student Connections
While much has changed at the university since its founding in 1890, the core mission and tenets of Lutheran higher education remain central to PLU's mission. Alumni have experienced firsthand PLU's transformative experience. And those same life-changing experiences continue for students on PLU's campus today. We know the magic that happens when alumni and students sit together and talk about their PLU experience, their life outside PLU, and find numerous ways to help each other. Therefore, guided by the leadership of the Alumni Board, PLU has merged our alumni and career teams to create one integrated area of Alumni and Student Connections. This approach simultaneously invests in student academic success, vocational exploration and employment outcomes, while transforming the very nature of alumni engagement.
Nesvig Alumni Center
While you're on campus for Homecoming and Family Weekend, we also hope you will visit the Nesvig Center to see (from the outside) some of the renovations we are making to that space. This will become the home to our Alumni and Student Connections team and be a space for alumni, employers, parents and others to meet and engage with PLU's students on a formal and informal basis, in person and through the use of technology.
Continuity of Leadership
As I serve as Acting President and look forward to continuing my role as Chief Administrative Officer, I commit to serving as long as you will have me to ensure the university you love remains strong for the next 50 years.
The personalized educational journey that happens at PLU is profound and life-altering. As you will hear from our honorees and their nominators this evening, the bonds forged among Lutes are lifelong. We are forever grateful for our PLU community. The world needs more Lutes – and all of you make this possible. Thank you."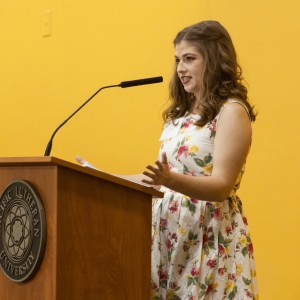 Erin Baker, Class of 2019
Erin Baker, from Mesa, Arizona, is a double major in Communication and Global Studies with a minor in Spanish. She is a recipient of the Lorilie Steen Endowed Scholarship, President's Scholarship, Artistic Achievement Dance Scholarship and Lutheran Confirmation Scholarship.
Student Spotlight
"Honored guests, I am happy to be here with you all today, celebrating your generous gifts to PLU to support students in a variety of spheres. Your donations help a student like me, originally from Mesa, Arizona, attend an institution miles from home. Throughout my years at PLU, I have received generous donations to my education in the form of several scholarships, including the Lorilie Steen Endowed Scholarship. I have to say, without these scholarships, I would not be at PLU. Literally. I would not have been able to attend a private school in a different state had I not received scholarships to help me. Attending PLU has allowed me to meet my goals I have set since the beginning of high school, as well as open more doors than I expected to encounter during my four years as an undergrad.
Growing up, I always wanted to travel. I craved to explore different cities, countries, and cultures. From preschool to eighth grade, I attended a small international school, where the majority of our teachers were actually from different countries. It was ingrained that global citizenship is a necessary component to everyone's education. College would be my opportunity to achieve this goal. I always assumed I would go to a university in California because it was basically the same state but with a beach. However, when I was at an ELCA Youth Gathering in 2012, my mom actually came across PLU at one of the college fairs. She was impressed by the mission statement, so she slipped the brochures into my growing stack, and mentioned to me that I should look at this little school in Washington state. To be honest, at first I had no intention of going to PLU. I was set on having the beach 30 minutes from my house. However, once I started looking through the academic opportunities, and the immense amount of study away opportunities, my attention immediately shifted. PLU offers on campus global education, an internationally focused honors program, and access to a variety of programs that are affordable? That sounded pretty good to me.
Fast forward a couple years and here I stand today, having taken full advantage of those opportunities. I currently study Communication and Global Studies with a minor in Spanish. I have completed all my courses required for the IHON program, and I have studied internationally three times, doing a semester in Oxford, England, a J-Term in Montevideo, Uruguay, and a summer internship in El Valle de Anton, Panama. Throughout these experiences, I have learned the importance of global competency when addressing conflict situations, both locally and internationally, as well as the importance of listening to different perspectives. Applying my experiences to my local communities is what I intend to focus on now and in my future careers.
In terms of my work on campus, I currently encourage other students to work towards their goals as president of PLU's chapter for the National Society of Leadership and Success. Additionally, I apply my study away experience on campus as a Global Ambassador at our Wang Center, as well as in our Global Studies Department as the Student Worker, and as an employee of our new Digital Humanities Lab. I hope to help others in their goals to study away, and also express the extreme importance of global education through this work. I am looking to continue with another goal of attending Grad School at Columbia University.
I would not be the same person I am today if I had not attended PLU and I'm proud of who I am today. The experiences I've had at PLU are unparallel to any experience I hoped to have sitting at the beach. Don't get me wrong, the beach is very nice, but the skills I gathered here will help me in my future career in Global Education, development, and leadership. To think, if I hadn't received scholarships to come to PLU, these passions would not be reality. This would not have been possible without the generous donations of all of you, so I want to thank you all again for finding value in this institution and for giving students the chance to achieve their goals. Thank you."