Tom '83 and Holly Buskirk: Keeping PLU's Unique Spirit of Service Alive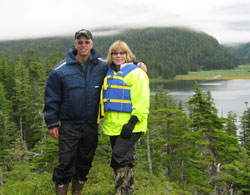 As a longtime pilot for FedEx, Tom Buskirk '83 considers his profession a technical one. But that doesn't mean he doesn't value a liberal arts education, or the idea that a university should encourage its students to serve others.
"It's important for students to get high quality education – particularly in the liberal arts," Tom said. "It teaches you to view the world in a totally different way.
"PLU students are expected to serve each other," he added. "That was true when I was there, and it seems to be even more true today."
Judging by his and Holly's own pursuits in their home of Anchorage, Alaska, they live this conviction.
Buskirk is the former president of the Anchorage chapter of Habitat for Humanity, where he initiated the state's first corporate-sponsored home, now a model for the non-profit. Over the years, he has organized FedEx pilots to participate in what has become a yearly tradition in Anchorage – Special Olympics competitions, for example, or Christmastime visits from uniformed pilots – and Santa – for underprivileged children.
The couple has also been instrumental in local arts community, raising money for performing arts groups. He and Holly have also sponsored several students as part of AFS Intercultural Programs, and Holly has spent years involved with the Gloria Dei Lutheran Church and as the Alaska Synod treasurer.
Tom and Holly bring that same spirit of giving to PLU. They are Q Club Fellows, and have supported important construction projects on campus, including the Karen Hille Phillips Center for the Performing Arts, Xavier Hall and Morken Center.
By supporting PLU students directly through gifts to Q Club, or indirectly though capital projects, Tom knows the unique spirit of service he loved so much as a student will continue for future generations.
"PLU was a great place when I was there, and it seems to be an even greater place now," he said. "I think that has to do with the alumni, and all the people that continue to be involved in the university, even after they graduate – it is part of what makes PLU such a great place."
By Steve Hansen