Welcome to the Campus Life Professional Staff Search web page!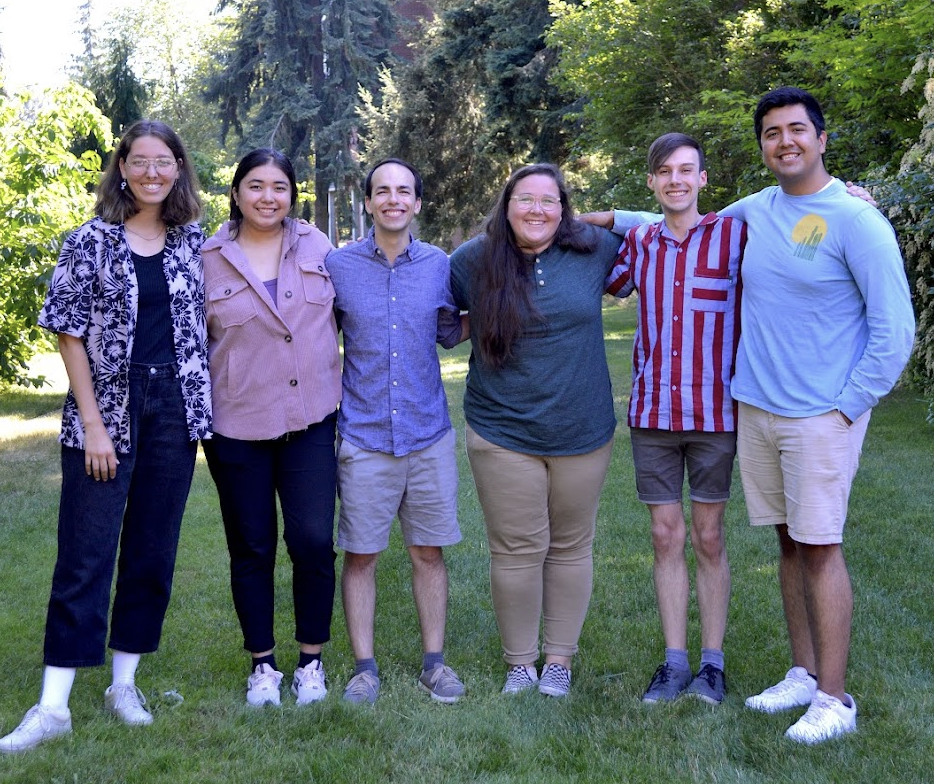 2022-23 CD cohort (left to right): Mickie, Dream, Zac, Marie, Andrew, Edgar
About PLU & Campus Life
Position Openings
PLU & Campus Life Benefits
We're Glad You're Interested!
We are glad that you are interested in learning more about working in Campus Life at Pacific Lutheran University (PLU)! Campus Life is currently hiring for a Community Director for South & Pflueger Halls that is integral to supporting student success at PLU. We hope these pages will provide a simple and informative guide to everything prospective candidates will need to know about Campus Life professional staff opportunities, living in the Pacific Northwest (PNW) and working at PLU. Please use the right-hand navigational menu above to navigate through our selection & hire webpages.
About PLU & Campus Life
The vision of Campus Life is to create opportunities and environments that: inspire and cultivate joy; champion equity and justice; enrich authentic growth; and care for wellbeing. We work to fulfill this vision through our mission: Campus Life seeks to engage students in co-creating and sustaining radically inclusive communities of belonging, learning, and leadership — for students and the intersecting communities in which we are rooted.
Campus Life creates a cohesive, intentional, and holistic student experience while enhancing student learning, engagement and success at PLU. The work of Campus Life staff transcends a single functional area and provides the opportunity to engage with a variety of other functional areas, including: New Student Orientation, Student Activities, Clubs & Organizations, Leadership Programs, Residential Life, Commuter Student Programs, and Diversity, Equity, and Inclusion (DEI) initiatives. Campus Life is situated within Student Life, a Division that strives for improved care, learning and service to students through increased synergies and efficiencies.
Community Director Position
Community Directors are an integral part of the educational community at Pacific Lutheran University (PLU). They collaborate with faculty, staff, and students to create and manage purposeful and dynamic learning environments across campus that support student wellbeing and thriving. They have a broad knowledge of student development theories and implement these theories into daily practice, particularly in support of retention and persistence for historically marginalized students (e.g., Students of Color, First Generation, LGBTQIA+, and other students). Finally, Community Directors are reflective educators who are able to communicate with diverse individuals and communities. Community Directors report to the Associate Director(s) for Campus Life. The CD position is a 40-hour/week, non-exempt (i.e., hourly) position. CDs report to one of the two Associate Directors for Campus Life. Learn more about the CD experience using the right-hand menu links above!
Compensation & Benefits
$17.16/hour July 1-August 31, 2023; as of September 1, position hourly rate will change to $18.75/hour (or ~$39,000/year baseline salary).

This position has a flexible, 40-hour/week hourly work schedule, including a commitment to sustainable weekly schedule that keeps to 40 hours/week
Overtime (time and a half) rate for any hours worked over 40 per week when this is unavoidable due to crisis response, move in/out, or other anticipated or unanticipated busy times of the year
Washington State does not have state income tax

On-campus semi-furnished apartment ($10,654.60/year value)
Meal plan ($6,135.00/year)
Excellent benefits to working in Washington State, PLU, and within the Campus Life department, including:

Reproductive rights are protected by WA state law.
Generous paid time off, including a bonus 40 hours of summer flex time off and winter holiday time off with university closure from 12/25 through 1/1 (at noon for Campus Life depending on winter opening schedules).
Free reserved parking spot and option to purchase an unlimited regional transit pass, which is currently $8.26 for 2022-2023.

PLU

 has no summer on-call responsibility for Community Directors.
Pet Policy allowing each Community Director to have up to 2 pets
Partner Policy allowing each Community Director to have 1 partner (no legal marriage documentation required)
Position Highlights
Supervises ~ 11 Resident Assistants (RAs)
Oversees Learning Communities (LCs) in Pflueger (first-year and new transfer/continuing student LCs) and South (upper division LC) halls
Serves in Professional Staff Member On-Call Crisis Response Duty Rotation
Implements Campus Life Co-Curriculum
Participates in Campus Life Student Staff Selection or Training Committee(s)
Teaches PLUS 100: Transitions to PLU (one-credit, first-year seminar)
Apply for this positions today via PLU's Human Resources Webpage: https://employment.plu.edu/postings/7420