Master the Art of Change Leadership: A Top Reason to Get an MBA

August 26, 2022
The reasons to get an MBA are as myriad as the careers you can achieve with the degree. See how an MBA helps impact leadership and organizational change.
If you have experienced less-than-stellar (or downright poor) leadership in your professional career, then you're not alone.
Here are some fast facts related to today's organizational climate:
So, if you're interested in being part of the solution to poor leadership and interested in facilitating organizational change in your industry, getting an MBA could be the most strategic choice for you.
How "the Great Resignation" is affecting the workforce:
According to Inc.com, 11.5 million working professionals quit their jobs in April, May and June of 2021. Sometimes referred to as "the Great Resignation," employers are navigating the challenges of a changing workforce — just as many employees are questioning how to adapt to a workforce impacted by the pandemic.
As our company culture continues to evolve, leaders in each industry will need to develop the knowledge and skills needed to implement something called organizational change.
What is organizational change?
There are many types of graduate business degrees — finance, accounting, human resource management, organizational leadership, to name a few — but the traditional MBA proves to still be one of the most popular choices for business leaders today.
In fact, in 2020, MBA applications increased for the first time in five years as students and professionals navigated an economic downturn and a struggling job market.
It's important to note that many recent MBA applicants are mid-career professionals and career changers. According to The Wall Street Journal, an MBA "can help mid-career individuals parlay expertise in areas such as science or the military into business leadership. It also can help in the transition from the public to the private sector at any age."
In other words, whether you have a background in business or not, there are so many reasons to get an MBA if you're looking to master the art of change leadership and global awareness in your field.
Why getting an MBA is still worth it today
Organizational change "looks both at the process in which a company or any organization changes its operational methods, technologies, organizational structure, whole structure or strategies, as well as what effects these changes have on it."
In short, organizational change is critical to the success of companies. Why? Because the last two decades have been highly disruptive: rapid advances in technology have transformed how people and organizations operate.
The result is that organizations in every industry and sector, private, public and nonprofit, are experiencing change as they work to improve their products and services, streamline the user experience and increase efficiency.
Getting an MBA can give you the sought-after competitive advantage needed to help lead organizational change and development in an evolving industry climate.
6 Skills you'll learn in an MBA program:
The skills learned in an MBA program are useful in nearly every single industry. From marketing to journalism to finance, an MBA can position driven professionals for significant career advancement in a variety of industries.
An MBA program will prepare you to:
Apply strategies and tools from different functional areas to increase enterprise value
Identify strategic and operational issues in managing innovation and change
Identify the qualities and skills that make good leaders
Diagnose problems and make effective recommendations
Recognize how local economic, political and cultural issues impact business
Apply a global perspective in making business decisions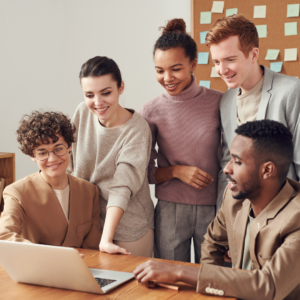 Jobs You Can Get With an MBA:
| | |
| --- | --- |
| Marketing Manager | Business Consultant |
| Marketing Specialist | Financial Advisor |
| Financial Manager | Investment Banker |
| Database Administrator | Management Analyst |
| Health Services Manager | Accountant |
| Human Resource Manager | Chief Executive Officer |
| Research Coordinator | Chief Financial Officer |
| Network Engineer | Management Consultant |
A Top MBA Program in Washington State: Pacific Lutheran University
The PLU School of Business's MBA program has been named one of the nation's most outstanding business schools, by The Princeton Review®. The education services company chose the school for its list "Best Business Schools for 2021".
Pacific Lutheran University's MBA program is founded on the cornerstones of leadership, creative innovation, global awareness and ethical responsibility. It is designed for both business and non-business majors. The program offers small class sizes and can be completed in as little as nine months.
If you have questions about getting your MBA at Pacific Lutheran University, we encourage you to get in touch or schedule an appointment with us. We can't wait to help you achieve your career goals!