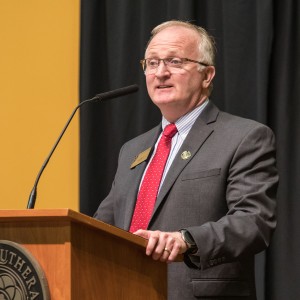 Allan Belton, President
Allan Belton was appointed by the PLU Board of Regents to serve as the University's Interim President in June 2017 and now as PLU's 14th President earlier this month. Prior to being appointed President, he served as Senior Vice President and Chief Administrative Officer, responsible for the University's administrative functions including Business Operations & Finance, Human Resources, Facilities & Construction Management, Information Technology, and Risk Management.
Prior to joining PLU, Allan enjoyed a 25-year career with Bank of America Merrill Lynch, where he served most recently as Managing Director in global treasury management for higher education, government and non-profit organizations. He holds a B.A. in Business Administration and an M.B.A. from Washington State University. Allan is married to Melinda Krotz Belton, PLU Class of 1991, and lives in Gig Harbor with their three children.
President's Remarks
"Thank you, Lutes. It's an honor to be with you.
As I begin my comments tonight, I thought I might take a moment to address the elephant in the room. Then I thought to myself – if there is an elephant in the room and nobody notices – is it 'irrelephant?'
In all seriousness, last September as I planned the 2018-2019 academic year at PLU, I imagined this dinner would be one of my last opportunities to address important friends of the University as president. I imagined a year of meetings and consultations, difficult conversations and tough decisions, successes and celebrations. And I dreamed a little about returning to the comfort of my previous role and the one job function that brings me the most joy… spreadsheets.
What didn't occur to me then, and really only became a possibility quite recently, was the prospect of the Board of Regents asking me to continue my service to PLU as president. In the days since the announcement was made, I've received many kind notes and warm congratulations – many from friends in this room – and I've received some questions as well, not the least of which has been "I thought you didn't want the job. What changed?"
I think the best way to answer that question is to share with you a little insight from the last few weeks of what has been an otherwise continuous and thoughtful vocational journey and period of personal discernment. The key, honestly, was quiet conversations with Melinda which allowed for a focus on the question I was repeatedly being asked… do you WANT the job? I think for some of you, it is apparent exactly what I do and do not want when it comes to the presidency, but allow me to articulate…
I do not want the title or the pomp and circumstance. I do not want the public eye. I do not want or choose to serve based on any presidential aspirations. I definitely do not want to continue to do two jobs.
What I do want is for PLU to be successful. I want us to continue the partnership of students, regents, faculty, staff, alumni and friends that has moved PLU forward. I want us to continue what we have started. I want to serve PLU because I care, and because it is the right thing to do.
In the end, the things I don't want are all about me. The things I do want are all about PLU – so in very real terms, very real PLU terms, my willingness to serve became a simple decision of service over self.
So really, what changed my mind, and frankly my heart, is you – the students of PLU, the alumni and friends, the faculty and staff, and PLU's most influential alumni, Melinda (Krotz) Belton, class of '91 – and the truly compelling opportunities that we have to build on tradition, continue our momentum and for PLU to flourish into the future.
I've also discovered some cool things about the presidency. For example, most days aren't like this one, with me on stage talking and wearing a suit a tie. Most days the tie comes off. Most days involve meaningful conversations with people like you who care deeply about this place. Most days, I do more listening than speaking (a point which I realize must come as a huge surprise to Melinda). I hear from students who are struggling and students who are thriving. I hear from parents who are excited and anxious. And I sit with friends of PLU planning together what the future of this great place might be.
And I've also discovered a love of numbers actually comes in really handy when you're the president, especially if those numbers are tied to a shared vision. You may recall at this time last year I shared a vision focused primarily on investment in student success and highlighted plans for the center for student success, the revisioning of Alumni and Student Connections, working to expand signature programs and demonstrating care for our beloved campus.
To highlight the impact of your continued investment in PLU let me share a few numbers worth celebrating:
In the last year alone, because of generous friends like you, PLU has received over $12 million in gifts to support this vital mission (and we're not done yet). This makes 2018-19 our most successful fundraising year since 2012! Many of you are to thank for that, so, thank you!
In particular, several friends have invested in incredibly meaningful ways to move our shared vision forward:
Thanks in part to a generous gift from 1968 PLU alumni David and Chris Schoening, in memory of their son Nathan who was a 2001 PLU alum, the Nate Schoening Center for Student Success opened earlier this year on the first floor of Mortvedt library. I encourage you to visit newly renovated spaces for academic assistance and academic advising, the digital design lab and technology help desk – or take it easy in the bright and comfortable student gathering spaces.
I'm also happy to report publicly that four donor families have made especially significant gifts to student scholarships in the last two years. These gifts will now offer more than $8 million in combined endowed scholarship to open doors for incredibly worthy students.
These four scholarships build upon fourteen other new endowed scholarships established in the last two years. PLU now has 438 endowed scholarship funds and our endowment is strong, standing at its highest level ever of over $101M (and if you know anything about the market this last year, this is an especially noteworthy accomplishment).
Internships, mentoring experience and job placement are also critical to student success, which is why we combined our Alumni Office and our Career Connections Office in the last two years. I encourage you to visit the newly renovated Nesvig Center, where we are connecting our current students, alumni, parents and employers in new and innovative ways through the office of Alumni and Student Connections. From the promise of a meaningful internship experiences for every student, to career exploration through alumni connections at innovative companies like Amazon and Alaska Airlines, to opportunities for lifelong learning, like the Galapagos travel seminar being led by Dr. Chuck Bergman – in all this work we imagine new ways for Lutes to support each other throughout all phases of life.
Chuck and a group of 18 alumni and friends will learn about nature, animals and culture in the Galapagos Islands next month. [Chuck, do you have room for two more?!]
And finally, our investment in signature programs and care for our beloved campus. I'm proud to report that fundraising is well underway to support the expansion of our School of Nursing. The renovation of the Garfield Book Company building will double the square footage for our school, building new skills labs, classroom space and high-tech simulation labs. Four million dollars as already been committed to this exciting project and with your help we anticipate this space opening for the 2020 school year.
That shared vision in the year ahead will continue to focus on investing in Student Success.
So how do you define student success? Is it the creation of scholarships to open doors of access and opportunity? Is it the building of spaces where learning and innovation happen? Is it supporting the craft of teaching and ensuring that exceptional faculty are hired and supported? Or is it creating experiences outside the classroom, where concepts collide in complex ways?
At PLU we know that the answer to these questions is…yes. It is the combination of our collective vision that will make student successes both possibility and reality. As a University in the Lutheran tradition we hold well complex challenges, we greet each student as a beloved and worthy individual, and we strive to make their Wild Hope a reality.
As as your president, I look forward to this work together, crafting these stories of student success for generations to come."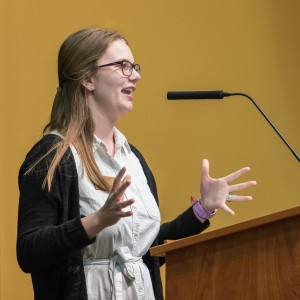 Christa Slater, Class of 2020
Christa Slater, from Fresno, California, is a leader within PLU Campus Ministry who is majoring in Religion. She is a recipient of the Rolph and Betsy Hanson Endowed Scholarship and the Silas and Alice Torvend Endowed Scholarship.
Invocation
"Usually blessing means to 'speak well of' another, to praise, to speak what is conducive to another's welfare. In a specific sense, blessing is an intentional act whereby one speaks God's favor and power into another's life, thus being God's grace. Spoken blessing are intended to communicate to the one being blessed value and purpose as an image-bearer of the Creator.
In my Religion 330 class this semester, we are talking about storytelling in the Hebrew Bible. In March we learned about Jewish blessings and curses. Curses are forever… as are blessings. Blessing imparts value to another as opposed to cursing. When we speak blessing we are communicating the love, value and purposes we have felt from others and from God – and we are speaking future to life. Thank you for blessing my time at PLU. It will never go away. It has left a big mark on my life, and I am forever grateful. Now, allow me to give thanks, and may it bless you all!
I invite you to pray with me.
O Holy One, thank you for smiling faces, ready hands, and encouraging words that have brought so many of us to this institution. Thank you for making way within the wilderness, and thank you for your grace that continually waters our dry places. let us always be students of you.
Thank You, Creator, for never living up to human demand and expectation & pushing us to more. For you know that it is when we are half-broken, moving, learning, unsatisfied, lost, confused, starry- eyed in disappointment- that you do your miraculous and necessary work.
O God, Thank you for the gift of abundance and success. Open our hearts to be humble, transformed for the new thing that you are doing within us and around us. May our lives may proclaim the extravagance of your love.
Amen."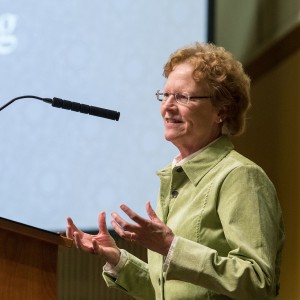 Laura Polcyn, Class of 1975 & M.B.A. 1979, Harstad Heritage Society
Laura Polcyn is a graduate of PLU's School of Business, where she received both her bachelors and masters degrees. In her 44 years of work with PLU, she served in the School of Business for 20 years, including becoming the Associate Dean, later she was Vice President for Admissions, and afterwards Associate Dean of Graduate Studies and Special Academic Programs.
Laura earned her Doctorate in Education from Seattle University and has a special spot in her heart for transfer students, as she was one herself, transferring from Tacoma Community College to finish her degree at PLU.
Donor Spotlight
"President Belton and Vice President Lee, thank you for the invitation to speak this evening at the Lasting Legacy Banquet.
I have been asked to share with you my PLU journey and to explain why my husband, Mark, and I have established an endowed scholarship in our estate planning. I know that each donor here could stand and tell a story because we all feel deeply about the success of PLU students. And for many students, success does not and will not happen without the continued financial support by many people, especially people like us who are willing to set up an endowment. I am not downplaying the roles family, faculty, staff, the student's academic ability and interest play in student success, but many students need the underlying financial base in order to concentrate on their academics.
Through my 39 years of full-time and 5 years of phased retirement work for PLU, I have seen first hand the struggles students today face as they learn and compete. And the struggles they face financially to stay in school.
Fortunately, my PLU journey was not one of struggle. Let me share a bit of that journey and you will see why I give back.
My journey at PLU started as an adult transfer student. I attended Tacoma Community College for two years, worked two years, and then transferred to PLU.
My undergraduate is a Bachelor of Business Administration with a concentration in accounting. I don't even like to think how little a semester hour of credit was in the 70's, plus I was fortunate enough to have worked and saved for tuition. "Back then" PLU didn't have much in the way of transfer scholarships.
Altered were my plans to work in accounting. A phone call from the PLU business school dean, Gundar King, saw to that. He asked if I would be interested in the business school undergraduate advisor position. I accepted, never regretting for a moment working for PLU and the opportunity to assist students.
So began my journey through the business school to MBA director and ultimately to associate dean. Before me every day were insights about students' plights—academically and financially. While working I completed a PLU MBA and a doctorate in educational leadership from Seattle U. Later, I was vice president for enrollment services for eight years, overseeing admission and financial aid. My PLU career took me through a few more positions, primarily staying in the academic division.
While I don't believe that every person should attend a university, I do believe that the individual who has the ability and the drive should be able to attend. I also believe that PLU has an obligation to help those where there is a fit for an education based on Lutheran education principles.
Mark's and my endowed scholarship will be specifically for transfer students who are completing the BBA. Assisting those who do not have the same financial resources I had is extremely important to me. And this endowed scholarship represents the most helpful way Mark and I can provide scholarship support, even though we already do so annually.
I applaud each and every one of you for your commitment too, and I trust that we will all continue to financially and in other ways lift up the university."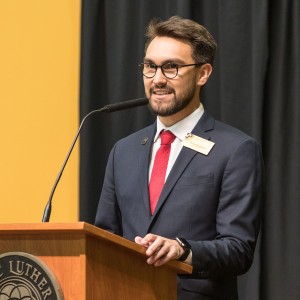 Carson Bergstrom, Class of 2019
Carson Bergstrom, from Pasco, Washington, is the outgoing ASPLU Vice President. He is a double-major in Nordic Studies and Chemistry, with an emphasis in Biochemistry. He will be performing research this summer at Northwestern University under the direction of PLU alumna Dr. Karla Fullner Satchell '88. Carson Received the P. & A. Johnson and E. & H. Larson Endowed Scholarship.
Student Speaker
"Good evening, members of the Lute family,
My name is Carson Bergstrom, as Dan has just mentioned, and I am a junior and the outgoing Vice President of the student body here at PLU. I wanted to talk to you a little bit about what my experience of being a Lute has been and what your generosity has allowed me to experience and influence during my time at PLU.
My background starts in the small Eastern Washington town of Pasco. I am a proud first generation college student with both Scandinavian and Latin American roots in my family. Out of the 400 students I started senior year with, I was the only student who had the opportunity to attend a private university. I consider myself incredibly privileged that Ed Larson has trusted me with financial support to attend PLU and enact change in the world. I am a Chemistry and Nordic Studies double major with a minor in Biology. I have aspirations to one day attend medical school to revolutionize neuroscience. My grandfather passed away from ALS a week before my graduation from high school. It was his dream to live long enough to see me cross the stage and receive my diploma. He never got to live that dream; but he has inspired me to help others who have suffered like him. This has brought me to study at PLU, a community where I have had the opportunity to lead this past year.
I wanted to share a story with you about one of the most influential decisions I have ever made. This decision happened 2 minutes away from here in a dorm called Ordal. I sat down at a table on the third floor as Haedon Brunelle, the outgoing President of ASPLU, talked to me about running with him. Haedon always jokes about how stubborn I was and how I told him that I would think about running for Vice President. It took him weeks of convincing me to be his Vice President before I realized something. The opportunity he presented me was far too good for me to pass up. His policy was spotless, our ideals were in tune and he quickly became someone I consider my brother. Most importantly, during that conversation, he affirmed me as a person. This allowed me to believe in myself.
Typically, that is supposed to be where I say 'the rest is history,' but I am far too proud of the achievements that Haedon and I were able to accomplish with our team in ASPLU this year.
This year has seen a lot of changes and planning for the future of PLU. Our accomplishments include the creation of the Student Leadership Board, the repaving of paths and ramps on campus for ADA accessibility, signage to help our community members navigate PLU, a PLU sustainability commitment in the next strategic plan, renovation of key community areas on campus, transparency and efficiency in the ASPLU Senate with more democratic and diverse appointments, cultural competency training for all student leaders on campus, a revamp of our online platform, Sakai, the foundation for a rock wall project, implementation of a new campus calendar program and next month I will be presenting to the Board of Regents on creating a voting Student Regent position. Our team saw incredible achievements including record numbers of voting and the top voter registration team in the state and arguably, the country as celebrated by Governor Inslee and the state of Washington. We continued advocating through statements that made real impacts and sparked big discussions that have created conversations around injustices not only at PLU, but the Tacoma-Parkland community. We have been privileged to facilitate important questions of diversity and justice that have led to an immense amount of learning and growth.
These experiences and changes to PLU would not have been possible without your incredible generosity to people like Haedon and myself. Without scholarships, there is no possible way that I could be at PLU and I am forever grateful for this opportunity that you have given me at this institution.
As I leave my position as Vice President of ASPLU and leave to study away in India and then medical school the following year, I hope that you remember the story from Haedon and I. Tremendous change occurred at this institution from our partnership as student leaders and it was all made possible from your support. I want to emphasize that your continued financial support and engagement in the campus culture has an incredible impact on students lives and success. Your investment in students, much like Haedon's investment in me, has the potential to enact immense positive change in the university and the world. We all have the capacity to make another person believe in themself and that is what I leave you with today. I appreciate you all taking the time to listen to me and I hope you have a great rest of your evening. Thank you."