Shaping Healthcare
PLU's First DNP Cohort Graduate Molly Martin

July 20, 2022
Molly Martin graduated from the first class of PLU's DNP program. We had the opportunity to speak with her about how the program trains nurse practitioners for lives of leadership.
Sometimes, there aren't enough hours in the day for Molly Martin. It's a challenge to balance patient calls and prescription refills on top of seeing as many as 20 patients a day.
And she wouldn't have it any other way.
"I do think this is my calling," Martin said in a clinic conference room at Hawks Prairie Internal Medicine in Lacey. "I definitely think this is what I'm meant to be doing."
Although she was already doing it, Martin entered the DNP program to take her care for others to the next level.
"The DNP program reminds me that we need to put the patient first," she said. "Having a DNP education allows you to look past (the drama in health care) and look at what's going to be best for the patient and what's going to be best for the population."
Before joining the DNP program, she already earned her bachelor's and master's degrees in nursing at Pacific Lutheran University.
"PLU makes sure you're in there and you're getting your hands dirty, by experience not just by reading it in a textbook," she said. "That's what kept me coming back over and over again."
The mentorship, research and community partnership that's built into the DNP program offers nurse practitioners a well-rounded education, Martin said.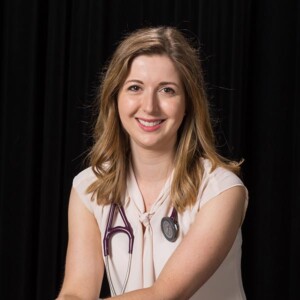 DNP Scholarly Projects
Molly's program-development project as part of her doctorate addressed what's best for a large segment of the population. She streamlined enhanced Medicare wellness visits at primary care clinics for the Southwest Washington region of Providence-St. Joseph Health System. The visits are annual, comprehensive checkups that often require going over many conditions at once. For example, she said, it's not unusual for her to see a patient who deals with 20 different chronic conditions requiring between 20 and 30 different medications.
"This visit is very lengthy and consumes a lot of both patient and provider effort," she said. The toolkit she developed eases the documentation side of the process, creating more space for one-on-one time with the patient. "It's cut my documentation down by about half. It also makes sure I don't forget anything."
The new approach, she says, fits into her larger philosophy of caring for patients comprehensively: "It's not only medical care. It's care for the entire human."
Where she is now: Martin works as a nurse practitioner at six Providence clinics in Southwest Washington. She manages a regular patient panel at Hawks Prairie Internal Medicine.
Transform lives with Pacific Lutheran University's Doctor of Nursing Practice
Pacific Lutheran University's Doctor of Nursing Practice prepares students to develop and evaluate quality care within a health system, collaborate with interprofessional teams to improve health outcomes, and be leaders in the nursing profession.
 Our DNP program prepares nurses at the highest level of proficiency as they learn to translate science into clinical practice. Students develop the skills to lead collaboratively, integrate research into care, and design better healthcare delivery systems.
Interested in getting a DNP? Connect with PLU today!