School of Nursing
DNP Program applications are still open!
Applications still being accepted for our Doctor of Nursing Practice FNP and PMHNP program for Summer 2016 start.

Commitment, Caring and Leadership
Thanks for visiting the PLU School of Nursing!
From this website, prospective students can learn about the mission, history and programs offered, as well as download application materials. Health professionals looking to stay abreast of current issues or return to practice can read about courses offered through Continuing Nursing Education. Our current students can keep informed of important dates and events and download required paperwork. Nursing alumni can learn about current events at the School of Nursing, keep in touch with their fellow graduates, and find ways to contribute to nursing education at PLU.
The PLU difference 
PLU is known for its high-quality nursing education.
Cohort sizes are small to ensure a high-quality, personable PLU experience.
All clinical placements are arranged by the PLU faculty.
Accreditation
The School of Nursing is a member of the American Association of Colleges of Nursing (AACN) and is approved by the Washington State Nursing Care Quality Assurance Commission. The bachelor of science in nursing and master of science in nursing programs are accredited by the Commission on Collegiate Nursing Education (CCNE). The Care and Outcomes Manager MSN curriculum meets requirements for the Clinical Nurse Leader national certification examination. The Family Nurse Practitioner track meets requirements for ANCC and AANP national certification examinations.
Faculty Positions Available
Please join our extraordinary teaching team in BSN, MSN and DNP education!
Four tenure-track positions are available for the 2016-2017 academic year.  Summer 2016 and 2016-17 AY contingent contracts are also anticipated.
Click here to apply to our School of Nursing positions!
Poster Presentations
A wide variety of topics were covered by students today during their poster presentations in the University Center. Great job to all our presenters – posters looked great! Click here for pictures.
Congratulations to Tracy Pitt!
Tracy has been selected to participate in the Wild Hope Staff Seminars over the next year. Wild Hope's focus is on vocational exploration and helps guide mentors and students in finding the vocation that fits their life. We are very excited for Tracy and know that she will have an even greater impact on students here at PLU in the years to come! Congratulations Tracy!
To learn more about the Wild Hope Center for Vocation click here.
STTI-PLU School of Nursing Faculty and Student Research Day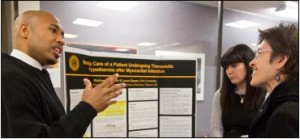 Please join us for an informative day of faculty and student research project presentations and to hear invited speakers Dr. Betty Bekemeier and Dr. Casey Shillam. Research day focus is on health care as a human right and the importance of nursing's role in finding effective solutions to our nation's very complex health concerns. Continuing education credits will be offered for this event.
May 27th – 9 am to 3:30 pm at Pacific Lutheran University
Cost is $140 for 5.5 credits or $60 for 2.5 credits
For more information or to register, please click here.