Committed to helping students discover their career aspirations
Career Connections embodies PLU's commitment to helping students discover their career aspirations. A PLU education not only prepares students to excel by building excellent intellectual skills, but also by connecting them with opportunities to realize their potential and find meaning and purpose in their work.
Career Connections brings together PLU's best academic and career planning tools to help students make a seamless transition into the next phase of life. By linking students with the right resources, advisors and opportunities, Career Connections positions students to succeed.
Career Development is a process and takes place over the four years students attend PLU. Well, actually it is a lifelong process, but your time at PLU is when we can help!
All of the experiences you have — both inside and outside the classroom — can guide the direction your career path will take.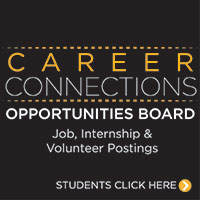 Upcoming Events
Calendar