Important Message
** We understand that students are having difficulty with the
Career Connections Opportunities Board.
We have contacted technical support and we hope the issue will be resolved quickly.
Thank you for your patience. **
Welcome to Career Connections
Career Connections brings together PLU's best academic and career planning tools to help students make a seamless transition into the next phase of life. Career Connections positions students to succeed by linking them to the right resources, advisors, opportunities, and employers. Our website is going through development. The navigation bar on the left will allow you to explore the site. If you can't find what you are looking for, send an e-mail to career@plu.edu.
Student Services: Resumes and cover letters, job and internship search strategies, assessments (Myers-Briggs Type Assessment and the Strong Interest Inventory), networking, interviewing, salary negotiation and graduate school information
Employers: Career fairs, information sessions, tabling sessions, on-campus interviews, industry-professional resume reviews and site visits (netTREKS)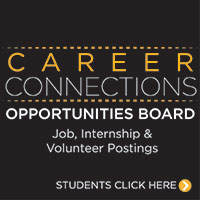 Upcoming Events
Calendar