32nd Induction Class of PLU Athletics Hall of Fame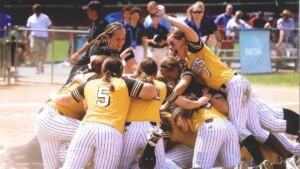 The Pacific Lutheran University athletic department will induct six individuals and one team into the Athletics Hall of Fame on Saturday, March 18 as members of the 32nd induction class. The purpose of the Athletics Hall of Fame is to honor and preserve the memory of those athletes, coaches, athletic staff members, and others who have contributed in an outstanding and positive way to the promotion of the Pacific Lutheran University athletic program.
Those entering the Hall of Fame will be softball players Shannon (Fritzke) Cotton and Melissa Korb, baseball's Brock Gates, volleyball's Beth (Hanna) Peckham, swimming's Kersten (Larson) Fairbairn and Glenn Preston, and the 2012 national championship winning softball team.
Saturday, March 18, 2023
Social hour – 5:00 PM
Dinner and program – 6:00 PM
$25.00
Olson Auditorium and Gymnasium
on 124th Street South, Tacoma, WA 98447
All Tickets MUST be purchased by Thursday, March 9th.
The Inductees:
Shannon (Fritzke) Cotton (Softball: 1999-2002)
Cotton was a four-time All-American for the Lutes, a four-time All-West Region and All-Conference player, and the 2000 NWC Player of the Year. Cotton holds school records for batting average and home runs and helped the team win four straight league titles, ending her career with a 137-24-1 record and a fourth place finish at the 2002 NCAA Championships.
Kersten (Larson) Fairbairn (Swimming: 1986-1990)
Fairbairn was a 15-time NWC Champion and an All-American all four years. Fairbairn helped the Lutes win the NWC Championship for four straight seasons while guiding the team to a third place finish at the 1989 NAIA Championships and a fourth place showing at the 1988 and 1990 Championships.
Brock Gates (Baseball: 2009-2012)
Gates was a three-time All-Conference selection for the Lutes, the 2012 NWC Player of the Year, and an All-American. In his three years on campus, the Lutes compiled a 73-46 record on the diamond. A prolific hitter, Gates' 70 hits during the 2012 season remains a school record while his 68 hits during the 2010 season ranks second all-time. Gates is second in career slugging percentage while ranking third all-time in RBIs and home runs and fifth in batting average and hits.
Melissa Korb (Softball: 1999-2002) 
Korb was a three-time All-American for the Lutes, a four-time All-West Region and All-Conference player, and the 2002 NWC Player of the Year. Korb set school records for career wins, strikeouts, shutouts, in addition to setting the school single season record in strikeouts. Korb had nine no-hitters and four perfect games, helping the Lutes win four NWC titles and place fourth at the 2002 NCAA Championships.
Beth (Hanna) Peckham (Volleyball: 2007-2010)
Peckham was a three-time All-American, a three-time All-West Region selection, and a four-time All-NWC honoree. Peckham was the NWC Player of the Year in both 2007 and 2008 and was the AVCA Division III Freshman of the Year in 2007. Peckham still holds single season records for kills and kills per set. Peckham helped PLU win three NWC titles and post an 82-25 record over the four years on campus.
Glenn Preston (Swimming: 1972-1976)
Preston was an eight-time conference champion for the Lutes and a four-year All-American. Preston won four straight NWC titles in the 1,650 freestyle and two more titles in the 500-yard freestyle while also winning conference titles in the 400-yard individual medley and the 800-yard freestyle relay. Preston helped the Lutes win four straight NWC titles and place third at the 1973 NAIA Championships.
2012 Softball Team
The 2012 PLU softball team won the program's third national title, and the department's 11th overall national title. The Lutes finished the season with a 45-11 record, winning their final nine games of the season. PLU outscored its opponents 18-4 in the NCAA Division III World Series Finals in Salem, Virginia with pitcher Stacey Hagensen pitching all 58 innings of the tournament with a minuscule 0.60 earned run average. Hagensen and Kaaren Hatlen both ended the season as All-Americans with five total Lutes securing All-West Region honors and seven Lutes landing All-Conference accolades.
To be eligible, Lute student-athletes must be 10 years removed from graduation while coaches and administrators need to have spent at least five years at PLU and must not be currently on staff. Individuals interested in nominating a Lute must complete the online Nomination Form.