The American Business Culture (ABC) program at Pacific Lutheran University is a unique opportunity for third-year students at Shandong Foreign Trade Vocational College (Shandong, China) to rapidly improve their English language proficiency, continue their business education, and experience life at an American university.
This nine-month program (September – May) is a great option for students who plan to work closely with American businesses or are considering matriculating to an American college after finishing their program at Shandong Foreign Trade Vocational College.
太平洋路德大学的美国商业文化(ABC)课程为山东外贸职业学院(中国山东)的三年级学生提供了一个独特的机会。不但可以迅速提高他们的英语水平,並且还可以继续他们的商业教育及体验美国文化和大学生活。
这个为期九个月的课程(9月 – 次年5月)是对于正在计划与美国企业密切合作,或考虑在山东外贸职业学院完成课程后就读美国大学的学生来说是一个很好的选择。
Program Components
Orientation and Pre-Arrival Workshops
开学典礼及抵达前面谈
Four 7 – 9 week terms | 7 – 9 周项目
Monday-Thursday: Attend 3 hours of ESL + 3 hours of business classes
周一至周四:出席3小时ESL课程 + 3小时商科课程
English Language and Culture (ESL): English language instruction tailored to your specific level, with regular assessments to measure improvements. | 根据您的水平量身定制的英语教学,并定期进行评估以衡量改进情况。
Business Classes: Taught by PLU faculty and business leaders, such as | 由PLU的教授和商业领袖授课,例如
Supply Chain Management | 供应链管理
Introduction to American Business | 基础美国商业介绍
Principles of Marketing | 市场营销原理
Entrepreneurship | 创业精神
Fridays: free time or Friday Company Visits
周五: 自由时间或访问美国本地公司
Tuition
Tuition: $25,000 USD
学费: $25,000 美金
Includes包括:
On-campus housing for 9 months | 9个月的校内住宿费
(single room in a 4-person apartment) | 在4人合租宿舍内的单人间
Meal plan for on-campus dining | 校内用餐计划
International student health insurance plan | 国际学生健康保险计划
All 

required

textbooks and ESL materials | 所有

必需

的教科书及ESL课程材料
PLU student ID card | PLU学生ID卡
Use of PLU facilities, including library, health center, fitness center, pool, & outdoor recreation equipment | 使用PLU设施,包括图书馆,健康中心,健身中心,游泳池和户外娱乐设备
Airport transportation upon arrival and departure | 到达和离开时的机场运输
Various events throughout the year, such as a Welcome Dinner, holiday party, and Closing Celebration | 全年举办各种活动,例如欢迎晚宴,节日派对和闭幕庆典
Friday Company Visits
Operated by Azure River Group, this unique program brings ABC students to 20+ companies in Washington representing a wide variety of industries, management models, and participation in the global economy.
由Azure River Group运营的这项独特计划将ABC学生带到华盛顿的20多家公司,这些公司代表各种行业,管理模式以及对全球经济的参与。
Companies visited by the inaugural 2018-19 cohort include
首届2018-19年度队列访问的公司包括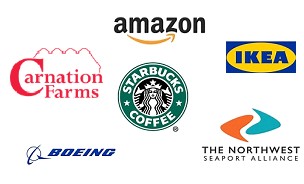 (Separate fee of $5,000 paid directly to Azure River Group
需直接向Azure River Group支付的5,000美元的单独费用)
Tuition does not include the Friday Company Visits or any additional fees students may incur at PLU (library fines, additional medical expenses, housing damage, etc).
学费并不包括任何周五公司参访行程或由由学生在PLU所产生的任何额外费用(如图书馆罚款,额外医疗费用,住房损坏等)。
Teach with Us
The Center for Graduate and Continuing Education is currently seeking qualified instructors in the following subject areas. Instructors should have at least a MA in a relevant field of study and some experience teaching undergraduates at the college or university level. Experience working with international students (especially students from China) and/or English language learners is preferred, but not required.
Marketing
Business Finance
Global Trade and Management
Project Management
Send a CV and brief statement of interest to Saralyn Smith (Program Manager for Continuing Education) at ce@plu.edu
Bring Us to Your Company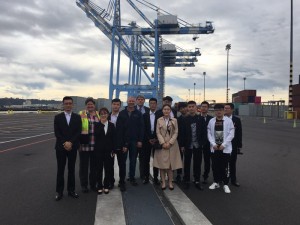 Hosting our visiting students from China for a tour and conversation can be a great opportunity to promote your business and create or strengthen your global business connections.
Email us to find out more: ce@plu.edu