How Pricing Works
Hospitality Services & Campus Restaurants is a self-run, self-sustaining department of Pacific Lutheran University. Being a self-sustaining department means that we rely upon dining sales to cover our operational costs, rather than dollars from the PLU's general budget. As a part of PLU, we are also a nonprofit entity; our goal is to provide a service to the campus community, not make a profit.
How We Set Our Prices
To cover the cost of our operations, Hospitality Services & Campus Restaurants uses an industry-standard practice for determining prices—we set a food cost percentage and a margin. This means we base the final selling price of an item on the amount we're paying for it, ensuring it is always a certain percentage of that final price. For example, food that we purchase, prepare and sell will have a food cost of 37% and a margin of 63%. That means for every $1.00 you spend, $0.37 covers the food cost. So what about the other $0.63?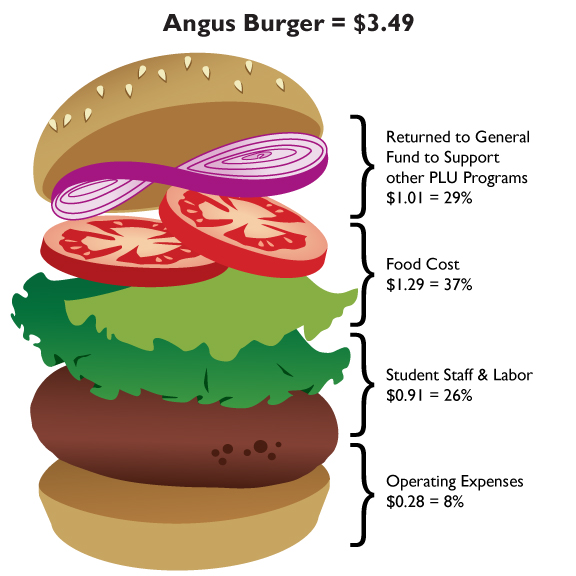 It is important to note that the example above is typical of the food we prepare on campus. For packaged items like a bag of chips or bottled soda, our margin is typically lower, while our food cost is higher. That's because the food is not prepared by our culinary staff, thus the percentage going toward labor can be less.
Why Do Prices Change?
All the items sold can be broken down into two types of products: packaged/premade and prepared. A bottle of Gatorade, a bag of jerky, Molly's sandwiches and Bagel Boyz Bagels are examples of packaged or premade items. The prices will be adjusted regularly unless we have a contract with the manufacturer or supplier. We do have many contracts that will help keep pricing stable, such as with Pepsi and FSA. Depending on the terms of the contract, our suppliers may adjust their prices, but this is typically limited to twice per year. All other items are adjusted regularly, based on what the manufacturer or supplier charges us for the product. In Old Main Market, the majority of items are packaged or premade, which means they have the most price changes. Sometimes prices do go down but, unfortunately, in today's economy, they usually are increasing.
The other type of product we sell are the items we make here on campus. Examples include: a meal from The Commons, turkey pesto sandwich, a grilled panini and breakfast sandwiches. All of these items are produced in-house by our culinary team. Most of these menu selections have a set price for the year unless we experience a drastic variation in our raw ingredient cost.
How Do We Keep Prices Stable?
Because we want to provide dining value to the campus community, we are always looking for ways to keep prices stable. Doing so is a complex process involving monitoring market pricing, managing our supply chain and negotiating new contracts with our suppliers. We are always looking for opportunities to operate more efficiently to help keep costs down while continuing to serve food that is both high-quality and affordable.
Our goal is to provide you with a quality and convenient dining experience, so you can concentrate on your educational goals. We provide you with several choices on what, where and when you want to eat, giving you the flexibility you need in your schedule and budget. We enjoy the opportunity to prepare your food and make it available to you, saving you time—you have the rest of your life to cook and clean, for now, leave that up to us.