Allergy Info
If you are living with a medically diagnosed food allergy or intolerance, you are not the only one on PLU's campus! PLU Hospitality Services & Campus Restaurants is equipped and dedicated to accommodate customers who have food allergies, sensitivities, or other dietary needs. Our Executive Chef, Sous Chef and managers are easily accessible, in order to provide safe, healthy, and delicious options.
Helpful nutrition information is displayed in The Commons. You'll find the following symbols at the stations to inform you which allergens are present:
And the allergens will be listed out like this on the GET mobile app: Vegetarian (V), Vegan (Vn), Gluten-Friendly (GF), Gluten (G), Dairy (D), Egg (E), Soy (S), Sesame (Ss), Shellfish (Sf), Fish (F), Peanut (P), Treenut (Tn), Coconut (C), Pork (X)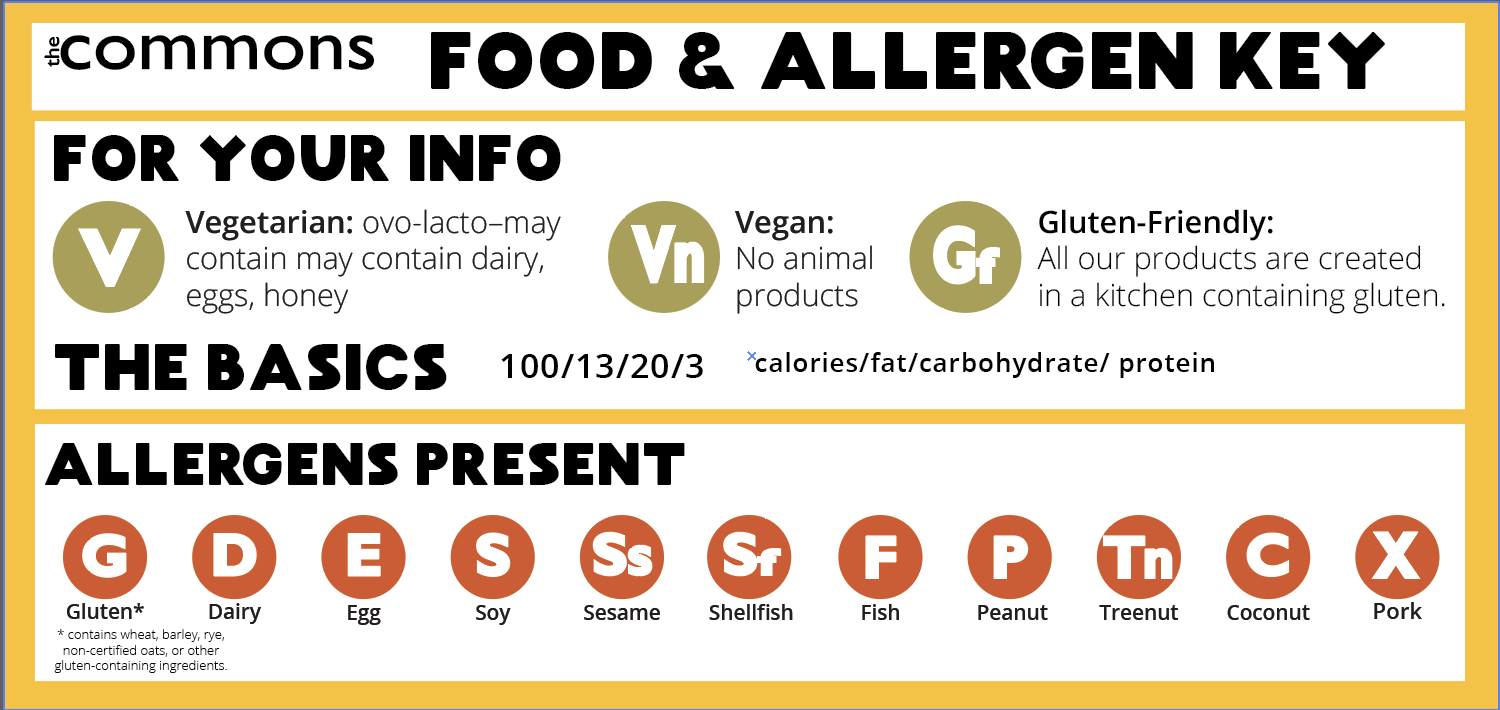 Allergy icons are displayed based on recipe ingredients. Cross-contamination with other allergens is possible since the facility does receive other foods containing allergens that may not be noted. Further, some areas utilize the self-serve style of service in The Commons.
For more information about the most-common allergens, click on the links below:
Our house made desserts do include allergen listings, but we want you to know all our bakery products are produced on equipment which also produces products containing peanuts, tree nuts, cinnamon, seeds, dairy items and/or dried egg powder.
Food Allergy Research & Education (FARE) is a great resource for students with allergies, check our their page: Managing Food Allergies at College.
Halal Diets
In The Commons we offer 1 meat choice that we source from outside suppliers as Certified Halal, these items will NEVER be substituted:
Alcohol: If alcohol is added to a menu item, you will see it called out in the item's description.
On the GET menu when ordering certain items, you will see a checkbox "This is Halal" and when you check that:
Staff will use fresh gloves
Staff will use dedicated Halal kitchen tools
Staff will work to avoid cross-contamination
Since we prepare our food on one serving line and in one main kitchen where non-halal items are prepared, we cannot guarantee that any of our menu items are free of cross-contamination.
Do you have Celiac Disease or gluten sensitivity?
Gluten-free diets are necessary for individuals who are intolerant of the protein gluten, naturally found in wheat, rye, and barley, and present in many other foods.
The Gluten Intolerance Group raises awareness of gluten-related disorders and provides helpful resources including this Gluten-Free Diet Guide.
Steps We Take in Our Kitchen
Even though we don't have a dedicated gluten free kitchen (thus the gluten-friendly marker that we use on our food items), there is always a risk of cross-contamination. That being said, we do have protocols in place to help us keep cross-contamination to a minimum:
The fryer at Crave is dedicated gluten-free with dedicated color-coded baskets

so fries, tater tots and breakfast potatoes are all made in this fryer
also when we have tostadas at Cross Cultures the corn tortillas are fried in here

Dedicated gluten-free saute pans and utensils
Dedicated gluten-free cutting boards and knives
Staff trained in preventing cross-contamination

they will change gloves when you request items such as a burger on a gluten-free bun at Crave or gluten-free bread at Tamari, etc.
Major and Hidden Sources of Gluten:
Major Sources of Gluten
Barley
Bran
Couscous
Flour (wheat)
Kamut
Malt

Matzo
Pasta
Rye
Seitan
Semolina
Soy Sauce

Spelt
Sprouted wheat or barley
Teriyaki Sauce
Triticale
Udon
Wheat
Hidden Sources of Gluten
Beer
Brewer's yeast
Coloring
Fillers
Flavorings
Graham flour

Hydrolyzed plant protein
Hydrolyzed vegetable protein
Mono- and diglycerides

Monosodium glutamate
Spices
Textured vegetable protein
Food Allergies vs. Food Intolerances
Food Allergies involve the immune system. A protein within a food, known as the allergen, triggers a reaction from the immune system. The body tries to protect itself from the allergen by producing antibodies. These antibodies cause the body to release chemicals, which produces an allergic reaction. Food allergies are severe, yet rare. Only 2% of the adult population has a food allergy.
An allergic reaction can occur immediately or up to two hours after eating the food. As the food enters the mouth, it can trigger a tingling sensation in the mouth and possibly, a swelling of the tongue and throat. Then, as the offending food enters the stomach, it can cause cramping, diarrhea, or vomiting. When the allergen enters the bloodstream, it can cause a drop in blood pressure, hives, or asthma. Anaphylaxis, a sudden drop in blood pressure, is life threatening. If you experience these symptoms after eating a certain food, it might be possible that you are suffering from a food allergy or intolerance. Seek immediate medical assistance.
Food Intolerances do not involve the immune system, but instead result from a digestive system response. A food intolerance is a metabolic disorder. A natural substance in foods, known as histamine, can sometimes cause a reaction similar to an allergic reaction. Lactose intolerance is one of the most prevalent food intolerances, affecting at least one out of ten people. Yellow dye number 5, MSG (monosodium glutamate), and sulfites are also known food intolerances
PLU Hospitality Services & Campus Restaurants Food Allergy Disclaimer
Be aware that all PLU Hospitality Services & Campus Restaurants locations prepare items containing gluten, dairy, soy, egg, fish, shellfish, tree nuts, coconut, sesame (The Commons does not use peanuts in the kitchen).
PLU Hospitality Services & Campus Restaurants makes every attempt to identify ingredients & provide up to date allergen information but cannot guarantee an item that we prepare to be allergen-free. Every effort is made to instruct our food production staff on the severity of food allergies.
In addition, we label items with possible allergen-containing ingredients; however, there is always a risk of contamination. There is also a possibility that manufacturers of the commercial foods we use could change the formulation at any time, without notice. Due to these conditions, PLU Hospitality Services & Campus Restaurants cannot guarantee that any item prepared in our kitchen is free of a certain ingredient or allergen. Customers concerned with food allergies need to be aware of this risk. Campus Restaurants also operates its own bakery. Neither our bakery nor our kitchen is gluten-free or nut-free. We cannot guarantee the absence of cross contamination with our baked goods or any of our items prepared in the kitchen.
PLU Hospitality Services & Campus Restaurants will not assume any liability for adverse reactions to foods consumed, or items one may come in contact with while eating at any University establishments. Students with food allergies are encouraged to contact PLU Hospitality Services & Campus Restaurants with the form on this page, or call 253-535-7472 for additional information and/or support.