Can I Get a Master's Degree Unrelated to My Undergraduate Major?

April 8, 2022
Maybe you're a recent college graduate — you're discovering that your bachelor's degree actually isn't going to prepare you for the career you want.
Or maybe you've been in the workforce for several years — and you've decided that you either want to move in a slightly different direction in your current career or you want to change careers altogether.
Whatever your specific situation, many adults end up asking themselves after college: "can I get an unrelated master's degree?"
Let's explore the process of going back to grad school for an unrelated degree.
Tip: Which graduate program is right for you? Explore our educational guides to learn more about PLU's programs.
Why go back to school for an unrelated degree?
There are so many reasons to go back to school for an unrelated master's degree. Maybe you resonate with one of the situations listed above or maybe you have a totally different reason for hoping to go back to school for a degree unrelated to your bachelor's.
No matter your personal circumstances, going back to school for an unrelated master's degree is something that thousands of professionals do every single year.
And this shouldn't be surprising because according to a study by the Federal Reserve Bank of New York, only 27 percent of workers with a college degree were employed in fields closely related to their major. Further, many accomplish this by obtaining a graduate degree that aligns with their career interests and goals.
In addition to often needing a master's degree to break into your new career or position, many professionals choose to obtain a graduate degree for these reasons:
Pay: Probability of higher earnings per year
Satisfaction: Nurture your love of learning and develop personal/professional satisfaction
Job security: Increased job security over employees with fewer credentials
Now, let's talk about some master's degrees that can be obtained without a related bachelor's degree.
7 master's degrees can you get with an unrelated bachelors: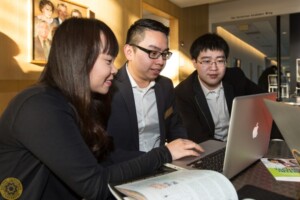 These are just a few of the graduate programs that you can obtain with a master's degree, and now you can find out why you should choose Pacific Lutheran University's graduate programs as the avenue through which you choose to transform your professional future — read this blog to learn more.
Looking to change your career? Connect with Pacific Lutheran University's graduate programs today!
Pacific Lutheran University purposefully integrates the liberal arts, professional studies and civic engagement in the beautiful Pacific Northwest. Founded in 1890 by Norwegian immigrants, PLU continues the distinctive tradition of Lutheran higher education as it seeks to educate students for lives of thoughtful inquiry, service, leadership and care — for other people, for their communities, and for the Earth.
With intimate class sizes and expert faculty, PLU graduate programs can help you gain the knowledge and experience you need to find and thrive in a fulfilling new career.
Ready to talk to explore further or talk to a PLU representative? Request more information or schedule an appointment with an admissions counselor today.
Don't put your new career on hold — explore our educational guides to learn more about PLU programs and how you can get started today.