Why PLU grad and entrepreneur still gives back to the School of Business
Posted by:
shortea
/ August 13, 2019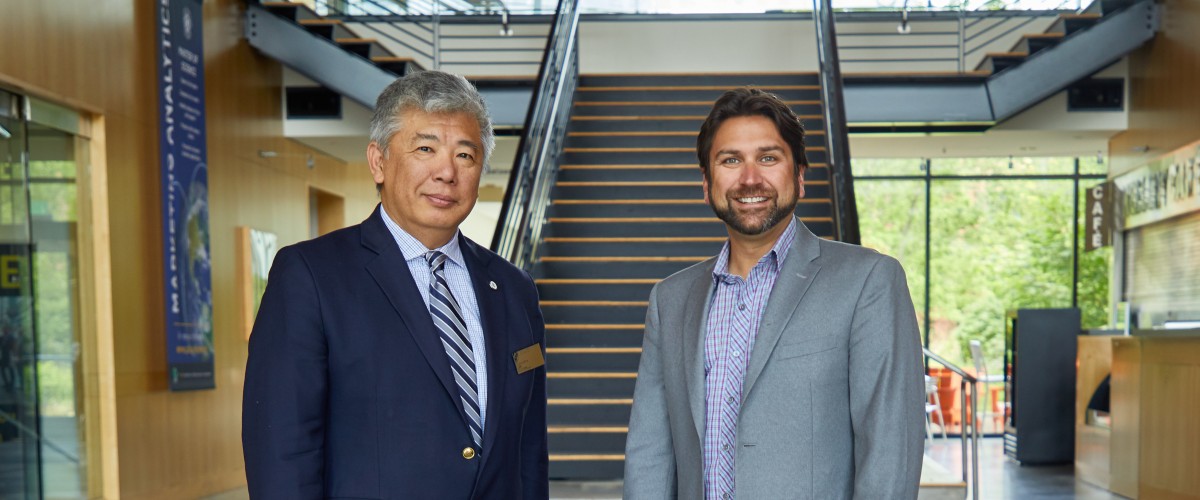 August 13, 2019
By Vince Schleitwiler
Guest Writer
Lutes often find ways to show gratitude to the community that supported their education, but Justin Foster '02 got started early. An entrepreneur, marketer, and technology developer, he has been an active supporter of PLU and the School of Business since graduation.
"I received a lot of value from my time at PLU," he explained. "I just think it's important to give back."
Foster has mentored students and interns, spoken to classes, advised campus organizations, and donated funds for technology equipment at the cutting-edge Class of 1958 Finance Lab with Bloomberg Terminal in the School of Business. His favorite experiences have involved working with students, as a judge for business plan competitions and as an organizer of E-Business Day, an event connecting students to business leaders.
Of course, he's a leader himself. His first start-up, the e-commerce company Liveclicker, was co-founded in 2008, and sold in July 2018. Foster also founded two leading trade groups, the Video Commerce Consortium and the Email Marketing Roundtable. Foster began his career as one of the first employees at WhatCounts, an email marketing technology provider.
Foster credits much of his success to his professors at PLU, especially Chung-Shing Lee, Dean of the School of Business, who helped him get several internships. Auditing Lee's MBA e-commerce class as an undergraduate, Foster was introduced to John Castle, CEO of the music software Cantametrix. He was able to help create a business plan for the enterprise.
"The energy and effort PLU professors put in is something you don't get at a larger school," Foster said. "My professors really cared about my success, and I really felt a huge impact on my life."
To this day, Lee proudly recalls Foster's role in creating PLU's Electronic Commerce and Technology Management Center (ePLU), including co-authoring a major grant proposal. Co-founding the center, Foster reflected, "really cemented and solidified my relationship with Dr. Lee. He's been hugely helpful in my career."
As a student, Foster also helped his friend Karl Philip Lund MBA '00 start the PLU Daily Jolt, a successful web portal in the days before Facebook. They promoted it with flyers and chalk notices all over campus, and soon a significant percentage of students were logging in daily.
"The administration hated it, because they didn't have control," he laughed. "That experience taught me a lot about entrepreneurship."
Foster is clearly passionate about instilling that spirit in students. "You have to seek out opportunity," he said. "It doesn't come to you. And use LinkedIn!"