A summer chemistry course…where you bake?
Posted by:
shortea
/ August 14, 2019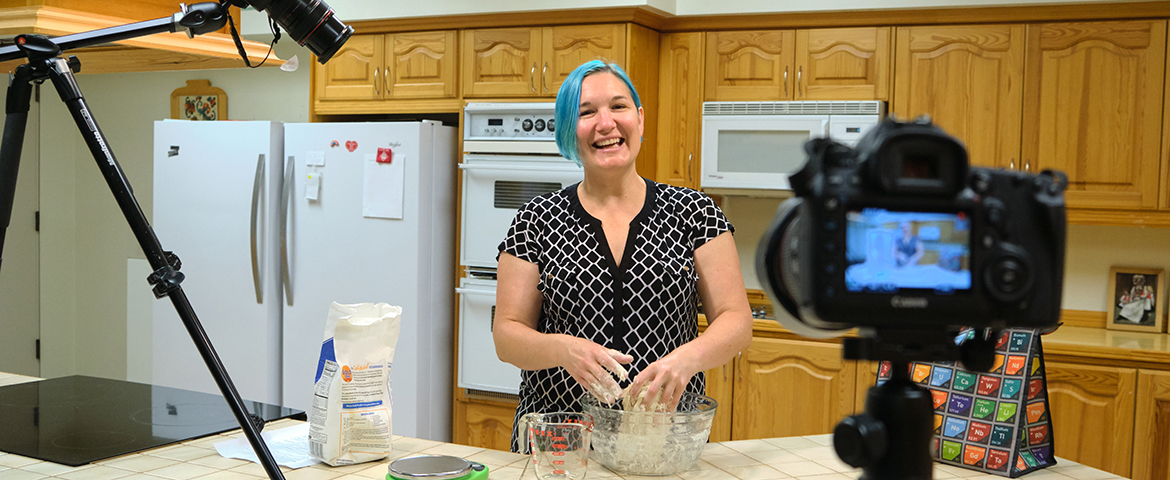 August 14, 2019
By Thomas Kyle-Milward
Marketing & Communications
Dr. Andrea Munro didn't design Chem 103: Food Chemistry in order to teach students how to cook — but everyone agrees it's been a pretty tasty side effect.
Munro, an associate professor of chemistry, intended the general education summer term course to appeal to students without a declared science major as a way to gain a lab experience and learn about her discipline through a fun, non-intimidating lens.
"I was trying to think of how to do some sort of Gen-Ed course," Munro said. "It was Thanksgiving, and I watched a lot of Great British Baking shows, and I was like, 'Oh, we can do these as labs!'"
But what's the connection between food and chemistry, you might ask? Well, there's a lot of science that takes place in the kitchen: ingredients transforming on a molecular level through a variety of chemical and physical processes like heating, chopping, mixing and freezing. Cooking IS chemistry, on a fundamental level.
"What (my students are) doing, then, is getting kind of a base chemistry background — so learning to think like a chemist and about the scientific method," Munro explained. "My department loves food and all the chemistry and the processing that goes into that, so there was a direct connection."
Both quantitative and quantitative analysis come into play, as Chem 103 students compare and contrast details like texture and taste while experimenting with the impacts of different ingredients over the course of the intensive four-week class. Just like in any laboratory, hypotheses are created, tested, adjusted and tested again in an accumulative process that culminates in a special project.
The course deployed a range of dishes to learn from, such as chemically deconstructing red cabbage and curdling milk into cheese, but the primary medium students worked with was bread and the processes that go into baking.
"I am more of a cook than a baker," Munro said. "A number of my colleagues, though, love baking, and so I knew at least for the purposes of this course that baking primarily is an easier way to test things."
One unexpected outcome: students who perhaps didn't have the most experience when it came to cooking or baking developing a bit of a talent for whipping up yummy treats.
For some of them, it's the first time making biscuits or bread," Munro explained. "I think the first time you do it, you just realize that some of these recipes are pretty easy."
Another important ingredient of Munro's class — it's a distance-learning course, which means her students worked in the relative comfort and familiarity of their own homes and kitchens. Chem 103 participants interacted with their professor over the internet and communicated with each other through online forums. Munro did her part by streaming and posting videos that led the class through each cooking component while fielding questions and sharing information in the forums. Students also served as a sounding board for one another, conducting peer reviews as each special project was developed, revised and perfected.
After seeing the way students responded positively to Chem 103's course debut, Munro is ready to declare her food chemistry experiment a success — particularly for nontraditional, working Lutes who crave the schedule flexibility it offers.
"I think students were excited at the opportunity, both just because it's about food chemistry, but also because offering a lab-based course as distance learning was really useful," she said. "I think it's something that I just hope we can continue to offer."