Asieh Mahyar
Visiting Instructor of Music; Interim Director of Orchestral Studies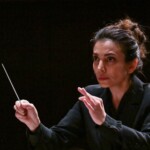 Biography
Passionate about performing music from different cultures, Asieh Mahyar is the interim Director of Orchestral Studies at Pacific Lutheran University where she conducts the PLU Symphony Orchestra. Ms. Mahyar is a candidate in Doctor of Musical Arts in Orchestral Conducting at Michigan State University, where she studied with Octavio Más-Arocas and Katherine Kilburn. She received her MM in Orchestral Conducting from University of Massachusetts-Amherst under the mentorship of Morihiko Nakahara, and Kristo Kondakci. Ms. Mahyar obtained her BM degree in Choral Conducting from Komitas State Conservatory of Yerevan, Armenia with Hovhaness Mirzoyan where she continued further studies in Orchestral Conducting to learn more from Ruben Asatryan.
Coming from Iran and being one of the very few female conductors from her country, Ms. Mahyar has broad experience working with ensembles at all labels in different countries. At Michigan State University, she was the Assistant Conductor for MSU Symphony Orchestra, MSU Concert Orchestra, Musique 21 contemporary music ensemble, and the MSU Opera. There she performed with all the ensembles including conducting opera productions. Previously, Ms. Mahyar served as Teaching Assistant at University of Massachusetts Amherst, where she worked with UMass Symphony Orchestra and All university Orchestra. She has served as Assistant Conductor of Tchaikovsky Music College of Yerevan, Armenia, and worked with youth orchestras, including Warner Middle School Orchestra, MI, National Music Festival Orchestra, MD, and student orchestras at Eastern Music Festival, NC. Ms. Mahyar's broad conducting experience includes working with professional and community orchestras such as Grand Rapids Symphony Orchestra, MI, Marquette Symphony Orchestra, MI, and Jackson Symphony, MI. She is equally working with instrumental and vocal ensembles conducting choirs including MSU Practicum Choir, MI, Komitas State Conservatory Choir, Yerevan, Sorayesh Choir, Iran, and conducts opera productions actively.
Ms. Mahyar has been selected to participate in prestigious conducting workshops and conferences including Cabrillo Music Festival with Christian Macelaru and Octavio Más-Arocas, National Music Festival with Richard Rosenberg, Eastern Music Festival with Gerard Schwarz, Conducting Institute with Miguel Hart-Bedoya, Conductors Retreat at Medomak with Kenneth Kiesler, and Choral Conducting Workshop with Antanina Kalechyts.