PLU Guitar Festival: Saturday, March 18, 2023

Mary Baker Russell Music Center, Pacific Lutheran University, Tacoma, WA
Elizabeth Brown & Stephen Howland, Directors
Designed for guitar enthusiasts of all levels, the PLU Guitar Festival will be held on Saturday, March 18, 2023 and feature hands on Classical and Jazz guitar workshops, lectures and concerts with PLU guitar faculty members Elizabeth CD Brown and Dr. Stephen Howland alongside guests Naeim Rahmani and Daniel Pinilla.  Festival participants will have the opportunity to rehearse and perform in the Festival Guitar Orchestras, with music available in advance. All events take place at Pacific Lutheran University, in the Mary Baker Russell Music Center, with rehearsals and concerts held in the exquisite Lagerquist Concert Hall. The 2023 PLU Guitar Festival is supported in part by the Seattle Classic Guitar Society the Seattle Jazz Guitar Society, and the Rosewood Guitar.
Festival: Saturday, March 18, 2023
Festival Registration: $60 (General), $50 (Senior), $25 (Students, Grade 6 through undergraduate student) and $10 (PLU Students)
In the event that the Festival is cancelled all registration fees will be completely refunded.
Saturday, March 18, 2023, events held 12:30pm to 6:30pm.
All events take place in the Mary Baker Russell Music Center on the Pacific Lutheran University Campus, Tacoma, WA
Noon – Registration Open, Mary Baker Russell Music Center Lobby
Come pick up your packet with schedule, workshop handouts, concert tickets, etc. The MBRMC lobby is right outside the Lagerquist Concert Hall on the 3rd floor, which is the main floor of the building.
12:30am – Festival Guitar Orchestra Rehearsals, Lagerquist Concert Hall
Guitar Orchestra rehearsals for the afternoon concert. Participants are welcome to practice in advance (see "Perform in Guitar Orchestras" for sheet music and practice recordings), or just grab some music and play along!
2:00pm – Guitar Ensembles and Orchestra Concert, Lagerquist Concert Hall
Various ensembles perform, including the PLU Guitar Orchestra and Ensemble and the Festival Guitar Orchestra.  This performance is open the public, both in-person and via livestream.  In addition to performing in the Festival Guitar Orchestra, pre-existing ensembles (2 or more) also have the opportunity to perform in the 2:00pm Guitar Ensemble concert.  NEW THIS YEAR:  We will be providing written feedback for these ensembles!  If you have an ensemble interested in this opportunity please contact Elizabeth Brown no later than Friday, March 3. 
3:00pm – Finger CrossFit: Building Strength and Dexterity with Naeim Rahmani, MBR 306
Are you ready to get your fingers in shape with Finger CrossFit? In this workshop, we will delve into classical guitar techniques, which can be used not only by classical guitarists but also by fingerstyle guitarists who want to advance their technical abilities. The workshop's objective is to provide participants with practical exercises that I have integrated into my personal daily technique routine, which have helped me develop various techniques and improve my performance.
The workshop will offer a variety of technical exercises that aim to strengthen both left and right hand techniques. It will be an engaging and interactive workshop, so don't forget to bring your guitar. Get ready to play, experiment with new techniques, and enhance your guitar playing skills.
4:00pm – Solo Jazz Guitar Concepts with Daniel Pinilla, MBR 322
Are you intimidated by solo jazz guitar and the term chord-melody? This workshop is designed to cover the fundamentals of solo jazz guitar playing, which will contribute to your understanding of the different techniques jazz guitarists use to write and improvise solo arrangements. The Solo Jazz Guitar Concepts will improve your comprehension of theory and harmony applied to the guitar and fretboard knowledge. This workshop will also be beneficial for non-jazz guitarists.
5:00pm – PLU Guitar Festival Faculty Concert, Lagerquist Concert Hall
PLU guitar faculty members Elizabeth CD Brown and Dr. Stephen Howland perform alongside guests Naeim Rahmani and Daniel Pinilla. This performance is open the public, both in-person (tickets are $5/10) and via livestream.
Additional Participant Information:
PERFORM IN GUITAR ORCHESTRAS
All registrants are strongly encouraged to participate in the Festival Guitar Orchestras, from beginning students to professionals. This is a great opportunity to have fun, meet fellow guitarists and enjoy the camaraderie that is such an enduring element of the PLU Guitar Festival.  Scores, parts and play along recordings are all posted below! 
The 2023 jazz piece for the Festival Guitar Orchestra will celebrate the jazz-rock fusion of Jeff Beck, who passed this January. The arrangement is for classical, acoustic, and electric guitars. There are three parts.  Each part has alternative, simplified options written out. The bass-guitar part 3b is the easiest part. Participants will have the optional opportunity to improvise for 2, 4, 8, or 16 bars over a single chord vamp.
We will also be playing two traditional pieces from South America, arranged for 4 part Guitar Orchestra.  In these arrangements the guitar 1 and 2 parts are the most melodic, and especially guitar 1 goes into higher positions up the neck. Guitar 3 parts are broken arpeggios and the thickest parts. Guitar 4 parts are the easiest, as a friendly, slow moving bass line.
Bailecito Guitar 1 Part and video tutorial
Bailecito Guitar 2 Part and video tutorial
Bailecito Guitar 3 Part and video tutorial
Bailecito Guitar 4 Part and video tutorial
Cançao Score
Cançao Guitar 1 Part and video tutorial
Cançao Guitar 2 Part and video tutorial
Cançao Guitar 3 Part and video tutorial
Cançao Guitar 4 Part and video tutorial
Enjoy listening to a video of the 2022 PLU Guitar Festival orchestra!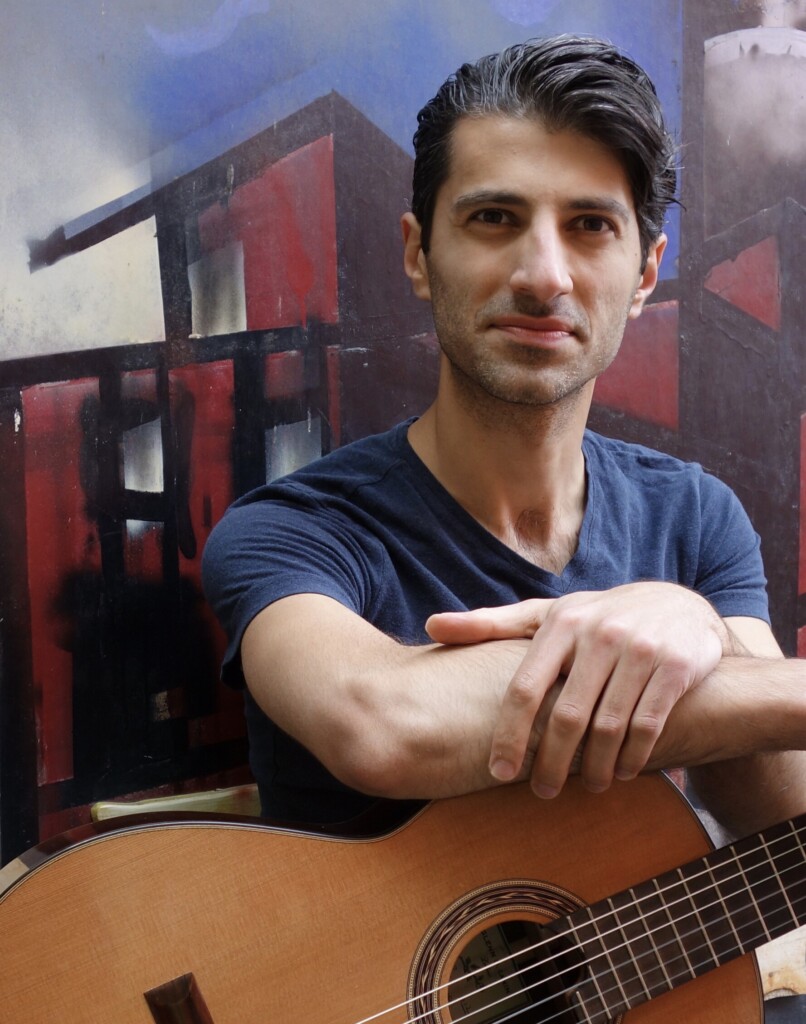 Naeim Rahmani is a classical guitarist based in Seattle, Washington. Born in Iran, he immigrated to the United States as a refugee and has since made a name for himself as an accomplished performer, both nationally and internationally. His talent and dedication to his craft have earned him numerous accolades, including a 2022 Goethe-Institut Residency Award, and a 2023 CityArtist Award from the Seattle Office of Arts and Culture, recognizing his contributions to the city's cultural landscape.
In addition to his solo performance career, Naeim is also the artistic director of the Seattle-Isfahan Project. This collaborative venture brings together musicians from Seattle, WA and Iran to create a shared workspace where performers and composers can come together to create new works for the guitar repertoire. This project has been recognized by awards and grants from Artist Trust, 4Culture, Bellevue Arts Program, and the Goethe-Institue. He has also commissioned works from notable composers such as Huck Hodge and Anahita Abbasi, and is currently collaborating on a solo guitar piece with Farzia Fallah.
As an advocate for new music, Naeim is dedicated to promoting and encouraging new compositions for the classical guitar. Outside of his performance career, he teaches at Bellevue College and is a board member of both Artist Trust and the Seattle Classic Guitar Society.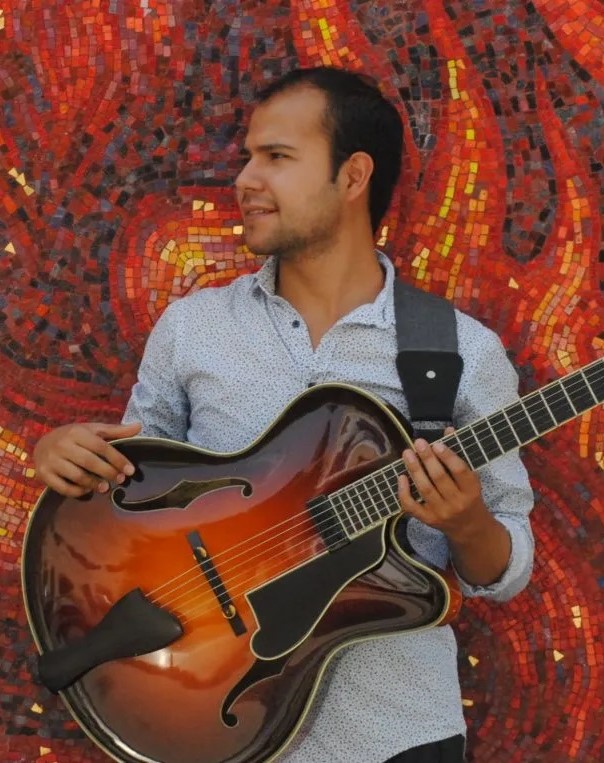 Dr. Daniel Pinilla is the guitar professor at the Lionel Hampton School of Music-University of Idaho. He has released two albums under his name Intuiciones (FLD, 2011) and Atrás (2011), and has participated as composer, arranger, and guitarist in many other musical productions. His original work received different critics and reviews, including the December 2012 number of the NYC Jazz Record.
Pinilla has more than ten years of performance, recording, and teaching activity in the US and Latin America. His touring experience includes performing with the Colombian National Symphony, the seven-time Grammy-nominated UNT. One O'Clock Lab Band, the #1 in the Latin American Billboard Charts singer Carlos Rivera, and the Daniel Pinilla Quartet, among others. His original music material is available on all streaming platforms.
Pinilla's collaborative composition, alongside trumpeter and composer Juan Chaves' Not Even a Portrait, which combines string quartet, double bass, and guitar, was awarded the Student Award for Best Small Ensemble Composition by DownBeat Magazine in its 40th anniversary.
Moreover, Pinilla leads a social impact project in his home country, using music education as a social groundwork. In 2014 he founded You Art Important, a non-profit organization in Colombia. This project was awarded 1st prize in the Sherman/Barsanti Inspiration Award at UNT for developing a series of music workshops for children in rural Colombia during the Colombian post-conflict. This project was awarded the first $10,000 prize in the Sherman Barsanti Inspiration Award at the University of North Texas in 2017.
In 2013, Pinilla was awarded the Jóvenes Talentos del ICETEX scholarship from the Colombian government to pursue a master's degree in jazz studies at UNT, where he performed, toured, and recorded with the prestigious seven-time Grammy-nominated UNT One O'Clock Lab Band, where he had the opportunity to perform with guests artists such as Christian McBride, Jimmy Heath, Doc Severinsen, Marcus Miller, Chris Potter, Sean Jones, and Rashawn Ross, among many others.
Before moving to the United States, Pinilla taught in different schools and universities in Bogotá, Colombia. From Fall 2015 to Spring 2019, he had a teaching fellowship at UNT, where he completed his master's and doctoral degrees in jazz studies performance.
Pinilla has presented his scholarly work at the Lionel Hampton Jazz Festival, The University of Idaho, the Jazz Education Network Conference (JEN), the University of North Texas Introduction to Jazz Research Class, and the International Seminar Art and Culture for the Social Transformation. Bogotá, Colombia, the First International Seminar: Theories and practices of music education. Universidad Central. Bogotá, Colombia.
PLU FACULTY ARTISTS & FESTIVAL DIRECTORS
A specialist in standard classical guitar as well as various early guitars and lutes, Elizabeth C. D. Brown is a very active performer throughout the Pacific Northwest, giving an average of 50 concerts a year. Highlights from recent seasons included solo lute and baroque guitar recitals at Early Music Festivals in Berkeley and Cleveland, performing as the soloist in Vivaldi's "Concerto in D," and a 10 performance run of Monteverdi's Ulysses in Seattle and San Francisco. Elizabeth's first solo recording, La Folia de España: Dances for Guitar, features works for baroque, 19th century, and modern guitars. Also active as an ensemble musician, she is a member of Baroque Northwest, La Lira, the Puget Sound Consort and Ayres and Graces, and has appeared in the Early Music Guild's three baroque opera productions and with various other ensembles. An enthusiastic advocate for the guitar and lute, Elizabeth has given numerous outreach performances at schools, senior centers, and community centers for the Seattle Classic Guitar Society and the Early Music Guild, as well as by arrangement while on tour. She is head of the Guitar and Lute program at Pacific Lutheran University, and has taught at Seattle Pacific University and the Accademia d'Amore (baroque opera workshop, Seattle). See her on YouTube at www.youtube.com/user/ElizabethCDBrown or for more information visit: www.elizabethcdbrown.com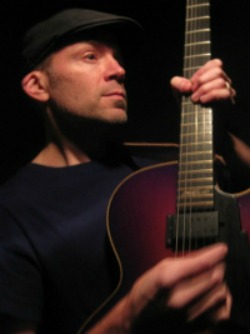 Co-director of the PLU Guitar Festival and Lecturer of jazz guitar, Dr. Stephen Howland joined the PLU faculty in 2008. He has taught jazz and classical guitar, ear training, and jazz history at PLU. Howland and his colleague Elizabeth Brown started the festival in 2011. They have played together as a classical guitar duo most years at both the festival and the annual Seattle Classic Guitar Society Holiday Concert. Howland has written and arranged much music for the guitar over the last 30 years. Programing for the duo led to new arrangements of pieces by Albéniz, Bach, Shostakovich, Tchaikovsky, and Turina. Howland has taught many jazz clinics at PLU, including "The Popular Jazz Form of Rhythm Changes" (2013), "Jazz Rhythm Guitar Styles" (2014), "The Guitar Style of Charlie Christian" (2015), "The Guitar Style of Antônio Carlos Jobim and João Gilberto" (2016), and "Playing Modal Jazz" (2017). Most years Howland has also written and premiered new original solo and ensemble pieces for improvisation. In 2017 Howland began directing the PLU Guitar Festival Orchestra in a jazz piece to promote hands-on jazz education and appreciation in the community. He has arranged works by Jeff Beck, John Coltrane, Angelo Debarre, Duke Ellington, and Artie Shaw. Howland teaches both online and at Seattle's Rosewood Guitar and plays private and public gigs as a soloist, bandleader, and sideman. He has played with Clipper Anderson, Marco De Carvalho, Jared Hall, Mark Ivestor, Adam Kessler, Kate Olson, Nate Omdal, Jason Parker, Gordy Ryan, Melyssa Stone, and Cassio Vianna, among others.