2019 PLU Guitar Festival
Saturday, March 9, 2019
Pacific Lutheran University, Tacoma, WA
Elizabeth Brown & Stephen Howland, Directors
Call 253-535-7602 to register.
Pacific Lutheran University is pleased to announce the ninth annual PLU Guitar Festival on Saturday, March 9, 2019, featuring classical guitarist and composer Olga Amelkina-Vera and Brazilian guitarist Marco de Carvalho. This full day of hands on classical and jazz guitar workshops and concerts features PLU guitar faculty members Elizabeth CD Brown and Dr. Stephen Howland alongside exciting guests. Festival participants will have the opportunity to perform with the Jazz and/or Classical Festival Guitar Orchestras, with music available in advance. All events take place at Pacific Lutheran University, in the Mary Baker Russell Music Center, with concerts held in the exquisite Lagerquist Concert Hall. All-inclusive price:  $60 (General), $50 (Senior) and $30 (Students, Grade 6+) The 2019 PLU Guitar Festival is supported in part by the Seattle Classic Guitar Society the Seattle Jazz Guitar Society, the Rosewood Guitar and Sound Island.
All events take place in the Mary Baker Russell Music Center 
9:30 am – Registration Opens, Lobby
9:50 am – Brief Welcome and Introduction, Lagerquist Concert Hall
10:00 am  — Classical Guitar Orchestra Workshop and Rehearsal, Elizabeth CD Brown, Lagerquist Concert Hall –  This hands-on class will introduce the festival classical guitar orchestra piece for beginners through advanced players. We will cover various techniques and rehearse a piece by Olga Amelkina-Vera. Look in the "Perform in Guitar Orchestras" box to the right to get music ahead of time.
11:00 am  — Jazz Guitar Ensemble Workshop and Rehearsal, Stephen Howland, Lagerquist Concert Hall – This hands-on class will introduce the festival jazz ensemble piece for beginners and advanced players. Electric and acoustic instruments are okay. We will cover the parts, style, and techniques; we'll rehearse the piece in sectionals and as a full group; and there will be open choruses for improvisation. Look in the "Perform in Guitar Orchestras" box to the right to get music ahead of time.
1:00 pm – Guitar Ensemble Concert, Lagerquist Concert Hall – This concert features the classical and jazz ensembles that rehearsed in the morning.  This event is open to the public and will be streamed live by the PLU School of Arts and Communications.
2:15 pm — Rio Style Guitar Session with Marco de Carvalho, MBR 322 – Samba and Bossa Nova are distinctive styles of music that originated in Rio de Janeiro, Brazil. In this workshop we will explore the foundational elements of playing these beautiful styles on the guitar which includes rhythm, harmony, and melody. First we'll use basic chords to focus on developing the cool rhythms on both the left and right hands. Then we'll play some Brazilian songs and apply the rhythm on the chord progression and focus on how to use the guitar strings and frets as harmonic reference points. Finally we will address the beautiful Brazilian melodies and bring it all together. Join Marco de Carvalho, a native of Rio de Janeiro, for an exploration of these unique styles of music and learn the secrets and differences between them that will make your music flow and groove.
3:30 pm — Classical Guitar/Composition Session with Olga Amelkina-Vera, MBR 306 – "The Composer's Voice: Speaking Out through Music" This multi-media presentation will focus on three of Olga's compositions (The Heaven's Hundred for solo guitar, Submerged Worlds for chamber sextet, and Ode to Thalassa for guitar orchestra, double bass, and SSAA choir) and address taking on urgent or controversial issues in each.
5:00 pm – Faculty Concert (Lagerquist Concert Hall)  Admission is included in the Festival Registration, or tickets may be purchased separately.  Featuring PLU Guitar Faculty Elizabeth CD Brown and Stephen Howland, as well as guests Olga Amelkina-Vera and Marco de Carvalho.  Mary Baker Russell Music Center: Lagerquist Concert Hall. Tickets: $8-general, $5-senior, $3-alumni, complimentary-18 and under.  This event is open to the public and is the only Festival event for which individual tickets will be sold.
Participants
Additional Participant Information:
Register now to save your spot!
To register please call the PLU Music Office at 253-535-7602. In person registration the day of the Festival opens at 9:30am in the Mary Baker Russell Music Center Lobby.  Please note:  PLU now only accepts credits cards and checks, NO CASH.  All-inclusive price:  $60 (General), $50 (Senior) and $30 (Students, Grade 6+), $10 (PLU Students).  Seattle Classic Guitar and Seattle Jazz Guitar Society members get a $10 discount from these prices.
Please note that the same registration fee applies for any portion of the festival—the only event for which individual tickets will be sold is the 5pm Faculty concert.  Registration is open throughout the day in the lobby.
PERFORM IN GUITAR ORCHESTRAS
Perform at the PLU Guitar Festival All festival participants will have the opportunity to perform with the Jazz and/or Classical Festival Guitar Orchestras, which will rehearse at the festival and perform in the afternoon concert, which is free and open to the public.  Music is posted below for both Guitar Orchestras–participants are encouraged to play through the music ahead of time and are welcome to choose any part that works for them.
Ensembles Also Invited to Perform! Pre-existing guitar orchestras and guitar ensembles (2+ performers) that have a prepared piece are also invited to perform in the afternoon guitar ensemble concert.  All performers should be registered participants in the PLU Guitar Festival.  Please contact festival director Elizabeth CD Brown at brownec@plu.edu if you have a group interested in performing.  Please note that proposed program information for performing ensembles is due to Elizabeth CD Brown at brownec@plu.edu by February 26, 2019.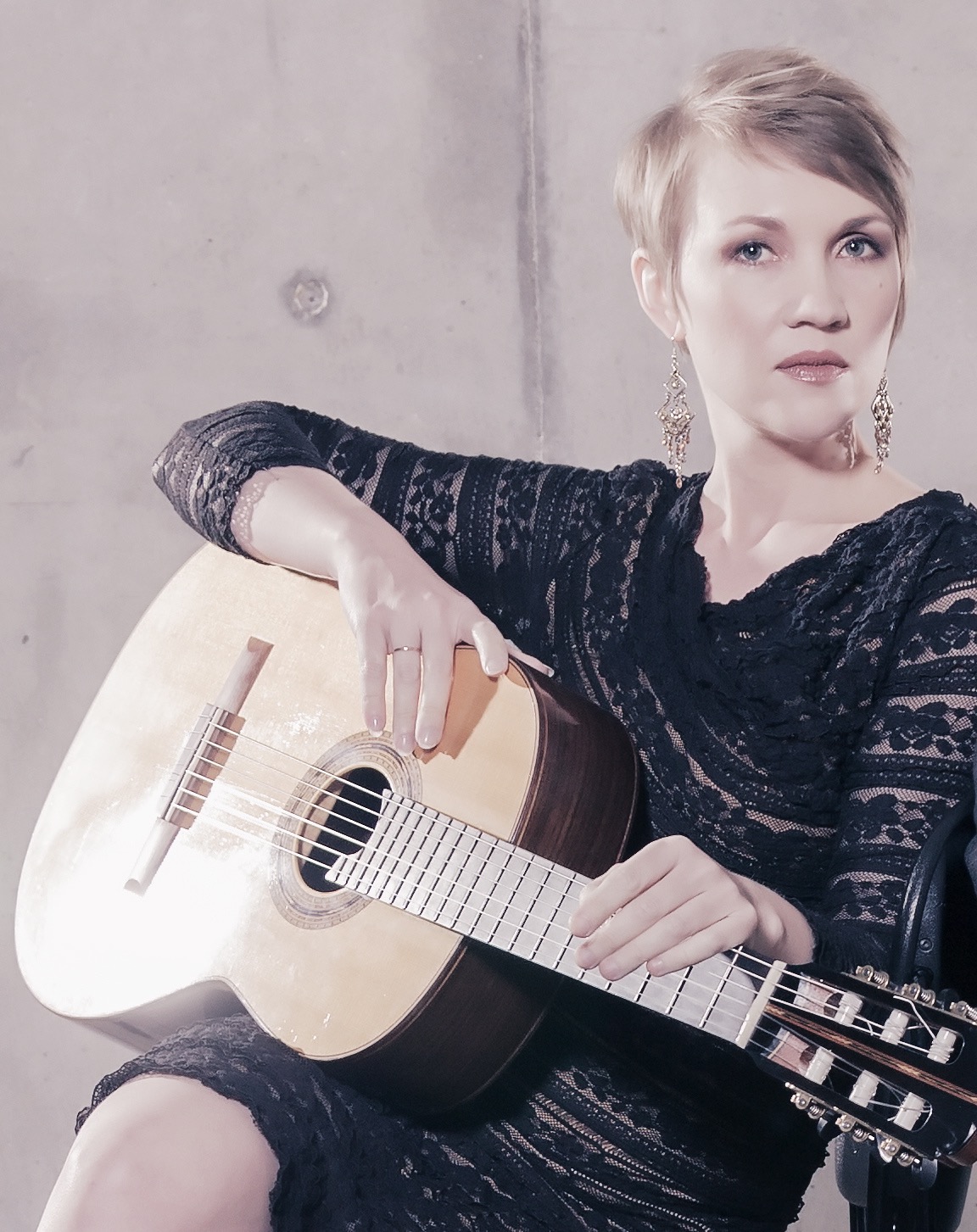 Olga Amelkina-Vera
Olga Amelkina-Vera's works have been called "the discovery of the evening" (Sarasota Herald- Tribune), "brilliant" (The Royal Gazette), "incandescent" and "hypnotic" (Fort Worth Star Telegram). A guitarist and composer, she grew up in Belarus and moved to the United States in 1997. Olga holds a Bachelor of Arts degree Summa Cum Laude from the University of St. Thomas in Houston, a Master of Music and Doctor of Musical Arts degrees in guitar performance with a minor in music history from the University of North Texas, and a Masters degree in composition from Southern Methodist University in Dallas, where she studied with Xi Wang, Lane Harder, Robert Frank, and Kevin Hanlon.
Olga won first prize in the Japan Guitar Ensemble Composition Competition for her quartet Cattywampus Rompus (Texas Tarantella) and was interviewed in Gendai Guitar during her trip to Tokyo. She was the first prize winner of the Austin Classical Guitar Society Composition Competition in 2009 and 2012 for her guitar quartets Ninochka and Nebulae. Her compositions are published by Productions d'Oz, including two works selected for the Frank Koonce Series. Olga's works are regularly performed and recorded by Matt Palmer, Adam Holzman, Thibaut Garcia, The Nightingale Trio, Weimar Guitar Quartet, Quattro Palos Guitar Quartet, Kithara Duo, and many other professional and student ensembles and soloists. She is in demand as a conductor and artist-in-residence, frequently getting invitations to conduct her music with guitar orchestras throughout the country, and work with large and chamber ensembles at music festivals. Recent conducting appearances and residencies include the Harrison School for the Arts in Lakeland, FL, All-Virginia Guitar Ensemble, Guitar Ensemble Festival and Workshop in Bloomington, IN, and others.
An active performer, Olga maintains a busy touring and teaching schedule as a soloist and with Kithara Duo, her guitar duo with Fernand Vera. The duo was formed in 2002; since then, they have been performing nationally as well as in Europe and South America. Kithara Duo's critically acclaimed recordings Beings (2011) and Lingua Franca (2015) feature some of Olga's original compositions and transcriptions for guitar duo. Kithara Duo have been invited to perform and teach at the Guitar Foundation of America Convention and Competition, St. Louis Classical Guitar Great Artist Series, East Carolina University Guitar Festival, Troy University Guitar Festival, University of Wisconsin–Milwaukee, Guitar Sarasota, Texas A&M International Guitar Symposium, Lone Star Guitar Festival, Clark University, Chapman University, and many other venues.
Olga is a passionate and devoted teacher. She was named Associate Faculty of the Year in 2013 by Collin College in Plano, Texas. She is now full-time faculty at Collin College, where she teaches music history, theory, composition, and guitar. For more information, please visit www.olgaamelkinavera.com, and facebook.com/kitharaduo.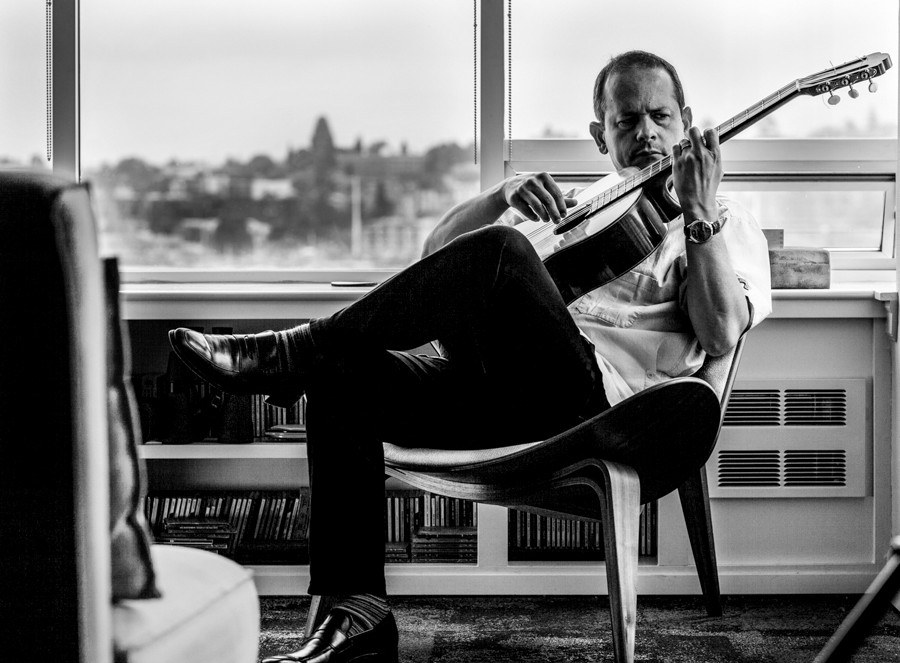 Marco de Carvalho
Marco De Carvalho is a Brazilian musician, originally from Rio de Janeiro.  He graduated from the prestigious Music Conservatory of Rio de Janeiro under Juarez Carvalho and Sergio Vale.  He studied composition and harmony under Luiz Eça and Ronaldo Miranda.  Marco began playing guitar at the age of fourteen and played in clubs, universities, and festivals throughout Brazil, United States, and Europe.
Marco has been a performance guitarist, composer and arranger for thirty years.  He plays an extensive repertoire of music from Rio de Janeiro as well as his own compositions.  Marco has played with many musicians in Brazil and the USA.
He has recorded on numerous CDs and sound tracks also producing and arranging.  Marco has played at a number of Seattle performance venues and events and theaters including: The Westin Hotel, Jazz Alley, Triple Door, Pink Door, Serafina, Vito's, Bumbershoot, Governor's Mansion, Northwest Guitar Festival, Benaroya Hall, Ballard Jazz Festival, Earshot Jazz Festival, Teatro Zinzanni, Tula's, Mondello, Seamonster Lounge, 88, La Vita e Bella, Bruciato, Tempero do Brasil, Novilhos, Miyabi, Similan, Argosy and Waterways Cruises, casinos and many others.  Marco has recorded three original CD: Paisagens (out of print), For the Moment (released on OA2 Records), and Cancões (out of print).
For more information visit: http://www.marcodecarvalho.com