January 15 & 16, 2022 Honor Orchestra for Strings
Following the success of another annual event here at PLU, the Northwest Honor Band, we have created a similar opportunity just for string players with the PLU Honor Orchestra for Strings. It is a two-day festival held annually over a weekend in January, offering individual high school string players from throughout the region the opportunity to perform excellent literature for string orchestra with a nationally recognized guest conductor. Please recommend your outstanding student musicians for participation. Each nominating organization is guaranteed participation in the Honor Orchestra for Strings if the nomination form is received by the DEADLINE: November 7, 2021.
Fee: There will be a $95.00 NON-REFUNDABLE fee for each student musician participating in the Honor Orchestra for Strings. This fee includes dinner on Saturday and lunch on Sunday. This fee is due TBD.
Please note that no refunds will be allowed after event registration has been completed, and no registration or payment will be accepted following the deadline of TBD.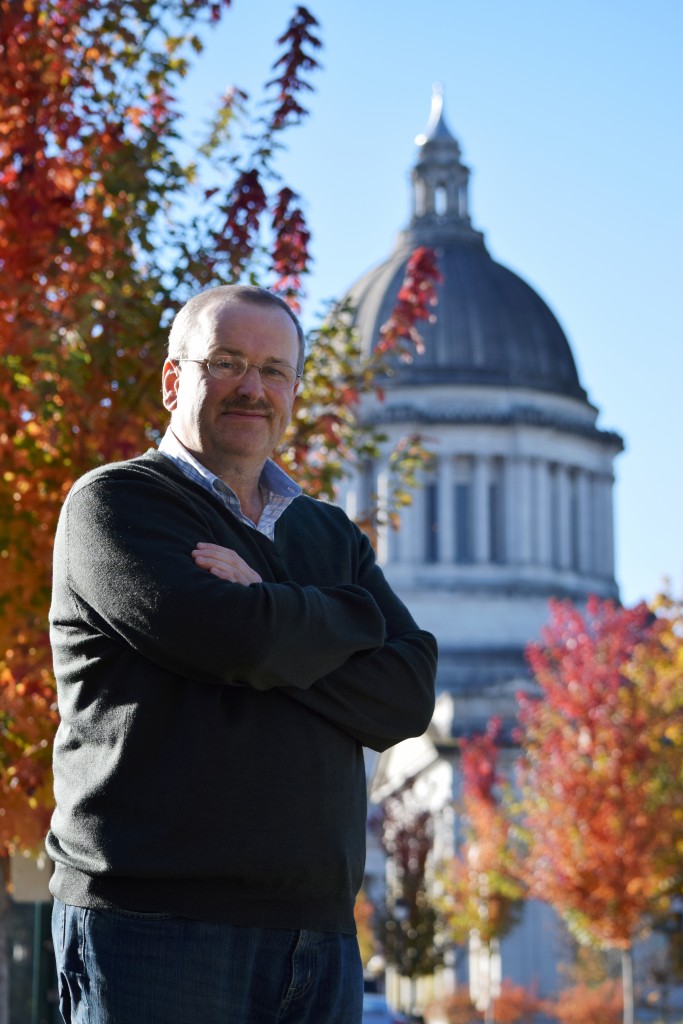 Huw Edwards
Huw Edwards has just started his seventeenth season as Music Director of the Olympia Symphony.  There has been a continued sense of excitement in Olympia about Huw's tenure and he is credited with greatly improving the quality of the Orchestra, selecting challenging yet rewarding programs and being very active in the community.  Some notable highlights from last year's lauded 66th Season include Debussy's La Mer, the Fifth Symphony of Sibelius, Ravel's complete ballet score Mother Goose, and Route 66 by Michael Daugherty.
Mr. Edwards was the Music Director of the Portland Columbia Symphony in Oregon from 2000-2012, and after his final concert was immediately named the Orchestra's Conductor Emeritus and Principal Guest Conductor.  From 2002-2005 Mr. Edwards was Music Director of the Seattle Youth Symphony Orchestras and a faculty member at the Marrowstone Music Festival from 1998-2005.  Mr. Edwards moved to Seattle after seven wonderful seasons (1995-2002) as Music Director of the Portland Youth Philharmonic (PYP) in Oregon—a tenure which included numerous innovations, recordings, a coveted ASCAP Award and landmark tours to Canada, New Zealand and Australia.
Active as a guest conductor and clinician Mr. Edwards has performed with the Oregon Symphony, Vancouver Symphony, Eugene Symphony, Yakima Symphony and has worked with the symphony orchestras of Dallas and Memphis, as well as with ensembles in Illinois, New York, Idaho, Vermont, Utah, Minnesota, Oregon, Nebraska, Washington, Hong Kong, New Zealand, Australia, and throughout the United Kingdom.  Recent guest engagements have included Orchestra Seattle, the Symphony Orchestra at the University of Tennessee in Knoxville, the Stradivari Academy Orchestra at the University of Portland, an Honor Orchestra in Vancouver, a celebrated return to conduct the PYP at the Schnitzer Hall, the Wisconsin Chamber Orchestra's July 4 "Concert-on-the-Square" in Madison, the Northwest Symphony Orchestra in Burien, and a year-long residency at PLU.  Huw also be teaches classes at the South Sound Senior Center and gives illustrated talks at SPSCC about the OSO concerts.
Born in Wales, Great Britain, Mr. Edwards holds degrees from the University of Surrey in England and Southern Methodist University in Dallas. Mr. Edwards was also a lecturer at Northwestern University and a Doctoral candidate (1991-95). Mr. Edwards has been active as a conductor since the age of 17 when he was appointed Music Director of the Maidstone G&S Society in England—a post he held for six years—and came to the United States in 1988 on scholarship to attend SMU in Texas. His principal teachers have been Simon Johnson and Barry Wordsworth (London), Anshel Brusilow and Eduardo Mata (Dallas), and Victor Yampolsky (Chicago).
Performance:
PLU Honor Orchestra for Strings
JANUARY 16, 2022 at 5pm
Lagerquist Concert Hall
Mary Baker Russell Music Center
Featuring: 
PLU Honor Orchestra for Strings and the Regency String Quartet
Free Admission / No Tickets
This concert will be for the family and guests of the participants. Seating is first come, first served.
How to Get Involved (Nominations):
Acceptance in the PLU Honor Orchestra for Strings:
High school directors or youth symphony directors, please use the link provided below to nominate and recommend students that you would like to participate in the PLU Honor Orchestra for Strings. The nomination deadline is November 7, 2021. We ask that before nominating a student, please check with each student concerning their availability. There is a participant fee of $95 for each student participating.
Nominations for January 2022 will open September 1st at:

Seating will be determined by audition on January 15 just before the first rehearsal. The audition material will be chosen from the repertoire for the orchestra.
Important Dates:
November 7: Nominations due
TBD: Notification of acceptance will be sent to the nominees and their directors.
TBD: Registration and non-refundable fees are due.
January 15: Seating auditions – an audition will determine the principal players in each section and seating placement.
Participant Information
Important Dates:
November 7: High school directors' nomination deadline
TBD: Registration and non-refundable fees are due.
January 15: Seating will be determined by audition just before the first rehearsal. The audition material will be chosen from the repertoire for the orchestra.
Participant fees: $95 (non-refundable)
Concert CD: $20
Confirmation and Acceptance: Once nominations have been reviewed Honor Orchestra for Strings participants will be notified of acceptance via email and provided access to registration. Once received, please complete registration and payment using the OpusEvent link provided by January 5th.  NOTE: To achieve appropriate instrumentation, it is extremely important to notify PLU if a student is not able to attend.
PLUHO 2020 Music and Audition Material
Seating will be determined by audition on January 25 just before the first rehearsal. The audition material will be chosen from the repertoire for the orchestra.
For participants who have been accepted to join this year's Honor Orchestra for Strings you will find links to audition materials below.  Please read the notes listed here regarding specific instructions for your respective instrument:
1) Each instrument/part has one set of music containing all of the pages that will be required. Each set will include:
First movement ("Praeludium") of the Holberg Suite by Edvard Grieg
The middle two movements ("Playful Pizzcato" and "Sentimental Sarabande") of the Simple Symphony by Benjamin Britten
The complete Five Variants of "Dives and Lazarus" by Ralph Vaughan Williams
2) The Viola and Violoncello sets both include two separate parts for the Vaughan Williams, labeled 1 and 2. These parts will not be assigned until after your audition the day you are here.  Violists and 'cellists should all learn the notes for both parts.
3) The audition excerpts for the seating auditions will be chosen from these parts, but we will not publish which passages they will be asked to play ahead of time. It's important that everyone have all of the parts prepared in their entirety.
Audition materials:
For further information contact:
Dr. Jeffrey Bell-Hanson, Director of Orchestral Activities
Department of Music; Pacific Lutheran University
(253) 535-7617 e-mail: bellhajl@plu.edu or music@plu.edu
Additional Information about Music at PLU:
Department of Music
Music participation and study is open to all students at PLU, regardless of major.
https://www.plu.edu/music
STRING STUDIES
String majors and non-majors alike have access to a rich culture of opportunities.
PLU ORCHESTRAS
The Orchestras at PLU have long been an important centerpiece of a stunningly rich musical calendar.
2022-2023 SCHOLARSHIP AUDITIONS
January 22, 2022
February 25-27, 2022
Pacific Lutheran University
Music Department
12180 Park Street South