January 14 & 15, 2023 Honor Orchestra for Strings
Following the success of another annual event here at PLU, the Northwest Honor Band, we have created a similar opportunity just for string players with the PLU Honor Orchestra for Strings. It is a two-day festival held annually over a weekend in January, offering individual high school string players from throughout the region the opportunity to perform excellent literature for string orchestra with a nationally recognized guest conductor. Please recommend your outstanding student musicians for participation. Each nominating organization is guaranteed participation in the Honor Orchestra for Strings if the nomination form is received by the NOMINATION DEADLINE: November 7, 2022 by 4pm.
Fee: There will be a NON-REFUNDABLE fee ($125) for each student musician participating in the Honor Orchestra for Strings. This fee includes dinner on Saturday and lunch on Sunday. This fee is due December 15, 2022.
Please note that no refunds will be allowed after event registration has been completed, and no registration or payment will be accepted following the deadline of December 15, 2022.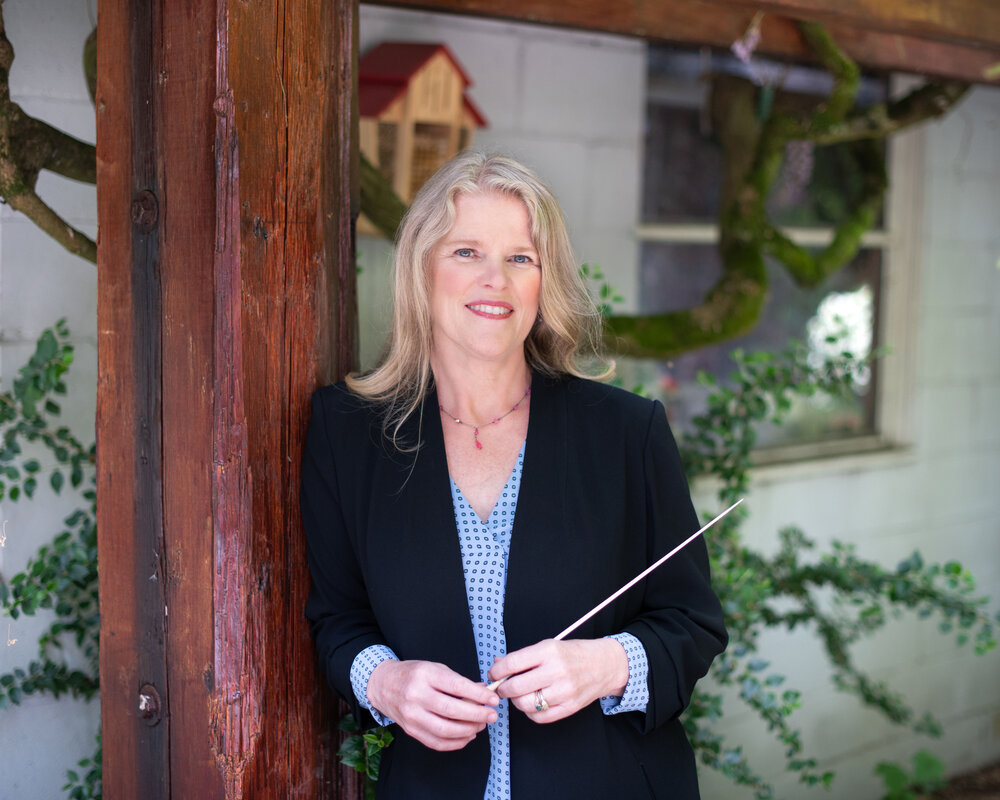 Anna Edwards
Conductor Anna Edwards' musical career progression as a violinist, educator, and symphony conductor has inspired her mission to encourage and promote musical diversity at the highest level from professional, educational, and collaborative music organizations across the country. She is a passionate advocate of music from underrepresented composers on the concert stage. Currently, Edwards balances her time between conducting in the Pacific Northwest, serving as a guest conductor/clinician across the country, and developing young musicians through instruction and collaboration with professionals in concert settings. The 2021-22 season marks the ninth season for Edwards as Music Director of the Seattle Collaborative Orchestra, seventh season as Music Director of the Saratoga Orchestra, and fourth season as Music Director of the Pacific Northwest Conducting Institute.
As a recognized leader for the promotion of musical diversity in symphonic orchestral music, Dave Beck, of Seattle Classical KING FM wrote, "The Seattle Collaborative Orchestra under Dr. Anna Edwards' excellent musicianship, inspired vision, and creative leadership, is doing everything a modern orchestra should be doing to insure the future of the art of symphonic music. The spirit of collaboration among these professional, gifted amateur and excellent student musicians fosters innovation, diversity, and new possibilities in the life of the 21st century symphony orchestra. SCO is showing the way forward like no other orchestra in our region."
Edwards continues to follow her commitment to program innovative music, which balances traditional classical music with music by women, people of color, and Northwest artists. Commissioned premieres include works by Victoria Bond, Tim Huling, Angelique Poteat, Sarah Bassingthwaighte, Leanna Primiani, Julian Garvue, Brendan McMullen, David Lien, and Andy Clausen. Anna additionally offers lectures concerning music, gender, and leadership to up-and-coming musicians and community leaders in public schools, community businesses, Colleges, and Universities.
Edwards' dedication to quality musical performance started with her early career as a professional violinist, performing with prestigious ensembles such as the Pacific Northwest Ballet, Northwest Sinfonietta, Auburn Symphony, and multiple Seattle area chamber ensembles. As she has turned her career towards conducting, Edwards has attended numerous festivals and workshops, with mentors such as Ludovic Morlot, Michael Jinbo, Diane Wittry, Neil Thomson, and Gustav Meier. She received a Doctor of Musical Arts Degree in Orchestral Conducting from the University of Washington, and holds a Bachelor of Music Education and Masters in Violin Performance.
In 2013, 2014, and 2018, Edwards received 2nd place and then two – 1st place honors (respectively) for conducting in The American Prize, a national competition for conductors and musical ensembles. Seattle Collaborative Orchestra received two – 2nd place and then 1st place honors for The American Prize orchestra performance division. In SCO's performance of Jennifer Higdon's Concerto for Orchestra, American Prize described Edwards' conducting as "strong and committed" and "…always 'in the moment,' showing clarity of beat, intensity and focus.…the conductor's face is alive to each musical gesture and the nuance."
Performance:
PLU Honor Orchestra for Strings
JANUARY 15, 2023 at 5pm
Lagerquist Concert Hall
Mary Baker Russell Music Center
Featuring: 
PLU Honor Orchestra for Strings and PLU Faculty Strings
Free Admission / No Tickets
This concert will be for the family and guests of the participants. Seating is first come, first served.
How to Get Involved (Nominations):
Acceptance in the PLU Honor Orchestra for Strings:
High school directors or youth symphony directors, please use the link provided below to nominate and recommend students that you would like to participate in the PLU Honor Orchestra for Strings. The nomination deadline is November 7, 2022 by 4pm. We ask that before nominating a student, please check with each student concerning their availability. There is a participant fee of $125 for each student participating.
Nominations for January 2023 will open September 1, 2022 at:

Seating will be determined by audition on January 14 just before the first rehearsal. The audition material will be chosen from the repertoire for the orchestra.
Important Dates:
November 7, 2022 by 4pm: Nominations due
December 15, 2022 by 4pm: Registration and non-refundable fees are due.
January 14: Seating auditions – an audition will determine the principal players in each section and seating placement.
Participant Information
Important Dates:
November 7, 2022 by 4pm: High school directors' nomination deadline
December 15, 2022 by 4pm: Registration and non-refundable fees are due.
January 14: Seating will be determined by audition just before the first rehearsal. The audition material will be chosen from the repertoire for the orchestra.
Participant fees: $125 (non-refundable)
A link of the recorded performance will be shared with participants following the event.
Confirmation and Acceptance: Once nominations have been reviewed Honor Orchestra for Strings participants will be notified of acceptance via email and provided access to registration. Once received, please complete registration and payment using the link provided by the deadline of December 15, 2022 by 4pm.  NOTE: To achieve appropriate instrumentation, it is extremely important to notify PLU if a student is not able to attend.
PLUHO 2022 Music and Audition Material
Seating will be determined by audition on January 14 just before the first rehearsal. The audition material will be chosen from the repertoire for the orchestra.
For participants who have been accepted to join this year's Honor Orchestra for Strings you will find links to audition materials below.  Please read the notes listed here regarding specific instructions for your respective instrument:
1) Each instrument/part has one set of music containing all of the pages that will be required. Each set will include:
First movement ("Praeludium") of the Holberg Suite by Edvard Grieg
The middle two movements ("Playful Pizzcato" and "Sentimental Sarabande") of the Simple Symphony by Benjamin Britten
The complete Five Variants of "Dives and Lazarus" by Ralph Vaughan Williams
2) The Viola and Violoncello sets both include two separate parts for the Vaughan Williams, labeled 1 and 2. These parts will not be assigned until after your audition the day you are here.  Violists and 'cellists should all learn the notes for both parts.
3) The audition excerpts for the seating auditions will be chosen from these parts, but we will not publish which passages they will be asked to play ahead of time. It's important that everyone have all of the parts prepared in their entirety.
Audition materials:
For further information contact:
Dr. Jeffrey Bell-Hanson, Director of Orchestral Activities
Department of Music; Pacific Lutheran University
(253) 535-7617 e-mail: bellhajl@plu.edu or music@plu.edu
Additional Information about Music at PLU:
Department of Music
Music participation and study is open to all students at PLU, regardless of major.
https://www.plu.edu/music
STRING STUDIES
String majors and non-majors alike have access to a rich culture of opportunities.
PLU ORCHESTRAS
The Orchestras at PLU have long been an important centerpiece of a stunningly rich musical calendar.
2023-2024 SCHOLARSHIP AUDITIONS
January 21, 2023
February 24-26, 2023
Pacific Lutheran University
Music Department
12180 Park Street South