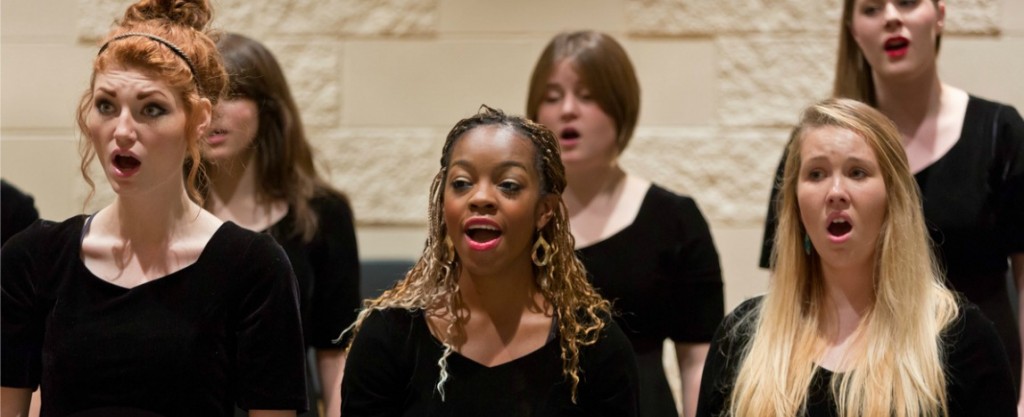 Choir of the West
The Choir of the West is the premier choral ensemble at Pacific Lutheran University.  It is comprised of undergraduate majors from a wide variety of academic disciplines, achieving a reputation of excellence for its performances at professional music conferences, national and international tours, and numerous recordings.  The choir regularly joins the University Symphony Orchestra in performances of major choral/orchestral works, and participates in the annual Christmas Concerts on campus and in Seattle and Portland.
University Chorale
The Pacific Lutheran University Chorale is a mixed choir spanning a variety of academic disciplines.  The Chorale participates in the Christmas concerts, tours annually, and performs in concerts on campus and in local churches. Further, the University Chorale often joins the Choir of the West in performances with the orchestra.
University Singers
The women's ensemble performs sacred and secular music. They present an annual Sounds of Christmas concert during the Christmas season. They also tour annually in the Spring.
University Knights Chorus
The study and performance of repertoire for tenor and bass voices, the University Knights Chorus performs each Fall and Spring semester often with the University Singers and University Concert Band.
Choral Union
This ensemble is a mixed chorus, open to the community as well as PLU students, and explores major works in the choral/orchestral repertoire. They often perform with Tacoma's Northwest Sinfonietta.
Interact with them on Facebook.