26th Annual PLU Invitational High School Orchestra Festival

October 13, 2023
Mary Baker Russell Music Center | Asieh Mahyar, Director
For over twenty years, the PLU Orchestras have hosted up to a dozen of the finest high school orchestras and chamber orchestras from around the region for a day of music making and sharing. The Annual PLU Orchestra Festival offers your ensemble an opportunity early in the year to hone their performance skills and get great feedback from both our faculty and the warm, generous acoustic of our world class Lagerquist Concert Hall.
Application:
High school directors or youth symphony directors, please submit your Application form for the Festival For High School Orchestras. Each organization is guaranteed participation if the application form and payment is received by the deadline.
Confirmation and Registration:
Once applications have been reviewed, directors will be notified of acceptance via email and provided access to Registration form. Once received, please complete registration and payment using the link provided by the deadline. 
Please note that no refunds will be allowed after registration has been completed, and no registration or payment will be accepted following the deadline listed below:
REGISTRATION DEADLINE: October 6, 2023, 2:00 pm
PAYMENT DEADLINE: October 10, 2:00 pm
REGISTRATION FEE: $200.00 per Ensemble
Schedule:
8:00 am-12:00 pm – Welcome/Festival Begins

12:00-12:30 pm – PLU Symphony Orchestra Performance, 

12:30-1:00 pm – Meet and Greet with Maestra Asieh Mahyar, Q&A with Students

1:00-5:00pm – Festival Resumes
Depending on the amount of attendees, an additional 5 to 10 minutes between all time slots may be added as a buffer time to allow for stage set up change.
Performance
Friday, October 13
Each ensemble will receive 30 minutes of stage time based on their preferred time frame. Please keep the total performance time to 15 minutes and save the second half for clinic and feedback.
NOTE: Please ensure your ensemble arrives at least 45 minutes before your assigned time spot. You are welcome to stay in the hall after you have finished your performance and clinic.
Benefits of Orchestras Attending:
A chance to perform in one of the best concert venues in Washington, Lagerquist Concert Hall
Positive feedback from an expert guest clinician, and some of the most distinguished musicians and orchestral educators in the Puget Sound
A day of fellowship with players and conductors from around the region in a non-competitive atmosphere
A low entry fee
A link to an audio/video recording of your performance and clinic session will be provided within approximately two weeks after the festival

The opportunity to hear other orchestras' performances and clinics, Including PLU Symphony Orchestra
PLUSO Host, Clinician, and Conductor
Passionate about performing music from different cultures, Prof. Asieh Mahyar is the interim Director of Orchestral Studies at Pacific Lutheran University where she conducts the PLU Symphony Orchestra. Ms. Mahyar is a candidate in Doctor of Musical Arts in Orchestral Conducting at Michigan State University, where she studied with Octavio Más-Arocas and Katherine Kilburn. She received her MM in Orchestral Conducting from University of Massachusetts-Amherst under the mentorship of Morihiko Nakahara, and Kristo Kondakci. Ms. Mahyar obtained her BM degree in Choral Conducting from Komitas State Conservatory of Yerevan, Armenia with Hovhaness Mirzoyan where she continued further studies in Orchestral Conducting to learn more from Ruben Asatryan.
Coming from Iran and being one of the very few female conductors from her country, Ms. Mahyar has broad experience working with ensembles at all labels in different countries. At Michigan State University, she was the Assistant Conductor for MSU Symphony Orchestra, MSU Concert Orchestra, Musique 21 contemporary music ensemble, and the MSU Opera. There she performed with all the ensembles including conducting opera productions. Previously, Ms. Mahyar served as Teaching Assistant at University of Massachusetts Amherst, where she worked with UMass Symphony Orchestra and All University Orchestra. She has served as Assistant Conductor of Tchaikovsky Music College of Yerevan, Armenia, and worked with youth orchestras, including Warner Middle School Orchestra, MI, National Music Festival Orchestra, MD, and student orchestras at Eastern Music Festival, NC. Ms. Mahyar's broad conducting experience includes working with professional and community orchestras such as Grand Rapids Symphony Orchestra, MI, Marquette Symphony Orchestra, MI, and Jackson Symphony, MI. She is equally working with instrumental and vocal ensembles conducting choirs including MSU Practicum Choir, MI, Komitas State Conservatory Choir, Yerevan, Sorayesh Choir, Iran, and conducts opera productions actively.
Ms. Mahyar has been selected to participate in prestigious conducting workshops and conferences including Cabrillo Music Festival with Christian Macelaru and Octavio Más-Arocas, National Music Festival with Richard Rosenberg, Eastern Music Festival with Gerard Schwarz, Conducting Institute with Miguel Hart-Bedoya, Conductors Retreat at Medomak with Kenneth Kiesler, and Choral Conducting Workshop with Antanina Kalechyts.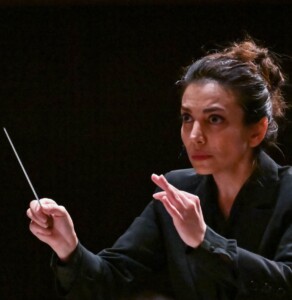 Past Clinicians have included...
Jerry Kracht, Prof. Emeritus at Pacific Lutheran University
Don Thulean, former Music Director of the Spokane Symphony Orchestra
Roger Briggs, Conductor Emeritus of the Whatcom Symphony Orchestra
Huw Edwards, Music Director of the Olympia Symphony
Paul Eliot Cobbs, Music Director of the Tacoma Youth Symphony Association
George Shangrow, Former Music Director of Orchestra Seattle
Roupen Shakarian, Music Director of Philharmonia Northwest
Harvey Felder, Music Director of the Tacoma Symphony Orchestra
Stewart Kershaw, Music Director of the Auburn Symphony Orchestra
David Waltham, Former Music Director of the Rainier Symphony Orchestra
Wesley Schulz, Orchestra Director at the University of Puget Sound
Marcus Tsutakawa, Conductor Emeritus of the Garfield Symphony Orchestra
For Questions:
Asieh Mahyar, Director of Orchestras
School of Music, Theatre & Dance; Pacific Lutheran University
(253) 535-7602 e-mail: asieh.mahyar@plu.edu
Abby Deskins, Coordinator of Educational Outreach Programs
College of Professional Studies; Pacific Lutheran University
(253) 535-7877 e-mail: adeskins@plu.edu