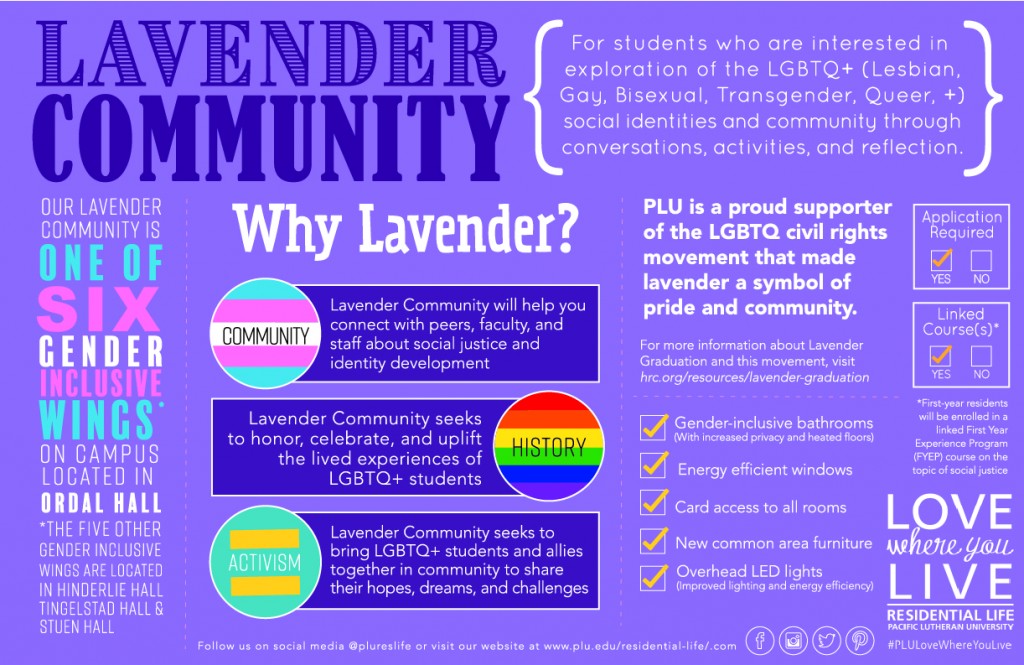 About the Lavender Community
For Students Who Are Interested in LGBTQ+ Histories, Communities, and Activism
The Lavender wing seeks to honor, celebrate, and uplift the lived experiences of LGBTQ+ students. The wing seeks to bring LGBTQ+ identified students and allies together in community to share their hopes, dreams, and challenges. Through programming, the Lavender Community invites participants to learn more about how social identities intersect here at PLU and beyond. Through volunteer opportunities participants are encouraged to connect with LGBTQ+ communities in the broader Tacoma area.
The significance of "Lavender"
Lavender Graduation Ceremonies are held across the country every year. The origin of the term, "Lavender" has many variations. According to the Human Rights Campaign (HRC), lavender is a combination of the pink triangle that gay men were forced to wear in concentration camps and the black triangle designating lesbians as political prisoners in Nazi Germany. The LGBTQ civil rights movement took these symbols of hatred and combined them to make symbols and color of pride and community. To learn more about Lavender Graduation, please visit: Lavender Graduation.
There are other narratives that speak to the importance of the color lavender. One such narrative is that lavender is a blend of the traditionally gender-identified colors pink and blue. Lavender blurs these two lines and subverts and challenges gender norms. For more information, please see the following student article from the Dallas News: www.dallasnews.com/news/lgbt/2014/10/29/lgbtq-lexicon-whats-the-significance-of-the-color-lavender
Great For Residents Who ...
Enjoy studying and/or talking about gender and sexual identities
Are willing to commit time to participating in community activities
Program + Learning Outcomes
By participating in the Lavender Community, residents will:
productively engage in activities that support their own gender and sexuality identity development
participate in activities outside of the classroom that promote social justice
have increased access to peers and faculty outside of the classroom to support their learning about social justice and identity development
RLC Supplemental Application Required?
Linked Course(s)
OPT IN (for new First-Year residents)
First-year residents will be enrolled in a linked First Year Experience Program (FYEP) course on the topic of social justice. A certain number of class seats will be saved for commuter students to opt into this learning community. Fall 2018 linked course options will be announced soon. Here are examples of the Fall 2017 linked courses:
Democratic Citizenship | James Albrecht, English | FYEP 101 Section 22 | MWF 9:15-10:20
Rhetorical Listening | Scott Rogers, English | FYEP 101 Section 24 | MWF 12:30-13:35
Banned Books | Lisa Marcus, English | FYEP 101 Section 23 | M W 13:45-15:30
Download the Fall 2017 Residential Learning Community (RLC) Linked FYEP 101 Courses document to read these course descriptions and learn more about RLC linked courses.
Example Programs
Below are a few examples of programs that have occurred in Gender Inclusive Housing in the past! If you have an idea for a wing or hall program, contact your Resident Assistant to see about planning it!
Queer Student Retreat | sponsored by the Diversity Center and Center for Gender Equity
Volunteering with Rainbow Center & Oasis (in Tacoma)
Celebration of Queer Cinema
Tunnel of Oppression
Contact
For more information about this Residential Learning Community option you may contact:
Nicole Gonzales, Resident Director for Ordal and Stuen Halls | gonzalnd@plu.edu