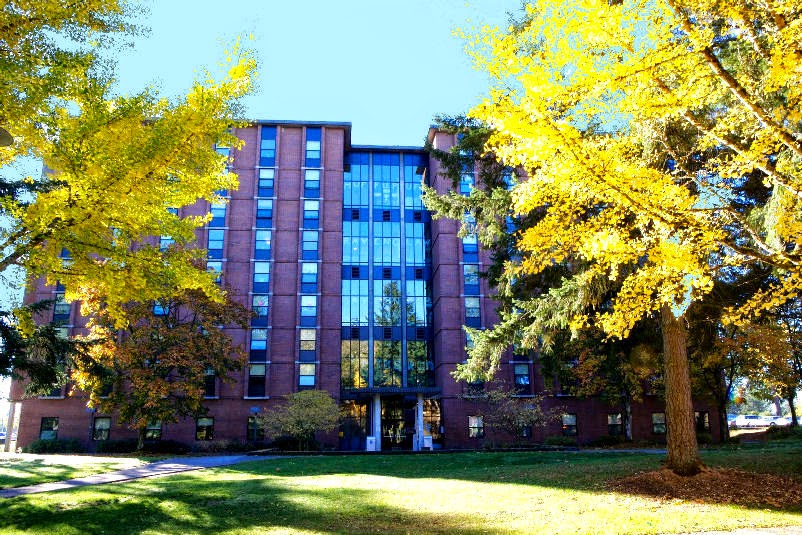 Tingelstad, a community of friends you can count on anywhere on campus.
Tingelstad Hall is the largest residence hall on campus, both in size and number of students, with space for up to about 360 residents. Its location makes it ideal for students who are planning to be involved with extracurricular activities or just want to be close to a variety of food options. Tingelstad is right across the street from the Columbia Center, close to the University Center and Names Fitness Center. It's also a short walk away from academic buildings which house the music, theatre, and science classes.
Tingelstad residents love that there's enough variety of students that it quickly becomes a mini-community you can count on. "It's a very exciting hall to be in," said one resident. "There are lots of different types of people there, and it's easy to meet friends of friends. There's lots of flexibility, and everyone chills with everyone else." Tingelstad is also home to one of two Gender Inclusive wings on campus, providing safe, inclusive and affirming communities for all who live there. Smaller "house" communities of 90 residents are formed by balconies with spiral staircases that join together two floors and open into spacious lounges and kitchens, where residents enjoy hanging out with one another.
Tingelstad Hall Information
A TV on every floor and a 60″ TV in the lounge
A water fountain with an automated filling station
Ping pong and foosball tables in the lounge
Sports equipment that can be checked out for free
The 9 floors also have elevator access – the dedicated can climb the stairs
There are double and triple rooms available
The laundry room is centralized
WiFi available throughout the building
A games room is available to the residents
Centralized study rooms
Annual Event: Varies by yearly theme!
Mailing Address
Student Name
Tingelstad Hall, Student Room Number
Pacific Lutheran University
Tacoma, WA  98447