Tingelstad Hall
Learning Communities: STEM House, Wellness House, First Year Community, New Transfer/Returner Community, Gender-Inclusive Housing
Who Lives Here: First Year Students, New Transfer Students, Returning Students
Location: Lower Campus
Bathroom Facilities: Women, Men & Gender-Inclusive
Wing Configurations: First Year Wings (men/women), Transfer/Returner Wings (men/women), Gender-Inclusive Housing Wing (1 wing)
Welcome to Tingelstad Hall
Tingelstad Hall is the largest residence hall on campus. Tingelstad residents love that there's enough variety of students that it quickly becomes a mini-community you can count on
Location
Tingelstad is located on lower campus and is right across the street from the Columbia Center. Just a short walk away is the University Center and the Names Fitness Center. Tingelstad has 9 floors, making it the tallest building in Parkland and boasting beautiful views of Mount Rainier.
Mailing Address
Student Name
Tingelstad Hall, Student Room Number
Pacific Lutheran University
Tacoma, WA  98447
Hall Amenities
Wifi available throughout the building 

Centralized laundry room

Communal kitchens throughout the hall with microwave, stove/oven, and refrigerator

Front desk (limited operating hours)  

Mail services will deliver envelopes and packages to the hall front desk for convenient pick up

Students may check out cleaning (mops, vacuums, brooms) and cooking  (pots/pans) supplies as needed

Ping pong and foosball tables in the lounge
Elevator and stair access to all 9 floors
Each wing has centralized study rooms with whiteboard access
Floors are built into "houses", comprised of 2 floors

These floors share a spacious lounge with large TVs and ample seating
Connected floors with a winding staircase

Extra lounge seating on the East and West side of each wing
Room Furnishings
Rooms will be set up in a double-occupancy configuration and come furnished with the following furniture
Two twin-XL mattresses and bedframes

Two desks with chairs

Two built in bookshelves

Two dressers

Two closets

One trash and two recycle bins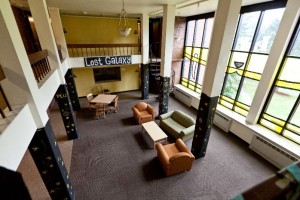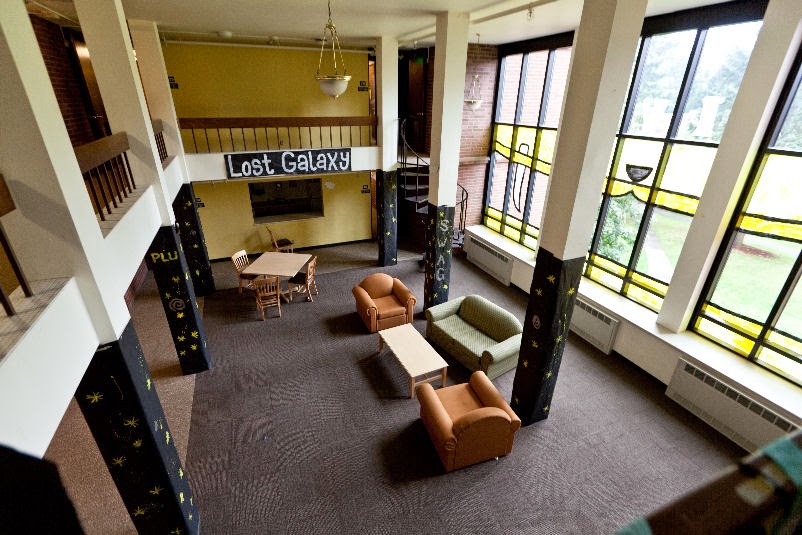 Room Styles
Tingelstad Hall has a majority of double-occupancy rooms that are identical in size and layout across the building.
There are three units designed for a single with private bathroom and one unit with designed for a single with private bathroom and kitchenette. These rooms are reserved for students who apply through the Accessibility and Accommodation application.